Original URL: https://www.theregister.co.uk/2009/11/05/review_smartphone_samsung_galaxy_i7500/
Samsung Galaxy i7500
Stellar Android performance?
Posted in Personal Tech, 5th November 2009 13:02 GMT
Review HTC may have done it first, but now the Androids are starting to come thick and fast. Motorola got in early with the Dext, and all the major manufacturers are planning their own entry into Android land.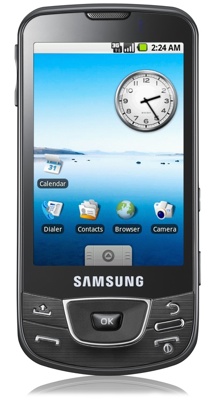 Samsung's Galaxy: Android for the mainstream?
The Samsung Galaxy is the Korean giant's first attempt and turns out to be a well specced, slimline, glossy black number similar on the surface to its earlier Jet. It boasts an OLED touchscreen, 5Mp camera, HSDPA 3G, Wi-Fi, GPS and an impressive 8GB of onboard memory.
One of the great things about Android - which, lest we forget, is still in its early stages - is that it should be endlessly configurable. It's fully open for developers to tweak, adjust and improve wherever they feel it to be necessary. HTC has given us a taste of the possibilities with the Sense UI in the Hero, and Motorola took social networking a stage further with Motoblur.
But despite charming us with its TouchWiz interface in the past, Samsung appears to have done very little with the basic Android UI.
There has been no attempt at social networking integration à la HTC and Motorola, though you can of course download apps for Facebook, Twitter and others from the Android Market. All the basic Android elements are present and correct, however, including the varied widgets which you can drag from the menu onto any of the three home pages - you access each by brushing your thumb across the screen - and the drop-down notifications window, which you call up by pulling your thumb down from the top of the screen.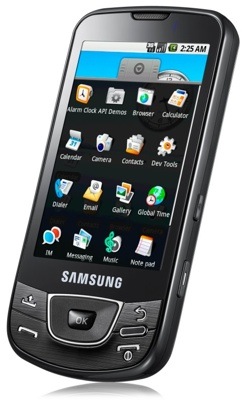 Samsung hasn't customised the Android UI
We rather thought that Samsung would have done a mash-up with its own TouchWiz widgets replacing some of the Android versions, but that hasn't happened. Yet.
Physically, the Galaxy is a sleek, slim handset - it measures 116 x 56 x 12mm and weighs 117g. Just like the Jet, you get a large, oddly shaped navpad surrounded by call start and stop buttons, but also back, menu and a tiny sliver of a home key. Why they couldn't have incorporated this last function into the call stop button like virtually every other phone maker does, we don't know. On the sides are a volume rocker, camera shutter and screen lock buttons, with a micro USB slot covered by a plastic grommet and a 3.5mm headphone jack on top.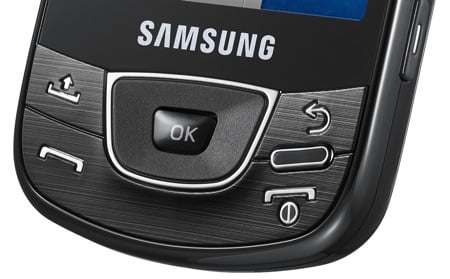 The old-style control array seems at odds with all the other, more minimalist Android phones
The unlock button proved to be something of a pain. The screen locks after 30 seconds by default, but to unlock it you have to press and hold the unlock button for anything up to four seconds, depending on what you had running when last you used it. It very soon becomes a frustrating nightmare.
The screen really should have been a cracker, and it very nearly is. It's an active-matrix OLED panel so it's exceptionally bright and clear - and should go easy on the battery too, but we'll come to that later. It's capacitive, so it's more sensitive and easier to use than older resistive screens are. It's not bad at all, but… it just doesn't seem quite as responsive as those we've used on HTC's devices, or the iPhone, or even the Motorola Dext. It's not quite as adept at distinguishing between a brush and a press as any of those devices, and there seemed to be more chance of irritating screen lag when switching between functions.
Call quality is generally very good with the Galaxy, and we liked the clear, practical layout of the on-screen keypad, with quick access to the call log, contacts and favourites. That said, there are no as-you-type predictive number suggestions like you get with Windows Mobile.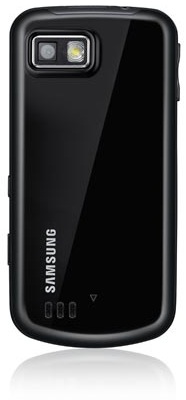 The 5Mp camera isn't a good as it should be
Messaging on the Galaxy is straightforward enough, with most accounts being set up with just an address and password. You'll want to use the virtual keyboard in landscape mode, though – it's very cramped in portrait, though enabling haptic feedback helps with accuracy.
Having a 5Mp camera on board sounds good, but again, Samsung hasn't really done anything to distinguish it. It has flash and autofocus - with a nicely defined double press to the shutter button, one step to focus and a second to take the snap - but there's no zoom, multi-shot facility or timer, no colour settings or panorama option, let alone any of that fancy face and smile detection that's now becoming common on mid-range cameraphones.
Sample Shots: Outside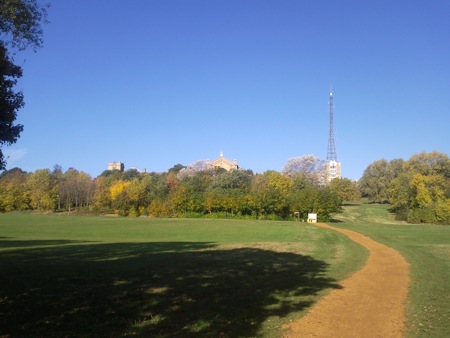 Click for a full-size image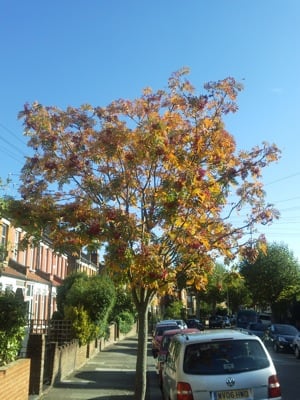 Click for a full-size image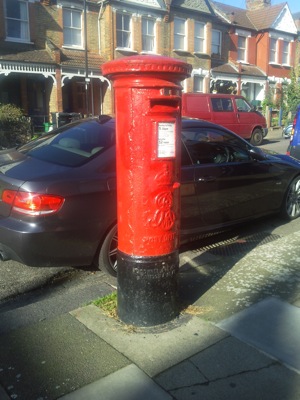 Click for a full-size image
Sample Shots: Indoors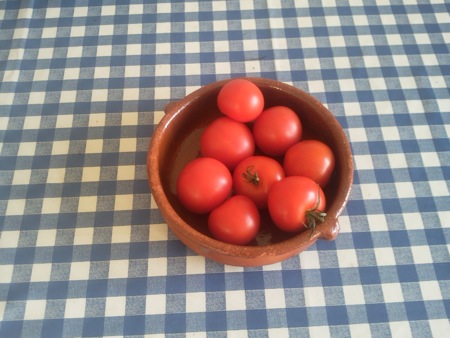 Click for a full-size image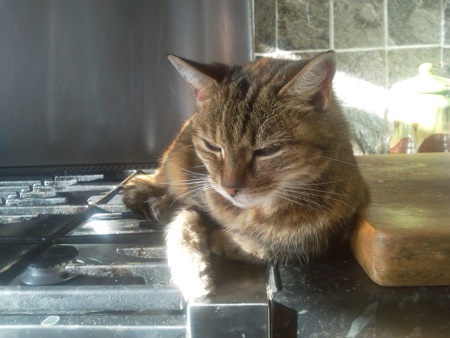 Click for a full-size image
It's about as bog as standard gets, and picture quality is nothing to shout about either, with over-saturated colours and a haphazard way with white balance. The flash is pretty harsh too. It launches moderately quickly with a four-second press on the shutter button but our pics too often appeared flat with a distinct absence of vibrancy – it's just not as good a camera as the spec would suggest.
The Android web browser is decent, but it would be better if the volume rocker could be used as a zoom control. Instead, you'll have to jiggle the page around a little to make the on-screen controls appear: zoom in or out, the 1x button which snaps you back to your original resolution, and the magnifying pane, which allows you to skim over a page of tiny text until you find the bit you want to focus on. You can also search for key words, copy and paste text, and there's the option to send pages direct from the browser to Facebook or Twitter or via email.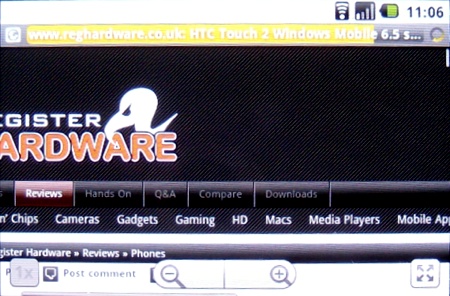 The web browser is decent
Downloaded videos look great on the sharp and clear OLED screen but there's nothing in the way of control or viewing options besides play/pause, forward and back. It will play MP4, H.263, H.264 and WMV video files, and MP3, e-AAC+, WMA, Ogg Vorbis and Real Audio music files. In addition to the chunky 8GB of built-in storage, you can also add a further 32GB by Micro SD card.
The music player features some nice graphics but its menu system is a bit confusing and awkward to find your way around. There's no way a music player's menu system should have you scratching your head in 2009. And next to the screen lock, the second most irritating thing about the Samsung Galaxy is that it plays a little jingle when you insert or remove the headphones - or sync it to your PC for that matter - which soon had us demanding the blood of whichever Samsung marketing exec was responsible. Grrr.
To add to the gripes, the 1500mAh battery proved to be one of the worst we've yet experienced on a smartphone. These devices tend to be juice-hungry little buggers at best, but the Galaxy had us reaching for the charger after less than a day of admittedly fairly heavy, but not constant use. This despite its supposedly power-light OLED screen. Not really good enough, Samsung.
Verdict
Samsung's first Android phone is something of a disappointment. It's not outrageously bad, but there just seem to be too many missed opportunities and decision fumbles for it to really win us over. While other manufacturers are using Android's flexibility to give their devices a unique stamp, Samsung appears to have simply rushed out a me-too handset without taking the time to put much effort into it.
We'll be interested to see the next Android device that comes off the Samsung production line, but this one doesn't really deliver the goods just yet. ®
More Android Smartphone Reviews...

T-Mobile
Pulse

Motorola
Dext

HTC
Hero

Vodafone
Magic