Original URL: https://www.theregister.co.uk/2009/11/04/review_e_book_reader_bookeen_cybook_opus/
Bookeen Cybook Opus
Kindle who?
Posted in Personal Tech, 4th November 2009 08:02 GMT
Review While the Amazon Kindle's appearance in the UK may help nudge the e-book reader closer to the mainstream, there are plenty of other devices to measure it against. Sony's Reader variants are the best know, but Interead's oddly named Cool-er and iRex's DR1000S are also in the running. To that list we can now add Bookeen's latest, the Cybook Opus.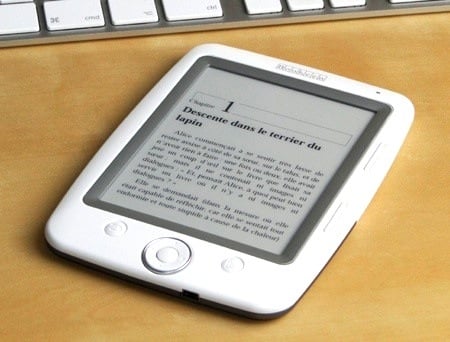 Bookeen's Cybook Opus: iPod inspired?
An e-book reader is only as good as the material it can hold. The Cybook Opus is compatible with both DRM and non-DRM Adobe PDF and ePUB files, DRM and non-DRM Mobipocket files, HTML, plain text, JPG, PNG and GIF file formats. The reader itself runs a Linux-derived OS.
There is a twist in the tail. You can't have both Mobipocket and Adobe-compliant DRM files on the Opus at the same time thanks to so-called "legal reasons", so you'll have to choose one or the other for your protected content.
The default is Adobe's and if you want Mobipocket, Bookeen says you need to apply a firmware upgrade to the device. Firmware upgrades are only available after you register at the Bookeen website and give away your name, address and phone number. Having done this, we found a firmware upgrade for an earlier device, but not the Opus. Delving into the Bookeen blog, it became apparent that the appropriate firmware isn't available yet. But it will be soon, says a post dated 27 August. Hmmm.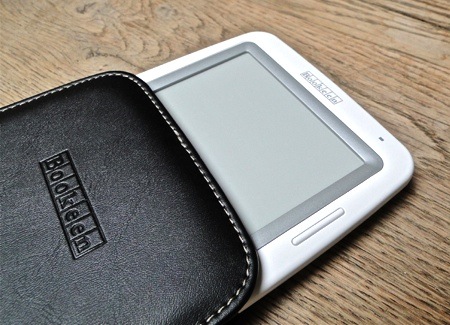 Dust-jacket included
This means, for the moment, you're stuck with Adobe for DRM stuff. There are 200,000 titles available from the Bookeen's bookselling partner, BooksOnBoard.
None of this stops you from downloading DRM-free e-books, and here the news is more promising with the whole Project Gutenberg library and other gratis online sources at your fingertips. The Opus has 1GB of on-board storage which, Bookeen says, is enough for 1000 books. Not enough? There's a Micro SD card slot in the Opus' top edge. If DRM-free is your choice then connecting the Opus to a PC or Mac USB port and copying e-books across is all you need to do.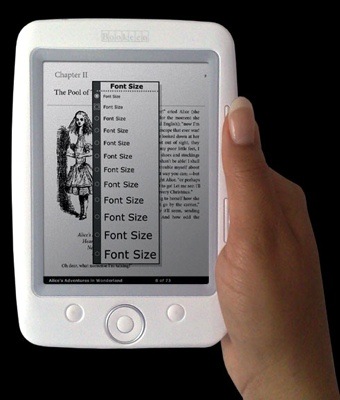 Bookeen scores points for adding an accelerometer, making it easy to flip from portrait...
Don't transfer music files - the Opus isn't one of those audio-enabled e-book readers. That means its battery is used solely for refreshing the E Ink screen, which it's rated to do 8000 times. The battery is charged through the Opus' mini USB either port from mains power or a data cable. A pink light above the screen tells you the battery is charging, this goes blue when the battery is full and also, rather irritatingly, flashes when the device works to open a new book or progress to the next page. There's a removable cover on the back of the reader's casing so that you can replace the battery.
The Opus' screen is smaller than usual: 5in, like the new Sony Reader Pocket Edition. But its 600 x 800, 200dpi resolution gives a clear enough rendition of text. There's no backlight, so you'll need a torch for under-the-covers nighttime reading.
The display can show four shades of grey, which is limited compared to what some of Bookeen's competitors deliver, but it's perfectly adequate. An accelerometer means the screen auto-rotates as you turn the Opus in your hand, and we think this is a feature other manufacturers should take a note of.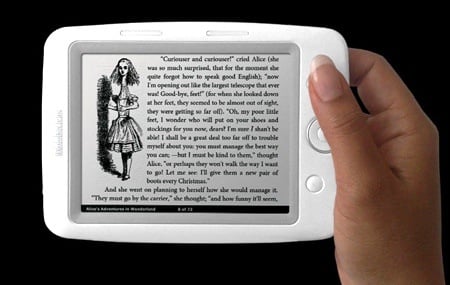 ...to landscape orientation
At 151 x 108 x 10mm, the Opus would fit into some pockets, and at 150g it's hardly a burden to carry. It comes with a slip case which increases those dimensions somewhat and which doesn't do justice to the lovely, copycat-white plastic of the Opus itself.
The Opus is easy to use. The only button on its edges is a top-mounted on-off switch. Two long buttons to the right of the screen let you step back and forwards through the text a page at a time. Thanks to the accelerometer, you can turn the Opus upside down and use these buttons left-handed. A navpad allows for more sophisticated movement, including hops to live links to pre-configured bookmarks – you can't add your own, and nor can you search the text. The software remembers where you left off reading and takes you back there when you reopen a book.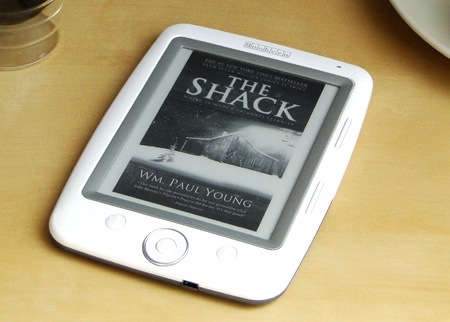 The four-greyscale screen's not so bad when it comes to images
The only other buttons take you, respectively, back a step and direct to the main menu. The Menu key also gives you access to all the software features such as sorting your library: by title, file size, date, name and even file path - you can create sub-folders if you want to be really organised. There is a somewhat cack-handed system for going to a particular page – you have to choose the page number from a grid. You can also select from a generous 12 different font sizes.
If you're reading PDFs, you also have the ability to fit pages to the height or width of the screen as you prefer, and scale at ten per cent increments between 50 per cent and 100 per cent. You use the navpad to pan around the page and reveal overspill. This is never a satisfactory system and the fit-width option in widescreen orientation worked best for us.
Images in our test PDFs weren't rendered, and coloured text is turned into greyscale rather than black, which can be quite pale. All of this means the quality of your experience will depend on the design and layout of original PDFs, but that's the case with all e-book readers, and the Opus makes a good fist of the task.
Verdict
We found the Bookeen Cybook Opus very easy to use and it's certainly one of the best devices in its class. It's not cheap: we haven't seen the Opus available for less than £210 and more often than not as much as £250, the same price Sony is asking for its 6in, eight-greyscale, audio-enabled PRS-600. Sony also offers the £180 PRS-300, which, like the Opus, has a 5in screen - but no Jpeg support and no memory card slot. Of the two, we'd rather have the Opus. ®
More E-book Reader Reviews...

Interead
Cool-er

iRex
DR1000S

Sony
PRS-700

Group Test
E-book readers