Original URL: https://www.theregister.co.uk/2009/11/04/iphone_4/
Chinese store exposes iPhone 4's midriff
Metal plate gets fans hot and bothered
Posted in Networks, 4th November 2009 12:13 GMT
Parts supplier China Ontrade has posted what appears to be the middle of the next-generation iPhone, revealing almost nothing about the product beyond its existence.
The plate, described as an "Apple iPhone 4 Generation Midboard", has a hole for a camera and a dock connector at the bottom. Fansites have interpreted this limited information as irrefutable evidence that the next iPhone will have a camera and some sort of docking connection, and given the same company lists a replacement SIM tray it will probably have a SIM too.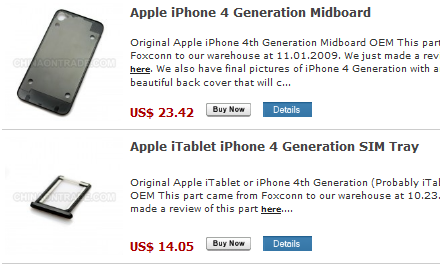 Bits of the iPhone version 4?
The SIM tray sparked great excitement when it was first listed. Its description as an "Apple iTablet iPhone 4 Generation SIM Tray" sparked speculation that the same SIM tray would fit Apple's rumoured iTablet product and the next-generation iPhone, either that or it's a translation error.
But China Ontrade does supply spare parts for the whole iPhone range, and did post details of parts fitted to the iPhone 3GS a month before that product was launched by Apple, so on past performance we should expect some sort of new iPhone in the next month. Apple will have to move some to get a product into the shops before Christmas, though. ®