Original URL: https://www.theregister.co.uk/2009/11/03/review_smartphone_t_mobile_pulse/
T-Mobile Pulse
The Googlephone for everyone?
Posted in Personal Tech, 3rd November 2009 13:02 GMT
Review There haven't been that many Android smartphones in the UK yet, but T-Mobile is already looking to capitalise on the burgeoning demand Google's operating system by releasing the Pulse, the first pay-as-you-go Android handset.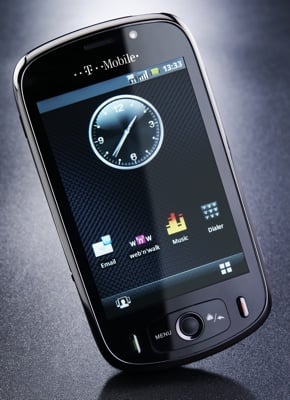 T-Mobile's Pulse: Android goes PAYG
Running Android 1.5 - aka Cupcake - the Pulse is the lowest-priced Android smartphone we've seen, arriving at £180 on pay as you go, or nothing at all on some T-Mobile monthly contract deals.
Relatively cheap it may be, but it's far from a basic technology-taster device. The Pulse is equipped with HSDPA 3G and Wi-Fi, plus Assisted GPS location-finding technology and a fine collection of standard apps and third-party software pre-loaded.
Produced by Chinese mobile maker Huawei, best known in the UK for mobile internet dongles, the Pulse is a large handset, but its 116 x 62.5 x 13.6 mm, 130g bodywork doesn't feel particularly chunky thanks to some tidily rounded edges.
The design is classic post-iPhone minimalism, all glossy black plastic around a 3.5in, 320 x 480 display which offers the same resolution as other Android phones do but is physically larger. It's a capacitive touchscreen rather than a simple resistive one, and while it doesn't have iPhone-style multi-touch abilities, it's more responsive than many touchphones we've tested.
There's a low-res videocall camera above the display - under the screen is a control panel centred on a typical Android trackball for a belt-and-braces alternative to touch scrolling and selection. The trackball is also used to zoom in and out of the multi-page home screen so you can get an overview and navigate more easily around the many shortcuts and onscreen widgets than can be dotted around the screen.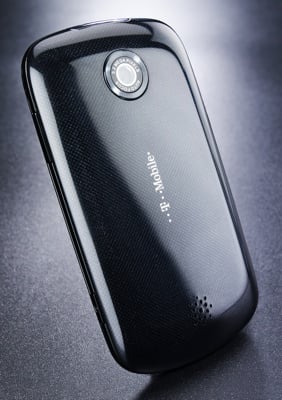 Shiny, stylish design
Tap the Menu button and up pops a panel of options for whichever function, application or settings menu you're in. Give it a longer press and you'll get the Pulse's virtual Qwerty keyboard.
The Pulse hasn't veered far away from the standard Android look and feel. With a moody grey-black carbon-fibre look theme running behind the homescreen - matching the phone's back panel - it's neat and tidy.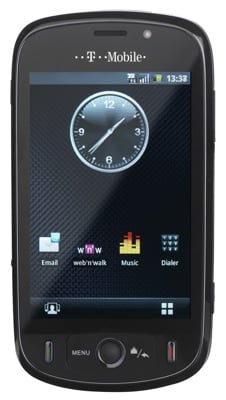 The carbon-fibre theme is used extensively
There's plenty of space to arrange as many shortcut icons, widgets or 'Wildcards' as you like. Wildcards are content widgets, such as a music playlist, video clip, bookmark or calendar entry, presented Cover Flow-fashion which can be placed on any part of the screen. They're all easy to add: you simply press and hold the screen and a pop-up menu lets you add any of these types or particular folders to the homescreen.
It's easy to remove or re-order icons and widgets: they can be dragged and dropped into a pop-up wastebasket. The homescreen's options include a Reset.
Unlocking the screen requires an upward flick of the finger. It locks automatically, though a tap of the power button on the side of the phone will also lock it. A notifications panel can be dragged down, rollerblind fashion, from the bar top of the display, to list messages, email, upcoming calendar entries and so on.
There are two on-screen buttons at the bottom of the homescreen. One opens up a carousel of favourite contacts you can populate. The other key flips open the applications list, a grid of 20 small icons which you can re-order as you like. You can also add shortcuts for any of these to the homescreen simply by pressing and holding them.
Out of the box, the T-Mobile Pulse is well kitted out for messaging: SMS, MMS, email and IMs are all supported. Google Mail and Google Talk are seamlessly integrated into the phone, providing a slick and intuitive user experience. Mail is activated automatically when you set up the phone, and is a mobile optimised version of Google's online service. Your Google Mail contacts can be synced automatically.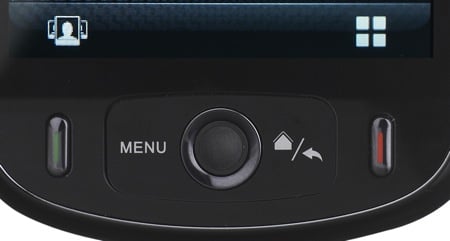 The physical buttons are complemented with two virtual ones
It's simple to add other web-based or POP/IMAP email accounts: just tap in the address and password and account are created automatically. But they're handled by a separate app that's not quite as sophisticated as Google Mail though very usable nonetheless.
In addition to the standard Android Qwerty keyboard there's an alternative, TouchPal. The keys appear small in portrait mode but are fine for tapping out messages. The phone's accelerometer automatically switches to more spacious landscape mode when the phone is held sideways.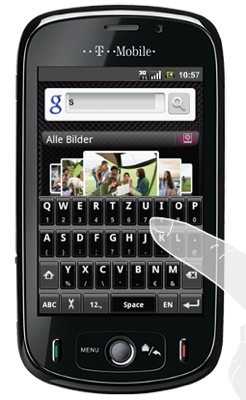 In portrait mode, the virtual keyboard is a tad cramped
By holding a finger down and swiping, you get a phone-style keyboard - it's a bit cramped for the screen space - or a semi-Qwerty keyboard like that used on the BlackBerry Pearl and Nokia E55. Some users will prefer a familiar texting layout, so it is useful to have the option – even if it isn't the best laid-out touchscreen keypad we've seen. Typing using both Qwerty decks, however, was good – they're responsive, and we had few errors. Predictive text helps you along.
The Pulse has a limited 60MB of onboard memory, but a 2GB Micro SD memory card is supplied in the box. The music player software is standard-issue Android, so is straightforward to use if not as snazzy as the one on the iPhone. Any tunes copied over, downloaded or slipped in on a memory card are automatically arranged in appropriate categories under regular music player headings.
Playing tracks, the UI is clear and simple – large control buttons, shuffle and loop keys plus a draggable timeline cursor keep it simple. Cover art is supported and, as well as track list browsing, you can skim through your files in almost Cover Flow-style when you hold the phone in landscape mode.
Oddly, the Pulse has a 2.5mm socket in the top of the phone rather than a standard 3.5mm jack, but at least a 2.5mm-to-3.5mm adaptor cable is supplied with the phone. It's not an ideal or elegant solution, but at least it's available out of the box. That said, with our early review sample, the adaptor sometimes required a bit of fiddling to get stereo. And there was a strange issue with the pause control not working properly when other earphones were connected to the lead: it would release pause after a few seconds. These may be pre-production issues, but we'll check and report back.

Micro SDHC extends the paltry on-board storage
Sound quality is very good, though, particularly when using decent headphones of your own, but even the boxed set put in an adequate performance. Playback sound has a good range with plenty of bass coming through.
The Pulse's standard Android browser is very intuitive, easy to operate and speedy. Running on T-Mobile's HSPA 3G network - up to 7.2Mb/s downloading, 2Mb/s uploading - it's impressively quick for a mobile device. It rockets along on Wi-Fi, which is very easy to set up and switch on or off.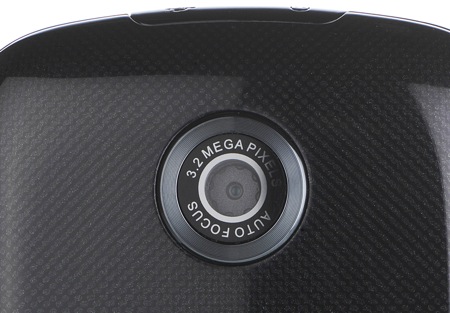 The Pulse's 3.2Mp camera is weak
The browser offers multiple windows you can switch easily between, plus fast zoom controls – although there's no iPhone-style pinch zooming. It's still great to use, with convenient menu options and Google-driven suggestion lists as you're typing in a URL.
As well as T-Mobile's own Web'n'Walk portal, there are bookmarks for popular social networking sites and other online services, including Facebook, MySpace, Bebo, eBay, the BBC and so on. An dedicated app delivers a smooth YouTube experience too, with a tidy UI for browsing or searching for clips. Playback quality is good on the large touchscreen.
The Pulse's 3.2Mp camera is disappointing. The interface is tidy and easy to operate, if limited in its range of settings and control options. The camera app takes a few seconds to start up, but once open can be accessed more rapidly in future. The performance of the shooter is reasonable in strong lighting conditions, but where lighting dips or is uneven, it seems to increase shutter lag issues, and images become less clear. It has an autofocus system that works reasonably well and takes decent close-up shots in focus.
Colour reproduction is so-so, though – again, it's fine in strong lighting conditions, but can look flat and pale at other times. The level of detail it captures isn't among the best in its class, either. With no flash, low-light shooting is poor. Video shooting is below par too, the resolution limited to 352 x 288 at 20f/s.
Google Maps is the only out-of-the-box application that tapes into the Pulse's Assisted GPS pick-up. The version used here is excellently implemented, with a neat graphical user interface that works with finger swiping and is very responsive. Maps load up nippily if you have a decent data connection. You can get the usual selection of precise mapping, route planning - for walking, driving and public transport - plus search options for finding addresses and looking up local services.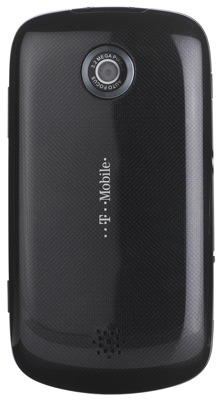 Not a phone for the serious photographer or video shooter
Street View is available too, with a long press on the map pulling up a thumbnail next to the address. Another tap pulls pops up a full 360° finger-panning photo the street. You and your friends can keep tabs on each others' locations on Google Maps.
You may not come across it playing around with the phone, but the Pulse has a compass built in. We found the A-GPS system to be very quick to locate our position and maintain an accurate fix while we were moving. It's a shame there's no full satnav app inside, though Google is at least working on one for Android 2.0.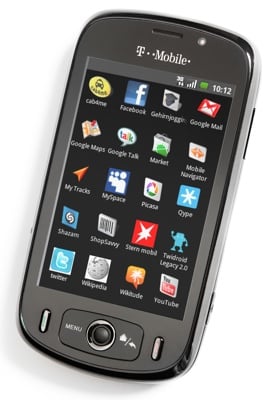 The apps are the key to Android
The Android Market app is where you can find all the exciting software customisation stuff that helps makes the Android platform so appealing. It's neatly arranged, simple to navigate and search, and the download process is speedy and hassle-free. There may not be as many apps as in Apple's App Store but it's growing fast and there's plenty of free stuff to try out.
A few third-party apps are pre-loaded too, including Documents To Go, a document viewer for Excel, Word, PowerPoint and PDF files which can be upgraded to a full editing and document creation tool. A suite of DataViz's RoadSync software provides full remote synchronisation with Microsoft Exchange Server corporate push email, contacts and calendar.
The Pulse's applications sync neatly with any online Google services you use. A USB cable is supplied for hooking up to a PC for synchronisation or to use in mass storage mode. We were unable to test its PC Suite software, however, as none was supplied with our review sample.
The Pulse gets the basics right when it comes to call quality and network performance. Voice calls came over clear, and we had no complaints about the volume.
Battery life is reasonable. The Pulse comes with a 1500mAh battery pack, and T-Mobile estimates it can deliver up to 210 minutes of talktime or 300 hours on standby. In our tests, with extensive use of the phone's features, we found ourselves re-charging every day.
Verdict
The T-Mobile Pulse is a terrific value Android smartphone for pay-as-you-go types. It may not have the extensive re-skinning that other more expensive Android phones flash around, but it still delivers a great user experience and has all the customisation flexibility this user-friendly platform allows. There may be some compromises - the camera, for instance - but with Wi-Fi, HSPA, Assisted GPS, a large touchscreen and a decent bundle of applications, the Pulse is far from light on functionality. All round, this Pulse takes some beating. ®
More Android Smartphone Reviews...

Motorola
Dext

HTC
Hero

Vodafone
Magic

T-Mobile
G1