Original URL: https://www.theregister.co.uk/2009/11/03/iphone_hack/
Extortionist targets jailbroken iPhones
But then relents and offers free fix
Posted in Networks, 3rd November 2009 12:10 GMT
A Dutch hacker who threatened iPhone jailbreakers has relented on their threat to abuse unlocked handsets unless users pay €5.
Some Dutch users of jailbroken iPhones got a shock when greeted with a message from a Dutch hacker claiming to have complete control of their beloved handset. The miscreant threatened to use that control to steal data and send messages, unless the user coughed up €5 to a PayPal account to receive instructions for removal of the back door.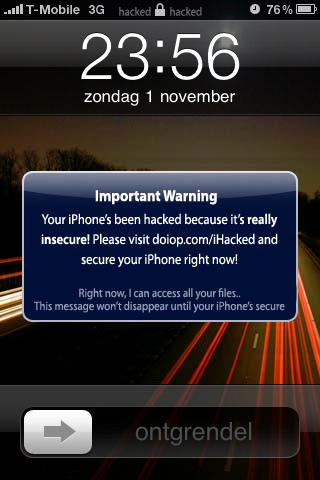 Not what one would want to see: image lifted from Tweakers.net
The hack was possible because jailbreaking an iPhone involves enabling an SSH (Secure Shell) service on the handset, and users who then failed to change the default password left their device open to anyone with a modicum of technical knowledge and time on their hands.
Our hacker did some port scanning and then tried the default password on those devices which still had SSH running. SSH can be shut down once an iPhone is jailbroken, but many iPhone users lack the technical expertise to do that, however, or do not understand there is a risk involved in failing to do so.
But on this occasion common sense prevailed, and the hacker has posted instructions on how to remove the security hole, so revealing themselves to be more of an opportunist than a hardened criminal.
It is a useful reminder for iPhone users though, and everyone else - never leave the default password unchanged, on anything, ever. ®