Original URL: https://www.theregister.co.uk/2009/11/03/3m_3d_display/
3M shows 9in naked-eye 3D display
No specs please, we're British
Posted in Personal Tech, 3rd November 2009 12:19 GMT
Three-dimensional displays that don't rely on polarised or active-shutter glasses could be coming to handheld devices soon ther than you think.
3M's Japanese subsidiary this week showed off 9in and 2.8in LCD panels that generate a 3D image viewable with the naked eye, Japanese newssite Tech-On reports.
The secret lies in a special film that can steer the illumination from the backlight to illuminate left- and right-eye portions of the screen. It's a technique called conoscopy and essentially uses apertures and lenses to focus light in a certain direction.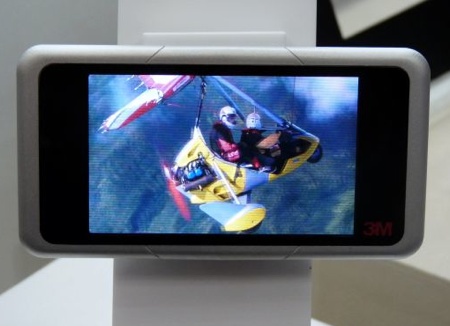 3M's 2.8in 3D display in action - shame you only have a 2D monitor...
Source: Tech-On
The backlight can be implemented using standard LED edge-lighting technology, though you need separate lights for the left and right sides of the panel. 3M's film steers the light from the left backlight to the right eye and vice versa.
The two backlights appear to be enabled alternately, synch'd with the picture source to the picture for the appropriate eye is shown at the right time. By using the full LCD for each eye's image, there's no loss of resolution.
Apply a single image to the panel and illuminate both LEDs and the display will show a 2D image.
3M is ramping up volume production of the panels, so it shouldn't be too long before they appear in real devices. ®