Original URL: http://www.theregister.co.uk/2009/11/02/review_laptop_mac_apple_macbook/
Apple MacBook Late 2009
Plastic phoenix rises
Posted in Personal Tech, 2nd November 2009 13:02 GMT
Review Just a year ago, in October 2008, it looked like the white plastic-cased MacBook was headed for the scrap heap. Apple had just introduced a new and more expensive model sculpted out of aluminium, and although the plastic version was kept on sale to provide a less-expensive option for the budget-conscious education market, it was obvious then that Apple was preparing to put it out to pasture.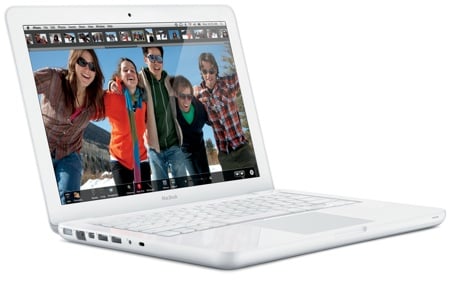 Apple's latest MacBook: overhauled at last
Information about the White model was buried in the depths of Apple's website, and a minor upgrade in January 2009 didn't even merit the acknowledgement of a formal announcement from Apple HQ.
And then the global economy went completely off the rails, and the finger-smudged livery of the white MacBook rose from the ashes of recession like a cut-price plastic phoenix. Its aluminium sibling was booted upstairs to become part of the MacBook Pro range, leaving it to lead the charge for consumers' cash. And, lo, Apple's laptop sales did boom miraculously despite the downturn.
And now, as a reward for its efforts, the humble MacBook has been granted a full-scale overhaul. It's still made out of that distinctive white plastic – or "durable polycarbonate" as Apple calls it – but just about every aspect of the unit has been tweaked and updated. The right-angled edges of previous models now curve convexly on all sides, giving it a more streamlined appearance.
The new model is marginally lighter then the previous one – 59g, to be precise – but we were surprised to see that it's actually about a centimetre wider and deeper front to back than its predecessor. It actually feels even bigger than those numbers suggest. There's no change to its thickness - 27.4mm - though.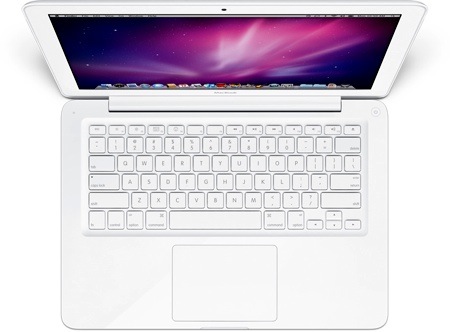 No thicker than its predecessor, the new MacBook is however wider and deeper
However, the redesign achieves the desired effect, which is to give a face-lift to a design that hadn't changed for several years.
What really caught our eye, though, was the new screen. The 13.3in size and 1280 x 800 resolution are the same as before but the MacBook's screen now uses LED backlighting. We sat the new model right beside one of its predecessors and the increased brightness and bolder colours genuinely made the screen of the older model look pale and lifeless.

Farewell, Firewire
The trackpad has been updated too, as the MacBook now gets the same large 'multitouch' trackpad as the MacBook Pro range, which allows you to use multi-fingered gestures to perform tasks such as zooming in on images and rotating them. The whole pad is a physical 'left-click' button too.
The traditional Apple SuperDrive DVD/CD burner is still in place on the right-hand edge of the unit, while the various ports and connectors are all on the left edge. We were disappointed to see that Apple has dropped Firewire from this model, which means that anyone that wants the long-establish Mac connectivity option will need to fork out at least another £100 for one of the MacBook Pro models, or stop using Firewire devices.
External connectivity is now limited to just two USB 2.0 ports, Gigabit Ethernet and a single 3.5mm combo digital optical and analog audio input/output port. There's a mini DisplayPort for connecting the computer to a monitor, which means that you'll need to buy a separate adaptor if you want to hook it up to a VGA, DVI or HDMI display.
We also noticed that Apple no longer bundles its (recently redesigned) remote control with any Mac models – one of those niggling little cost-cutting measures that reminds us that Apple is just as tight-fisted as any other mega-corporation, despite its touchy-feely image.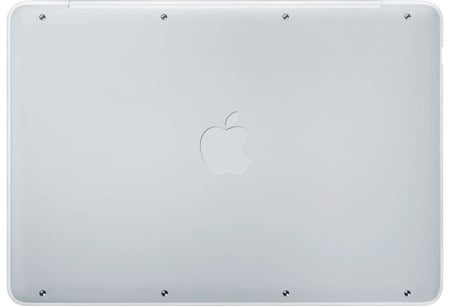 No more feet, either - just a tactile good-grip base
There have been a few changes inside the unit too. The Intel Core 2 Duo processor gets a small speed bump from 2.13GHz to 2.26GHz, and the hard disk capacity rises from 160GB to 250GB. The Nvidia GeForce 9400M chipset with its fast integrated graphics is unchanged, as is the standard memory capacity - 2GB - but the memory speed is bumped from 800Hz to 1000MHz to provide an a little performance boost, and it's now DDR 3 rather than DDR 2. The integrated graphics take 256MB of this.
We benchmarked the MacBook using both the Mac-native Xbench and the Windows-based PCMark 05 and 3DMark running on a Windows partition created with Apple's Boot Camp software. The new MacBook consistently came in around 10-15 per cent faster than its predecessor. The 5400rpm hard disk is a bit sluggish, but graphics performance is more respectable and the MacBook even managed to run the PC version of Far Cry 2 at a playable 27f/s. That was at its native 1280 x 800 screen resolution, and we nudged up to 34f/s when we dropped it to 800 x 600, so the MacBook can even pass muster for the occasional outburst of PC gaming action if you're so inclined.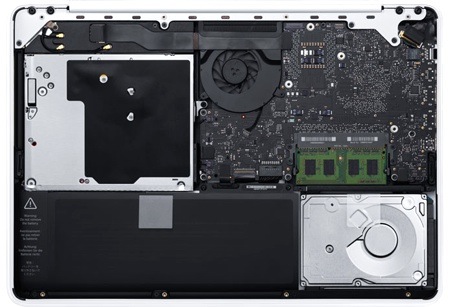 The battery's built in now, but is a long runner
However, the biggest single change in this model is the inclusion of the same lithium-polymer battery that Apple has already introduced into the MacBook Pro range. The battery is sealed into this model – as it is in all of Apple's other laptops – so you can't swap in a spare battery once the original has run down.
That said, we have to admit that the battery performance was quite impressive. To really push the battery, we ran PCMark 05 non-stop under Windows, and it lasted for just five minutes short of a very-respectable three hours (175 minutes). You can easily double that figure for regular usage and even further if you're willing to sacrifice screen brightness and wireless connectivity.
When we switched back to Mac OS X in order to run some H.264 films, we got an impressive two-minutes-short-of-five-hours' worth of Hollywood blockbuster out of the MacBook.
Our one complaint is that the price of the MacBook has gone up again – this time from £749 to £799. In fact, this time last year you could get a MacBook with Firewire and a DVI interface for £719. In a way, you have to admire the sheer chutzpah of a company that can increase prices during a steep recession and still score double-digit sales growth.
Verdict
The creeping price increases mean that the new MacBook doesn't offer quite the same value for money as earlier models, yet its continued success is testament to the sheer quality of Apple's design work. There are plenty of cheaper PC notebooks and netbooks available, but the design and build quality of the MacBook still make it stand out from the crowd. Thankfully, though, there's more to the MacBook than just its good looks, and the improved screen quality, performance and battery life make this a really solid little workhorse of a laptop that will earn its keep – despite the price hike. ®
More Apple Reviews...

MacBook Air
June 2009

MacBook Pro 15in
June 2009

MacBook Pro 13in
June 2009

Mac Pro