Original URL: https://www.theregister.co.uk/2009/11/02/marvel_on_iphone/
Marvel Comics open on iPhone
Stateside Jobsian X-Men
Posted in Networks, 2nd November 2009 18:28 GMT
US comics fans can now use their iPhones' in-app purchase capability to download Marvel comics onto Apple's überpopular smartphones.
iPhone users in the UK and elsewhere? Not so lucky.
Three popular free iPhone apps support in-app Marvel downloads: Comixology, iVerse, and Panelfly Comics (App Store links).
Comixology has begun its Marvel offerings with a broad range of offerings from the Astounding X-Men, Captain America, Civil War, Marvel Zombies, X-23, and X-Men: Age of Apocolypse series, all available for $1.99.
iVerse adds titles from Amazing Spider-Man and Iron Man to its $1.99-per-download list, and Panelfly cuts that cost in two with 99¢ titles from the same series.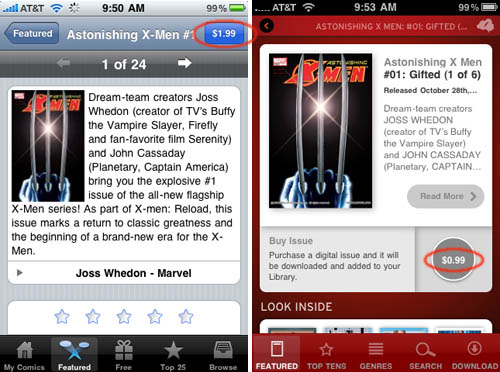 Notice the price discrepancy? Don't get excited - it's only temporary
Wade Slitkin of Panelfly, however, tells The Reg that the 99¢ price will be only for the first few issues of each of the series. Then within that same series, the prices will match the $1.99 as charged by Comixology and iVerse.
Admittedly, most of the titles being offered are somewhat long in the tooth, but the addition of comic powerhouse Marvel is welcome in any case - and perhaps a portent that more-recent titles will soon find their way to a touchscreen handheld near you.
DC Comics, are you listening? ®