Original URL: https://www.theregister.co.uk/2009/11/01/e_ink_technology/
Electronic ink: The whole story in black and white
But why not in colour?
Posted in Personal Tech, 1st November 2009 10:37 GMT
Electronic books are popping up everywhere, but in the quest for colour it's worth remembering that ink isn't just used to print books.
Every time El Reg covers electronic books we get questions about why such devices aren't colour yet, and what's so great about electronic ink compared to other screen technologies, not to mention when compared to old-fashioned liquids? Understanding the technology behind e-ink, and its more-interesting applications, might not make anyone rush out to buy a Kindle but it's not going to do any harm either: so here we go.
Those who've not seen an e-ink display can't get electronic books at all, but many who have seen e-ink at its best still struggle to understand why anyone would be content with a greyscale display and refresh rate measured in seconds. The 20 or so devices that will be on the shelves by early next year will be greyscale at best, because colour is a technical bitch, but the more-interesting applications of e-ink don't need colour anyway and it's those that are going to change the perception of what a computer display is.
The current generation of electronic books are almost exclusively based on technology from E Ink, a company spun off from the Massachusetts Institute of Technology 12 years ago. In June E Ink announced that it was to be acquired by its biggest customer; Taiwanese component manufacturer Prime View International, but come September the deal had to be renegotiated thanks to a growth in demand of more than 250 per cent, combined with reduced production costs, which made E Ink a whole lot more attractive.
The oh-so-valuable E Ink property is based on a series of fluid-packed microcapsules, one for each screen pixel, which contain tiny balls coloured black and white and charged negative and positive respectively. By changing the charge underneath the capsules the balls can be made to sink, or float, with shades of grey achieved by mixing black and white areas within a single capsule.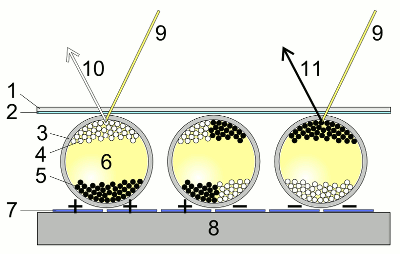 Reflected light in black and white, image lifted from Wikipedia
The amazing thing about this process is that once the balls have been moved they remain in place without charge being applied, so you can literally smash an E Ink screen and the shards will still display the last thing rendered. E Ink screens can't be back-lit any more than a newspaper can, despite Sony's attempts to fit a side light to one of their readers, the use of reflected light makes the screen more visible the better the light. So it's ideal for reading the latest bonkbuster on the beach but not so good for torch-lit reading under the covers.
E Ink's technology can also be applied to any surface onto which it can be glued, so while most e-book readers are using glass or inflexible-plastic screens there's nothing to stop a manufacturer applying the microcapsules to the back of something more interesting.
That's what Plastic Logic has in mind for its QUE reader, scheduled for launch next year. The QUE boasts a less-reflective screen as well as being lighter and more robust than the competition, Plastic Logic has demonstrated flexible screens too, but reckons that the technology isn't ready for rollable screens just yet.
Unlike Polymer Vision, who went the whole hog with a screen that literally wrapped around a device called the Readius and unrolls when needed. Polymer Vision got to working prototypes before it went titsup, and we got to play with a Readius briefly. The company has since been bought up for its technology.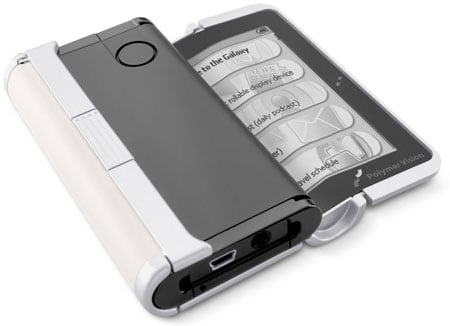 The Readius - it really worked, just not for long enough to save the company
Despite its (literal and functional) flexibility E Ink's technology is still crippled by its appalling refresh rate, and the fact that it's really hard to extend in to colour.
Does Colour Matter?
Not that colour is such a big issue for some of the more-interesting applications. The ability for an E Ink screen to hold its image without power lends itself to some really innovative applications including Lexar's USB stick that shows available space on an E Ink screen that updates when power is available but displays all the time:

Samsung's Alias mobile phone handsets uses E Ink panels instead of keys, allowing the keyboard to shift between landscape and portrait along with the screens: providing hardware keys with the flexibility of being soft.
Tiny E Ink screens are turning up in all sorts of places, such as Motorola's latest enterprise handset that has one embedded in the battery: an innovation that the designers admit was driven by the incredibly cheap cost of the E Ink screen rather than any functional necessity, nice as that functionality is.
When Rainbows Are Necessary
But it seems everyone is waiting for colour, despite the obvious technical problems. E Ink has a plan to colourise its offering with three layers of microcapsules, combined with filters, but that's not going to happen until 2011 at best, and its hard to imagine the process won't result in dull screens more reminiscent of early LCD rather than something competitive with OLED.
Not that everyone is waiting for colour: earlier this year Fujitsu started selling colour devices with all the advantages of E Ink, though the FLEPia technology comes with its own limitations.
The most obvious of those is price: the FLEPia reader launched earlier this year comes in at around £750 for an eight-inch screen, compared to £450 for iRex's similarly-equipped (but greyscale) version (both devices having Wi-Fi but no cellular connectivity). But the FLEPia's touted 260,000-colour display has another problem: it can take 8 seconds to refresh at that depth.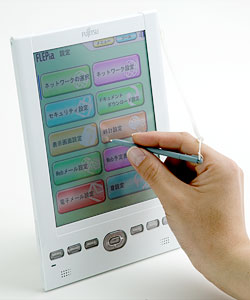 Electronic ink in colour, for patent people with deep pockets
FLEPia works by having three layers of Cholesteric Liquid Crystal (CLC), which twists in much the same way as modern LCD but remains twisted when the power is removed. FLEPia uses three layers of CLC, tuned to reflect red, blue and green light, with a light-absorbing (black) surface underneath. But twisting all those crystals takes time, so the FLEPia generally only displays 64 colours, with a refresh rate a shade under two seconds. pumping that up to 4,096 puts the refresh rate up to five seconds while anyone wanting to enjoy the whole range of colour available will have to wait for eight seconds for the privilege.
FLEPia technology will, no doubt, improve, but if you're wanting really bright images in colour then the whole concept of layers has to be removed and materials manipulated at a much smaller scale to create colour as vibrant as a butterfly's wing.
The best contender there would seem to be Photonic Ink (P-Ink) as promoted by Toronto-based Opalux. P-Ink involves mucking about with the structure of crystals, tuning them to alter the frequency of reflected light so it appears the colour of choice. P-Ink is impressive stuff, but don't expect it to appear in a Kindle any time soon.
Until then we're just going to have to get used to reading our electronic literature from greyscale screens, or resort to liquid smeared on paper if we really can't do without colour pictures. ®