Original URL: http://www.theregister.co.uk/2009/10/30/review_mobile_phone_nokia_6303_classic/
Nokia 6303 Classic
A no-frills phone just for talking on? Surely not?
Posted in Personal Tech, 30th October 2009 09:02 GMT
Review While Nokia continues to push at the boundaries of mobile phone technology, it also has its eye on the voice-as-primary-function mainstream. This is where its bread and butter lies, and a market well served by the stalwart and very popular 6300. Now meet its successor, the 6303 Classic.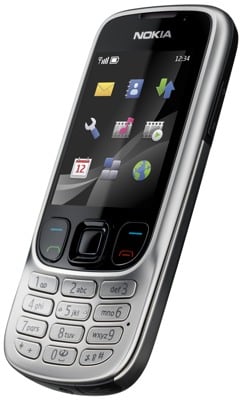 Nokia's 6303 Classic: the candybar handset that wants to be a slider
As such, it's a handset with few frills. There's no GPS, no Wi-Fi and no 3G. Actually, 3G is one absence that that may hold this handset back. What constitutes the mid-range is moot, but for our money 3G is one feature that's fast becoming, if it isn't already, a must have for all but the most bottom-of-the-ladder phones.
Incidentally, if you want 3G - and also GPS and a better camera - then maybe the £200-plus 6700 Classic might be more up your street.
Back to the 6303 Classic and it's a candybar handset with a very teensy twist. The size and weight are well within acceptable parameters - 108.8 x 46.2 x 11.7mm and 96g - but what's unusual here is the way the screen and shortcut buttons are enclosed in a frame which is curved and raised up from the number pad.
As you can see from the pictures, it makes it look like an open sliderphone. It doesn't slide but it is distinctive, and fortunately doesn't impede how you use the phone. The number keys have been squeezed a bit to make room for the relatively large rocker keys either side of the navpad. These combine Call and End with the soft-menu buttons.
However, the number keys themselves are well separated from each other and are tactile. The bottom row is close to the edge of the handset, though, and the outer keys are almost half the size of the other buttons because of the curve of the handset's base.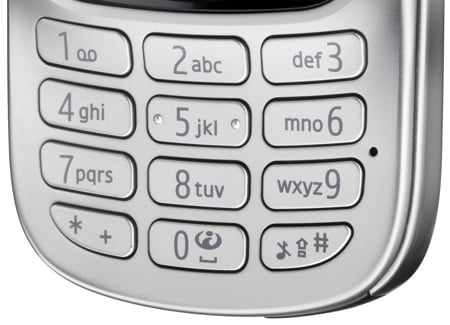 The number keys aren't bad, but the bottom row keys can be tricky to tap
The build quality is good for a phone at this price point. There's enough metal in the chassis to make the handset feel substantial and to allow it to take a few knocks and drops.
The screen isn't all that large - just 2.2 inches across the diagonal - and its 240 x 320 pixels are very much average. But the screen is clear and readable both indoors and out.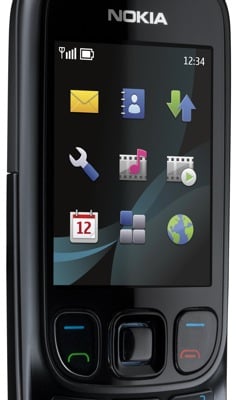 The screen is very readable, indoors and out
The handset can be charged from a standard small Nokia charger, as you'd expect, but not over USB. The micro USB connector on the device is purely for PC synchronisation, and Nokia supplies the shortest charge cable we've ever seen - just 20cm long, which might be unwelcome or a joy depending entirely on whether you're a laptop or desktop owner. PC Suite is provided on the 1GB Micro SD card that augments the phone's 17MB of internal storage. Nokia says the phone will support cards to 4GB, though it had no trouble with a 16GB SanDisk card we tried.
The charge and sync connectors are on the bottom of the casing where you will also find, joy of joys, a 3.5mm headset connector. This being a mid-range phone you might expect Nokia to provide a mediocre headset, but in fact we found the quality of the earbuds to be rather good. If you disagree, at least you can use a different set easily enough.
The quality of the sound coming out of the handset's speaker was quite good too, and the phone surprised us by delivering nearly 15 and a half hours of music non-stop from a full battery charge. The music player has an equaliser which has space for two user-defined presets, if you want to tweak what you hear, and there's an FM radio with RDS and 11 presets, if you forget to load the Micro SD card with songs.
The 6303 runs the S40 operating system and the broad range of bundled applications will be recognisable to anyone who has ever used a Nokia phone. There is mobile email alongside messaging, a voice recorder - you can't record from the radio, though - alarm, calendar, to-do list, notes maker, calculator, countdown timer and stopwatch as well as a few games.
To that list add Nokia Maps, which seems nice to have but, since the 6303 has no GPS pick-up, you can't pinpoint your precise location or get turn-by-turn directions. The 6303 doesn't even do cell triangulation to get an approximation of your current position. As it stands, you can find locations and plan routes, and if you add a Bluetooth GPS receiver you can get the navigation features too. Maps for the UK and Ireland are provided on the Micro SD card so there are no data charges for just looking somewhere up. Calling up your (known) locale is quick and easy.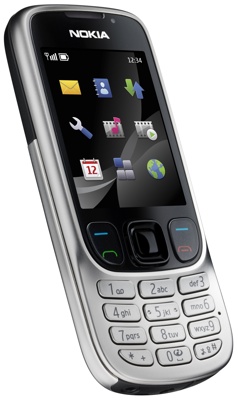 With no 3G or Wi-Fi, browsing isn't a joy here
It is a bit weird - though not unusual - that the Nokia has placed Maps in the phone's Organiser folder. Really, Nokia, why can't you just have the app sitting outside the folder structure instead of putting it somewhere obtuse like that?
The same goes for Opera Mini. You can find this in the Collections folder - along with a Flickr app, Ovi, a unit converter, a world clock and Windows Live Messenger - which is itself in the Applications folder. You can also get to it from the main screen by hitting the right soft-menu key, which brings up a 'Go To' list of shortcuts. Choose Web from the main menu, and you'll get Nokia's rather less wonderful browser. Oh dear.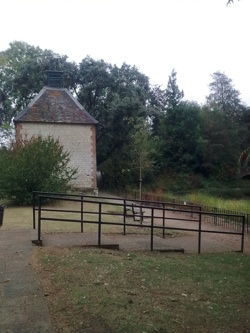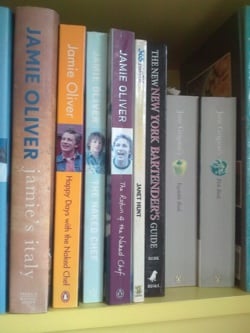 Pics are fine for emails and MMS, but are slow to take and lack contrast
Either way, Web browsing is a bit slow, thanks to the aforementioned absence of 3G, and not very satisfactory on the small screen.
The 3.2Mp camera similarly suffers from not having its application near at hand - or a dedicated button, for that matter. You can put a link on the Go To menu which makes getting to the camera a bit faster than heading for the Menu and then the Media folder. Snapping a shot involves pushing the navpad to get the autofocus to kick in, then releasing the control to take the shot. Don't move the camera during this operation or you'll end up with a very fuzzy photo.
Many of our test outdoor shots were taken in dull, grey lighting conditions and the camera struggled. The sample shot is a case in point - no sky is ever that white. The camera took ages to process shots, and we found a wait of several seconds was not uncommon. Obviously, that makes taking a run of candid shots a bit of a challenge.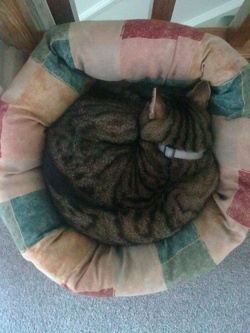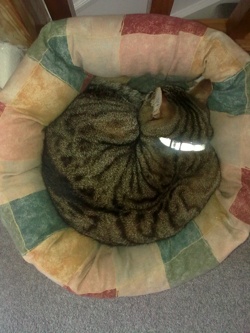 With out flash (left) and with
The twin-LED flash sounds like a plus point on paper, but as usual it only really has any use if you are close to your subject. Even then the benefit is marginal. Two attempts at the same subject with and without the flash show the unlit pictures is grainy but fairly bright, while the shot with the flash is sharper. But neither are particularly satisfactory.
If the 6303 is never going to take a high quality picture, at least its call quality isn't a problem, and its battery life a positive plus. We've already noted good music playback time from the 1050mAh battery. Nokia claims seven hours' talk time or 450 hours on standby. With little to push it very hard a full battery kept going for us for four days before needing a charge. We didn't play a lot of music or do much browsing during that time, but then this isn't the kind of phone you buy if you're particularly keen on either of these activities.
Verdict
The Nokia 6303 Classic is no smartphone, but good battery life and a solid build make it a contender for anyone on a budget, or simply in search of a phone for talking to people with. ®
More Phone Reviews...

LG Chocolate
BL40

Samsung
Tocco
Lite

LG GD910

Sony Ericsson
C903