Original URL: https://www.theregister.co.uk/2009/10/29/sony_ac_adapter_recall/
Sony recalls defective power bricks
Shocking admission
Posted in Personal Tech, 29th October 2009 17:28 GMT
The US Consumer Product Safety Commission has issued a recall for tens of thousands of power adapters for Sony VAIO desktops.
According to the notice, 69,000 faulty VGP-AC19V17 AC adapters were included with Sony's VGC-LT and VGC-JS2 VAIO Desktop series computers, along with VGP-PRBX1 and VGP-PRFE1 docking stations.
The Chinese-manufactured adapters have faulty internal insulation which can "fail over time, posing an electrical shock hazard to consumers," according to the CPSC. Sony is offering free replacement adapters to customers saddled with the aforementioned danger bricks.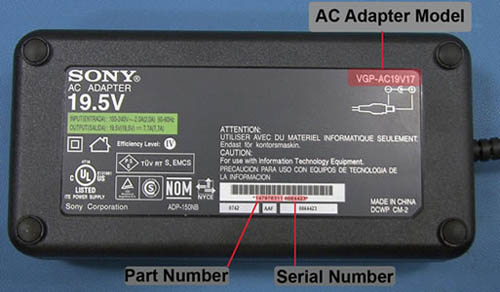 If you squint really hard, you might be able to read your power brick's serial number
The CSPC also notes that Sony has received four reports of short-circuiting adapters, but has not received any reports of anyone being injured by their defective guts.
If your VAIO Desktop is powered by one of these disasters-in-waiting, call Sony at 1-877-361-4481 (US residents only) or visit Sony's "AC Power Adapter Replacement Program" web page and enter your adapter's serial number to discover if yours is among the insulationally challenged.
If you and your VAIO live outside the US, the same page also includes links to similar help for residents of Canada, Brazil, and Latin America - which includes advice, oddly enough, in English. Residents of "All other countries" are advised to "go to Sony Global Home and then choose your country."
The CSPC is still investigating the defective AC adapters, so if yours is acting up, they'd appreciate it if you'd let them know here. ®