Original URL: https://www.theregister.co.uk/2009/10/29/review_phone_motorola_dext_mb200_android_smartphone/
Motorola Dext Android smartphone
Well, hello Moto
Posted in Personal Tech, 29th October 2009 13:02 GMT
Review Few would be surprised to learn that US brand Motorola has struggled of late. Since the flush of success it enjoyed with the Razr series back in 2004, Motorola has singularly failed to set the mobile world alight, seemingly watching as other brands grasped the smartphone nettle and raced to the future.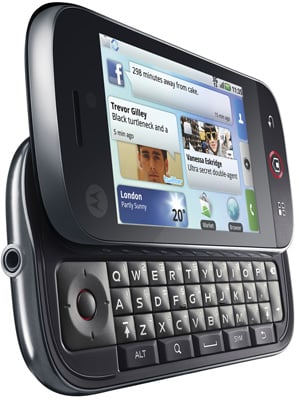 Motorola's Dext: better than we'd imagined
But now, the company thinks its saviour may be at hand. The Motorola Dext is a smartphone that focuses on social networking using its Motoblur service. This makes innovative use of cloud technology to put instant Facebook and Twitter updates on your home page and holds all your phone's info on a remote server, so you can access it anywhere and revise it instantly.
Motoblur features aside, the Dext runs the Android operating system, has a slide-out Qwerty keyboard, 5Mp camera, HSDPA 3G, Wi-Fi, A-GPS and a host of additional apps. However, for UK users, it's initially only available on the Orange network. The Motorola Dext is a fairly chunky device at 114x58x16mm and 163g. Still, its designers have made the effort to soften its brick-like tendencies by tapering the front edges dramatically. This actually feels a bit odd at first, since the top half sits slightly inside the bottom half, but it turned out to be quite a practical solution.
The front is taken up by a 3.1in capacitive LCD touchscreen, which easily manages the admirable trick of being sensitive enough to tell the difference between brushes and presses. Below it is menu button that doubles as a screen unlock button, plus home and back buttons.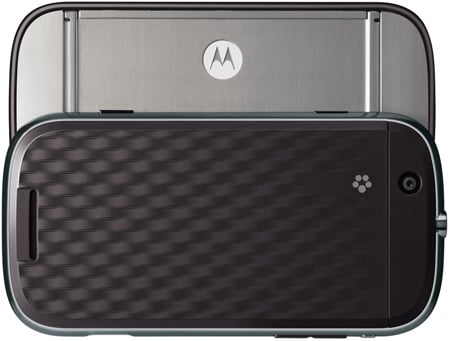 No flash or lens cover for the 5Mp camera
Around the sides are a camera shutter and a shortcut button that allows you to set your Wi-Fi, Bluetooth, flight mode and GPS settings as well as power off or on. On the other side is a mute switch, volume rocker and micro USB socket, with a slightly ostentatious 3.5mm phone jack on top.
On the back is the camera lens, untroubled by anything so vulgar as a flash or lens cover. The back cover slips off easily enough, which is just as well, since you'll need to remove it to get to the micro SD memory card, and there's a 2GB one included, with support for capacities up to 32GB.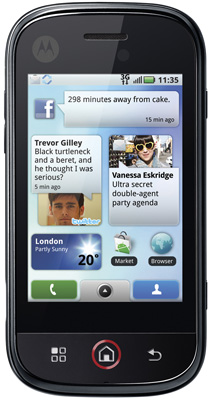 Also a compact touchscreen phone when it needs to be
The Qwerty keyboard offers just three lines of letters, with another line reserved for control keys and a large navpad at the left-hand side. The keys are of tactile rubberised plastic with raised centres. Overall, the keyboard is really very good, though it pales a little in comparison with HTC's five-line Pro2.
Our test Dext was running Android 1.5 (Cupcake) OS and it's not the quickest in truth, with more lag than we'd like when switching between apps and when several are running at once. It never gets disastrously slow, but it's noticeable nonetheless.
Motoblur is the Dext's big innovation. It puts your most-used social apps centre stage among the widgets on your home page. You can set up the services you want from the Happenings menu which, for now, includes Facebook, Twitter, MySpace, Picasa, Last.fm, Google and Photobucket, with more to come soon.
The clever bit is that it can combine your updates and messages, allowing you to customise your home page (of which there are five) to show your latest updates in real time – so the latest tweet you've been following flicks up with a line and a pic. Facebook updates too, and there's quick access to your account so you can tweet pretty much instantly. Beyond viewing updates simultaneously, you can actually make them as well, so you can set it so that your latest Tweet also appears as your latest posting on Facebook and MySpace.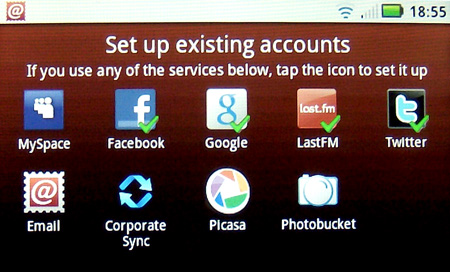 Social networking options are the Dext's raison d'être
There's also a bunch of additional widgets already up and running, giving you easy access to RSS feeds, Motoblur tips and tricks, Google search and news feeds. It's nicely intuitive and genuinely useful for smartphone newbies, though you can of course customise your screens with all sorts of Android widgets and links.
If you have a lot of contacts, the sheer wealth of constantly updating information is a little overwhelming at first, but we quickly got used to it. Our only gripe is that the Happenings window collates messages from all your sources, rather than offering the option of separate windows for Facebook, Twitter etc. Nevertheless, you can, of course, download dedicated Facebook and Twitter clients from the Android Market.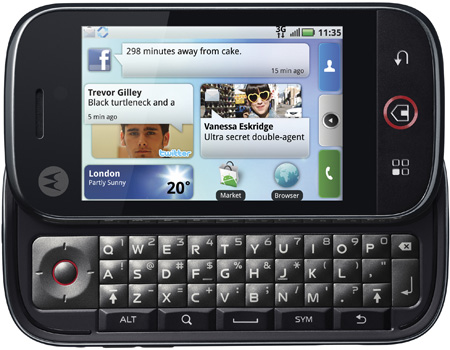 A universal in box keeps you up-to-date with all communications options
Email and text also get the all-in-one treatment, with a 'universal inbox' that collates all your messages, including email, texts and social network updates, making it easy to check your latest communiqués. If you prefer, you can also view them separately in more conventional style. Motorola has wisely left the option open, though they won't flash up on the screen in the Happenings style.
But Motoblur is more than a mix and match of social networking features, it's also a cloud-based repository for all your phone-based info. So if you lose your Motorola Dext, you can wipe its memory from your web-based Motoblur account and add the info to your replacement phone. Someday, we suspect, all smartphones will work this way.
Elsewhere, the Dext is standard (read: very good) Android fare, with a broad selection of widgets to customise your home screens, an ever-increasing range of wares on the Market and the ability to access your latest updates and notifications by dragging down from the top of the screen.
Call quality through the phone's speaker is fine and we never had any problem picking up a signal in town. Browsing is equally painless using Wi-Fi or HSDPA 3G with 7.2Mbps downloads. The screen flips into landscape mode when you rotate it on its side and its onscreen zoom buttons are simple to use and access. There's no stylus, but you won't need it, since the sensitive screen makes it easy to access links with your finger or you can use the navpad on the Qwerty keyboard.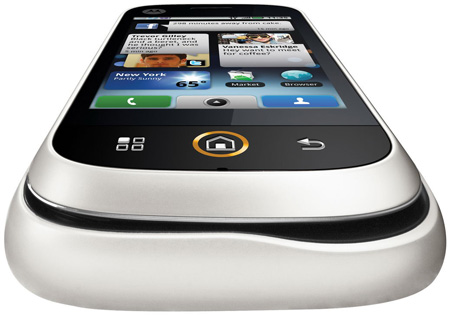 Stylish, albeit a bit on the chunky side
The 1x button on the screen snaps the page back to its original size and the magnifying pane allows you to find your way around busy pages with ease. Somewhat disconcertingly, there's no automatic URL bar, but it appears as soon as you start typing, which is actually a perfectly elegant solution, once you get used to it.
It also packs in many of the latest browser tricks like multiple pages, word search, copy and paste. And while there's no Flash support, you can watch YouTube without any problems using the onboard app, so it's not a great loss. All in all, it's a very satisfying web package.
Sample Shots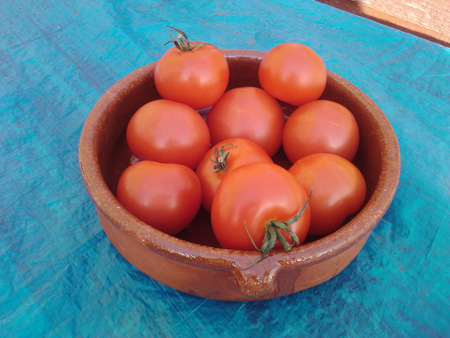 Click for a full-resolution image
For media playback the screen is deliciously sharp and it can handle H.264, H.263 and MPEG 4 formats. Onscreen controls are basic and there are no options to adapt widescreen movie clips to the screen's dimensions. Youtube videos fill the screen, however, and generally look just about as good as they can.
There's the usual Android simple but intuitive interface for music, which is perfectly fine, and you can download others from the Market if you prefer. It can play AAC, AAC+, AAC+ Enhanced, AMR NB, MIDI, MP3 and WAV tracks. A useful addition is a link that allows you to touch on an artist's name to search for additional content from them on the web. Our sample didn't arrive with headphones – though shop-bought versions will – but the 3.5mm jack plug allows you to easily add your own, as does the stereo Bluetooth capability.
Getting video and music onto the Dext is fairly straightforward too, using the new Motorola Media Link syncing software. This bears more than a passing resemblance to the grey livery of the media software of a certain fruit-themed manufacturer.
The 5Mp camera takes about five seconds to launch by pressing the shutter button and another three to take a pic – so it's not great for quick snaps. It has autofocus and geo-tagging, but there aren't many options available on screen. Pressing the menu button just brings up icons for gallery, camcorder and settings.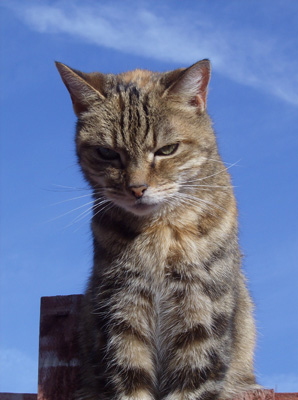 Click for a full-resolution image
There's no timer, multishot or panorama options, just a choice of resolutions, a few colour effects, picture quality and white balance settings. It's very much a snapper rather than an attempt at a proper camera, but picture quality isn't bad, and it's certainly a step up from what you'll find on HTC's devices.
Video records in HVGA resolution at 25fps – not bad, but it doesn't need much encouragement to start looking jerky, though there are easy options for uploading to your Facebook, Twitter, MySpace or Picasa accounts.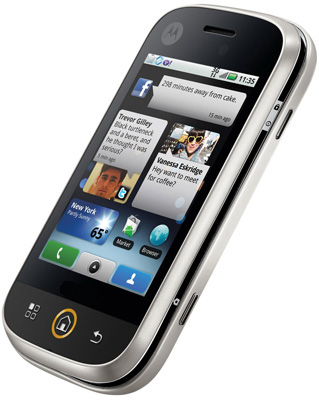 The always on-line enticements take their toll on battery life
Other features include A-GPS supported by both Google Maps and Orange Maps, both of which worked fine, though the Google variety appears to have more features. There's also Quickoffice for Android, which allows you to view docs, but not create them, plus ShazamID for identifying mystery tracks and imeem, a music streaming service similar to Last.fm.
Battery life isn't great, though. Encouraging owners to connect to the internet virtually all the time to pull down Facebook updates is bound to give the battery a bit of a pummelling. Motorola quotes around 360 hours standby but, in practise, we barely got more than a day out of it.
Despite its emphasis on social networking, the Dext seems a little pricey for the youngsters who first helped push Facebook to more than 300 million users. But then again, recent research has shown that da yoof are deserting it in droves now that their parents are getting into it, and that's a much more attractive market for the Dext anyway.
Verdict
Indeed, the Dext has a gorgeous touchscreen, a fine Qwerty keyboard, good browser plus a reasonable camera and media players. User friendly, it offers plenty of potential for personalisation, along with growing range of apps plus Motoblur's ability to keep you up to the second with your social networks. After the last few years of underwhelming variations on a Razr theme, Motorola has made a serious attempt to knock back the doubters with the Dext and, in all honesty, we're a little surprised that it has come up with such a strong offering. ®
More Phone Reviews...

LG
New Chocolate
BL40

HTC
Touch 2

Palm
Pre

BlackBerry
Curve
8520