Original URL: http://www.theregister.co.uk/2009/10/27/review_media_player_sony_nwz_s544_walkman/
Sony Walkman NWZ-S544
PMP with speakers, anyone?
Posted in Personal Tech, 27th October 2009 09:02 GMT
Review Do pocket media players need built in speakers? Certainly, apart from the Touch, Apple doesn't seem to think so and let's face it, love it or loathe it, Apple knows a thing or two about selling MP3 players to world+dog.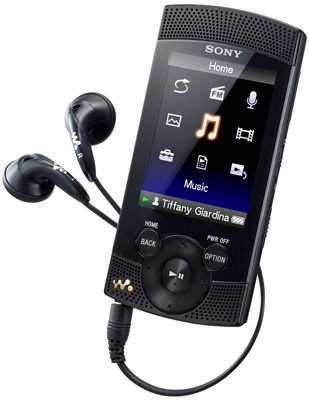 Sonic boon? Sony's Walkman NWZ-S544
Sony, however, begs to differ and has launched a new series of Walkman players complete with built-in stereo speakers. A stroke of genius, or a niche too far? Physically, the new S class resembles a slightly stretched version of the E-class player we looked at last month.
Happily the installation of two small speakers at the top and bottom hasn't done too much to increase the size of the device which, at 49.3 x 99.3 x 10.2mm and 68g, remains reasonably light and compact despite having a 2.4in, 240 x 320 display, rather than the E's 2in affair.
External controls are the now familiar Walkman norm, the only major difference being the addition of a rocker to switch the speakers on and off. The speakers, which face both forward and back, are mounted on the left hand side of the player at both the top and bottom. They are concealed by robust grilles, which bode well for the device's longevity.
To give the front and back speakers the best chance, Sony supplies a plastic clip-on stand that props the 544 up at around 80° and puts the speakers at the 'top'. The problem with the stand is that it is a wretched flimsy plastic affair that, almost certainly within days of purchase will either snap or be mislaid.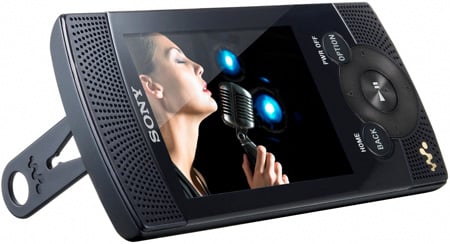 Making a stand
Technical details of the speakers are a bit thin on the ground. All Sony will say is that they are Digital Linear Phase Speakers that incorporate Linear Phase Correction and have Virtual Bass, all of which sounds rather impressive.
So, how do they perform? Well, that depends on what you are using them for. To start with they are not exactly what you would call loud. If we had to take a wild guess, we'd say they are chucking out between half a watt and a watt apiece, which is enough for use in a quiet room, but not much else.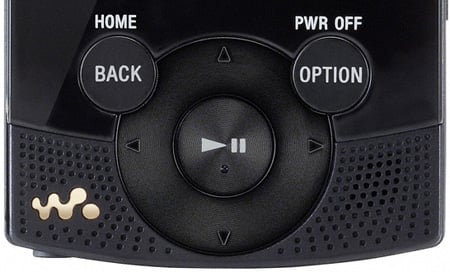 Sound choice for video viewing, but the speakers are wide of the mark for music playback
That said they are certainly up to the job of handling the soundtracks of BBC iPlayer video downloads. During tests, we watched a full episode of Jonathan Meade's Off Kilter on the S544. With the volume turned up to maximum and the player propped up on its plastic stand, the S544's speakers did a more than decent job. The sound was clear and crisp, if just a little sibilant. The video was sharp and colourful too.
Use the speakers for music and things take a bit of a tumble, though not by the degree we feared. Yes, the sound is tinny and devoid of anything you could seriously call bass, but it's not inherently unpleasant to listen too. That's not to say that we can think of many situations in which you would want to use the speakers to listen to music, because we can't. In fact the only two that come to mind are when using the S544 as an alarm clock or when listening to the radio.
Of course, to use the radio you will have to have the earphones plugged in so they can act as an antenna. Unlike most MP3 players, the radio does actually fire up without the earphones plugged in but we couldn't get it to lock onto a single station, no matter where we tried. Incidentally, the radio isn't RDS but does give you the option to select up to 30 presets.
Ignore the speakers and the new S-class players are technically and sonically very nearly identical to the E-class. This means you get the usual Sony format support of MP3, DRM-free AAC and WMA audio, along with WMV and H.264 video plus JPEG images. The FM radio can be recorded at 96, 128 or 160Kb/s MP3, there's a voice recorder too and the ability to synchronize playlists from MTP media players or set them up on-board.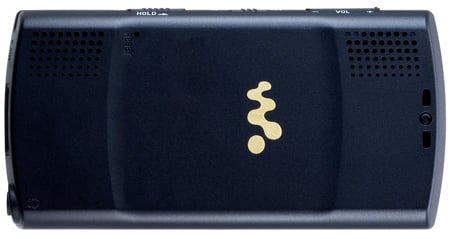 Rear speakers don't offer enough extra to deliver a significant volume output
Like all Sony players the S-Class will hook up to any and all operating systems as either an MTP or MSC class device, while Windows users can use the handy Content Transfer Tool to load music directly from the iTunes desktop. The bundled headphones are the same MDR-E804Y type that Sony supplies with its E-class players. We didn't think much of them when we looked at the E class and time has not made us think any more highly of them. Sony can - and usually does – do better.
With so much in common it came as no surprise that the S and E class both sounded pretty much the same with the S544 producing the same warm and pleasant sound that distinguished the E444. The inherent competency of the device and the seven EQ settings – five fixed, two variable – ensure the S544 is tolerant of a wide range of musical genres.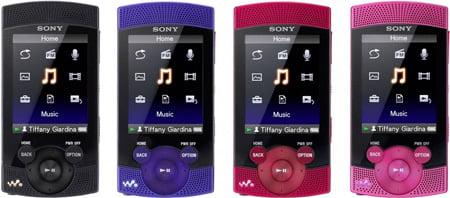 Colourful options but, speakers aside, much the same as the E series
According to Sony, a fully charged S544 is good for 42 hours of audio and 6.5 hours of video, though those numbers drop to 17 and 5 hours respectively, if you use the speakers rather than the earphones. We found those times to be pretty accurate, managing 15 hours of audio and just under 4h 30m of video with the speakers set to full volume.
Buy direct from Sony and the S series is reasonable rather than great value. The 8GB S544 will set you back £120, though who is going to pay that when the 16GB version only costs a tenner more is anyone's guess. Since Sony will sell you a 16GB E-class Walkman for £110 that means the speakers command a premium of £20. You may disagree, but we're not sure they're worth it.
Verdict
If you want a small media player with built in stereo speakers, then the S544 is a pretty self-recommending choice. It does everything you would expect a modern Walkman to do and the speakers make a better fist of things than you might expect. But despite thinking long and hard about it, we still can't come up with a convincing reason to actually buy a media player with speakers. ®
More Media Player Reviews...

Philips
GoGear Muse

Cowon
D2+ DAB

Samsung YP-Q2
v.
Sony E-series

Apple
iPod Touch 3G