Original URL: https://www.theregister.co.uk/2009/10/27/review_laptop_msi_x600/
MSI X-Slim X600 15.6in notebook
Light as a feather, would you believe?
Posted in Personal Tech, 27th October 2009 12:58 GMT
Review We're beginning to think there's some sort of competition between laptop manufacturers to come up with the most ridiculous marketing statements. In our recent review of the EasyNote Butterfly, we were left cringing at Packard Bell's explanation of exactly why it had chosen to use that name.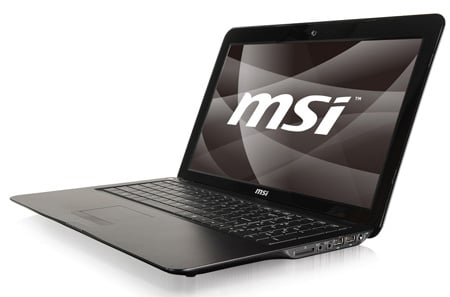 MSI's X-Slim X600: literally, as light as a feather, apparently
Now, with the X600, we have MSI saying it "strives to be literally as light as a feather". Yes, that's right – literally, not metaphorically. With the X600 weighing 2.1kg, MSI has either failed dismally in its quest or there are some gargantuan birds strutting around its offices. Still, as far as dimensions go it is rather thin. There are more slender laptops available (Apple's 1.94cm MacBook Air springs to mind), but at 2.5cm MSI isn't too far off the pace.
The X600-055UK version we're reviewing here is powered by an SU9600 processor. This is an ultra-low voltage chip, but unlike the SU3500 that powers the Packard Bell EasyNote Butterfly, it still manages to pack in two cores. With a clock speed of 1.6GHz and 3MB of L2 cache, it's no speed demon but, as we'll detail in a moment, neither is it woefully under-powered.
MSI includes 4GB of DDR2 memory with the X600. The pre-installed 32-bit Windows Vista Home Premium can't handle more than this, but Windows 7 can and a free upgrade is included. However, those keen on upgrading the memory will be dismayed to see a label covering up the screw for the rear panel, along with a stern warning that the warranty will be void if it's removed.
On the left, you'll find two video outputs in the form of HDMI and VGA ports, along with Gigabit Lan and a combined eSATA/USB port. Over on the right, you get two more USB ports, audio in and out sockets, plus an SD/MMC card slot. The power socket is also on the right. There are no ports on the front or rear of the chassis, nor is there room for an Expresscard slot.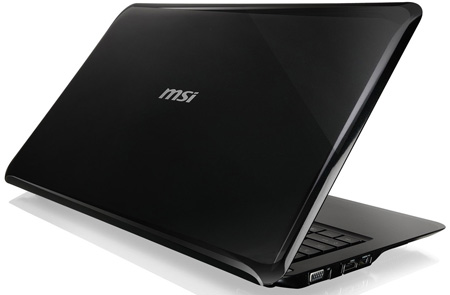 Room only for three USB ports and no DVD drive
The 15.6in display features a glossy coating and runs off a 16:9 native resolution of 1366 x 768. Like the vast majority of laptop displays these days, it's LED backlit. It's also impressively bright, but we had to chuckle when, on the specification label on the box, we noticed it's listed as "15.6 WXGA (Glare Type)". Poor choice of words, perhaps, and it's no more of a magnet for reflections than other 'glare type' screens we've seen. Horizontal viewing angles aren't great, though – stray from the centre sweet spot and it soon loses clarity. A nasty speckled effect is also noticeable when viewed from an angle.
Given its slim nature, it's not surprising that there's no optical drive built into the chassis. However, MSI does include an external DVD writer to make up for this. Meanwhile, an Intel Wi-Fi Link 5100 card provides 802.11n wireless and Bluetooth is also included.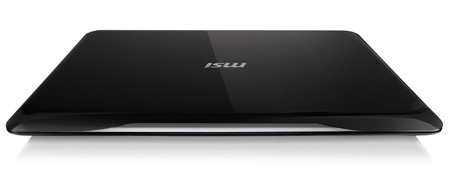 Glossy lids always look pretty, but they also love fingerprints
A 5,400rpm Western Digital Scorpio Blue hard drive lurks within, offering a decent 500GB of storage. We have to question MSI's partitioning decisions, though. Understandably, the drive features two partitions, but the Windows one is a mere 44GB. If this partition was reserved for Windows files this wouldn't be so much of a problem. However, MSI has crammed all of its bloatware (including trials of MS Office 2007, Norton Internet Security etc.) on here too. The end result is that the C: drive has just 7.8GB of free space to play with.
MSI also includes a few utilities of its own, including one called S-Bar. This animated application launch bar pops up when you drag the mouse to the bottom of the screen and has obviously taken the Dock in OS X as its inspiration. If Freecell, Hearts and Minesweeper aren't your thing, you can change the applications, but it didn't take us long to get fed up with it and kill it off.
As far as usability goes, the keys are large and ever-so-slightly convex, but being so close to each other, it's easy to slip onto a neighbouring key when touch-typing. There's also room for a numerical keypad, although the zero key has been squished to as to accommodate the arrow keys. The small Enter and Backspace keys also take a while to get used to. Despite the thin chassis, the keyboard features very little flex – there is some flexing noticeable on the numerical keypad, but on the whole it's a solid keyboard.
Sat below the keyboard is a multi-touch trackpad. This is able to recognise both two- and three-fingered gestures, including scrolling, rotating and magnifying. It could do with a slightly rougher texture, though, as we found our fingers sticking to it unless we used a feather-light style.
MSI has opted to furnish the X600 with four speakers and proudly claims it is capable of "theatre class" audio. Despite this, we were left feeling somewhat underwhelmed by the sound quality. All four speakers are situated on the underside of the chassis; two are found just under the front lip, while the other two are placed right at the back. The end result is that audio sounds much better when the laptop is upside down, which is hardly ideal. MSI would have been better off ditching the rear two speakers and replacing them with a subwoofer to add some bass to the rather tinny audio.
PCMark05 Results
Overall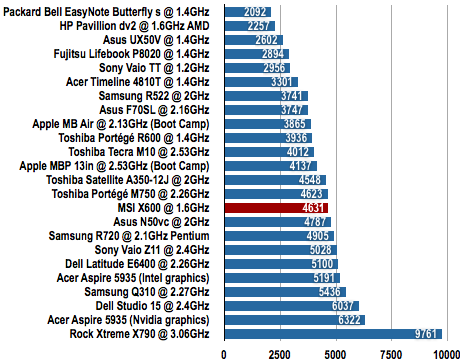 Longer bars are better
CPU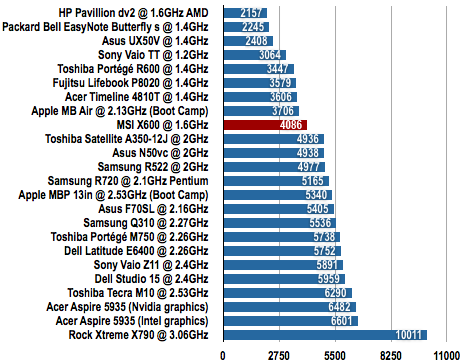 Longer bars are better
Memory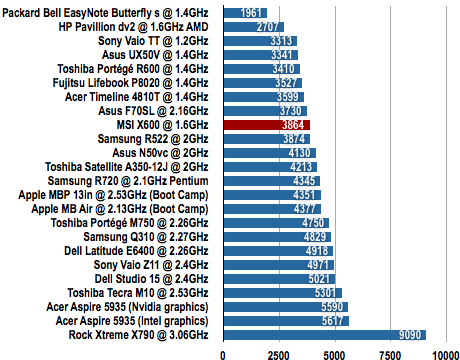 Longer bars are better
Graphics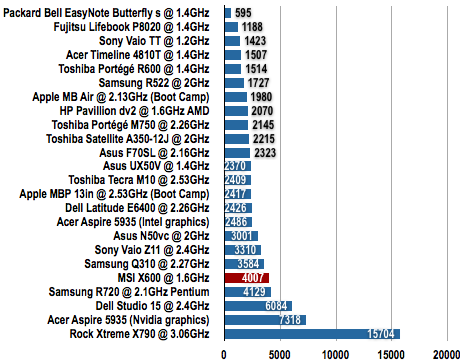 Longer bars are better
HDD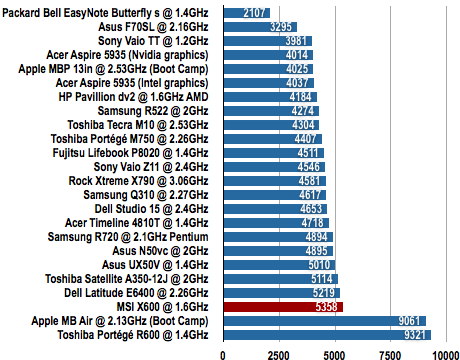 Longer bars are better
3DMark06 Results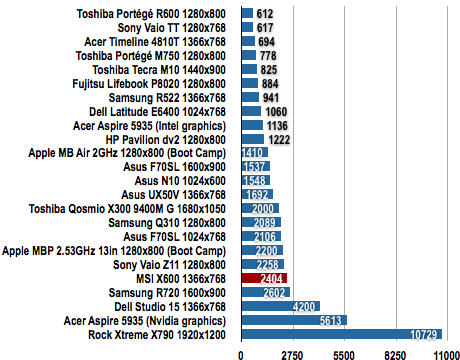 Longer bars are better
Battery Life Results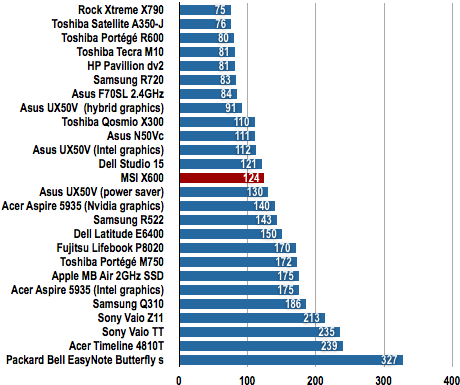 Battery life in minutes
Longer bars are better
The X600 ships with a six-cell 5400mAh battery as standard. It's a large but thin unit, and slots neatly into the underside of the chassis without adding anything to the overall thickness. In our intensive battery test, it managed to provide two hours and four minutes. MSI includes its own battery-saving mode, which adds around 50 minutes to this figure, but you have to cope with an almost completely dimmed display and a processor that's capped at 20 per cent usage.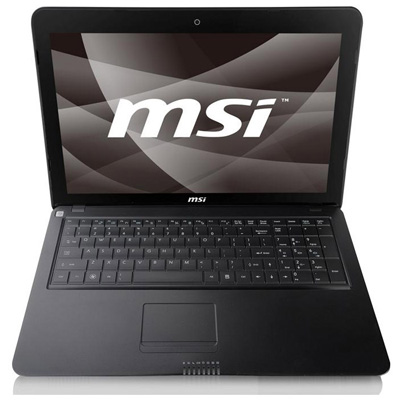 Decent-sized keys, but not much room between them
So, back to that ULV SU9600 processor. Being part of Intel's Core 2 Duo range, it's a dual-core model and therefore far more capable than the single-core SU3500 that featured in Packard Bell's EasyNote Butterfly. This is most obvious in PCMark05's CPU test, with the SU9600 achieving a score of 4086 compared to the SU3500's 2245.
3D performance is helped by the inclusion of an ATI Mobility Radeon 4330 graphics card. Combined with the 1.6GHz ULV processor, this doesn't turn the X600 into a monster games machine, but it is capable of some light gaming. We tried out Call of Duty 4 at the laptop's native 1366 x 768 with 4x anti-aliasing and achieved a rather jerky 12.3fps. However, dropping down to 1024 x 768 and turning AA off resulted in a far more playable 21.8fps.
During testing, the X600's fan ramped up to a level that could start to annoy in a quiet room. In fact, even when not under strain the laptop's fan continued to whir away, albeit at a slower speed. Thankfully the chassis doesn't suffer from any particular hot spots, although the wrist rest does get noticeably warm after half an hour or so.
As with any style-driven laptop, you end up paying a fairly high premium for its design. And at £799, the X600 is by no means cheap. Packard Bell's EasyNote Butterfly is £100 cheaper, has two-and-a-half times the X600's battery life and also weighs under 2kg. However, with integrated graphics and a single-core processor, the Butterfly can't get anywhere near the level of the X600's performance.
Verdict
Had MSI managed to get closer to its 'light as a feather' goal (and we're talking at least half a kilo closer here), and offered longer battery life, the X600 would have scored higher. Ultimately, as with the EasyNote Butterfly, our main criticism is that it's just too darn expensive. ®
More Notebook Reviews...

Packard Bell
EasyNote Butterfly s

Asus
UX50V

Toshiba
Satellite A350-12J

Dell Studio 15