Original URL: https://www.theregister.co.uk/2009/10/27/nissan_mobility/
Nissan steps glides into mobility tech
Ski poles, roller skates and motors
Posted in Personal Tech, 27th October 2009 17:48 GMT
Honda has really been pushing the boundaries of mobility devices recently, while Nissan has stuck two poles onto a pair of roller skates.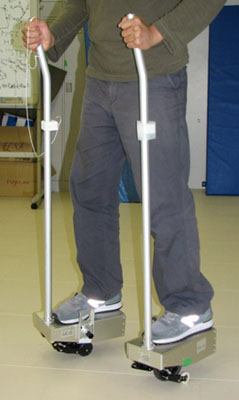 Nissan's robotic roller skates during a dry run
Nissan has teamed up with Japan's National Institute of Advanced Industrial Science and Technology to create a motorised mobility device that will have you skiing along the pavement and slaloming around obstacles.
The device – which doesn't have an official name – consists of two foot rests, each balanced atop two wheels and containing a motor able to drive wheels at up to 5km/h.
Users steady themselves with the handles fixed to each foot rest.
Tilt sensors hidden inside the foot rests ensure that when you tilt towards the left, the robotic roller skates move with you.
According to one Japanese report, the skates also feature sensors designed to help you steer clear of obstacles.
Nissan is still undecided about whether it will mass-produce the bizarre gadget. ®