Original URL: https://www.theregister.co.uk/2009/10/26/review_storage_freecom_secure_hdd/
Freecom Secure
Swipe your card, gain access to your external HDD
Posted in Personal Tech, 26th October 2009 08:02 GMT
Review We've seen a fair few hard drives with built-in fingerprint readers, but here's one that uses RFID cards instead of digits.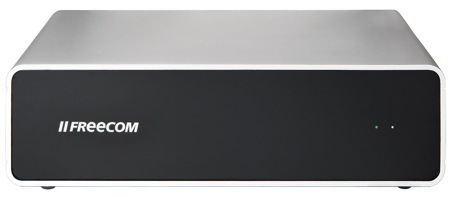 Freecom's Hard Drive Secure: there's a RFID reader behind the drive's glossy front
The notion is simple: if you want to access the data on the drive, you'll need to touch the unit with a smartcard to do so. No card, no files. And the protected data is encrypted to AES standard - 128-bit at a guess - to hinder any herbert who tries to get to the information by other means.
Freecom's simply named Hard Drive Secure is further protected with a seamless brushed aluminium casing, though the front and back are glossy black plastic. There are no obvious screw-holes, though we wouldn't put ripping off the rubber feet or prising off the back panel beyond any sufficiently zealous data thief.
The unit is a little less than twice the size of a regular 3.5in hard drive, the enclosure having been designed to take up to 2TB of storage, though the model we had in to look at had a more modest, 500GB storage capacity. There are a couple of tiny LEDs on the front - more on this in a moment - and a printer-style USB connector on the back alongside the power socket and on-off switch.
Out of the box, the drive is formatted using FAT32, but you can re-format it to NTFS or HFS+ using Windows' and Mac OS X's own tools, respectively. Indeed, Freecom encourages you to do this after you've backed up the bundled RFID management utilities for both platforms, along with back-up software and, in the case of Windows, a couple of trialware apps, to your computer's own hard drive.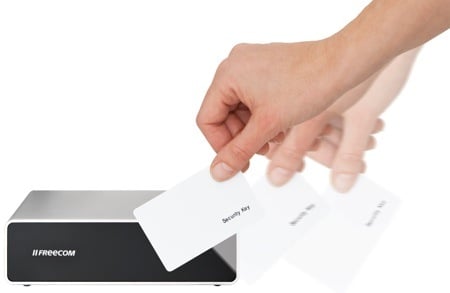 Swipe for access
We ended up - how, we're not entirely sure, but it involved reformatting the disk - with a drive that neither the Windows nor Mac RFID software would see but which was nonetheless protected. Put it this way, it wouldn't mount unless presented with a smartcard. Ejecting the disk - properly, using the OS, or simply by yanking the cable - would automatically 'lock' it again.
Likewise, touching the front with a smartcard will also unmount the drive.
In that sense, it works, but of course there's no way now to, say, remove the protection facility, which the utility allows, or register extra cards if you lose one. The bundled software lets you carry out both these tasks.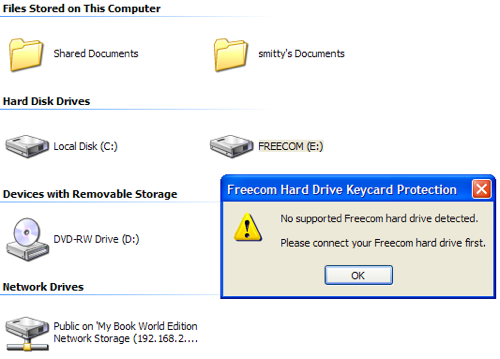 Whoops
The Hard Drive Secure can remember only two cards at once, by the way, so if you want the one drive to be accessed by more than two users, it means sharing cards. In fact, one card is intended to be a 'master' card kept safe in case you lose the other one. So this is really a one-user product.
It's also worth noting that while the system worked enough to allow us to enrol the cards using Windows, the Mac software never saw the drive. We're using Snow Leopard, and we suspect Freecom's software may not be compatible, though there's no appropriate update on the company's website yet. The command line script that kicks off the Mac installer failed with a 'Cannot Execute Binary' error. No surprising, that, since it's a PowerPC binary. Has Freecom not heard that Apple has gone Intel?
Despite all this, the drive worked on our Mac, because the security system lies within the Hard Drive Secure itself. But it's a problem if you need to re-configure it and don't have a PC handy.
Back to the drive, and the smartcard sensor works quickly. The sensor is in the centre of the drive's front panel, but the cards' RFID chip is not centred, so it's possible to place one half of the card over the sensor and the sensor won't 'see' the chip. It works best when the whole card is placed flat against the drive.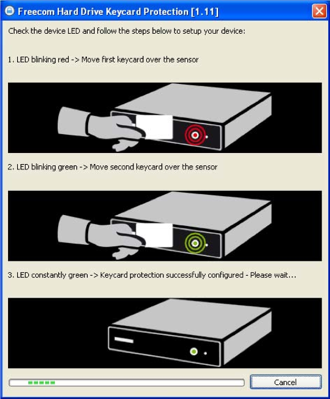 Enrol your cards
The smaller of the two LEDs on the front tells you if the drive is locked or not - the other indicates the drive is powered up - and again, it's best to look at it straight on. At too sharp an angle between drive face and line of sight you can't quite see what the colour is. This doesn't matter too much in use, but it does when you're trying to enrol your smartcards.
CrystalDiskMark 2.2 Results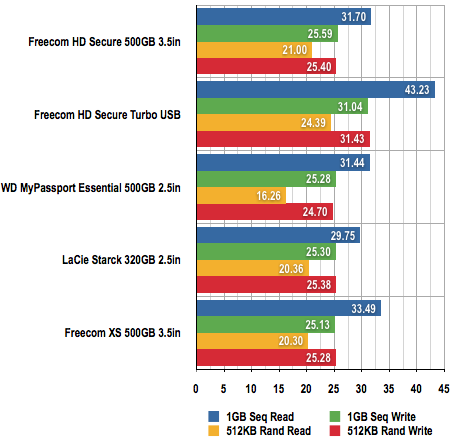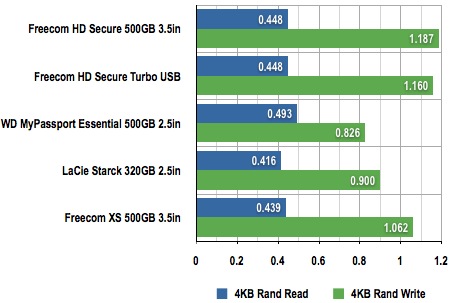 Data throughput in Megabytes per Second (MB/s)
Longer bars are better
File Transfer Results
2GB File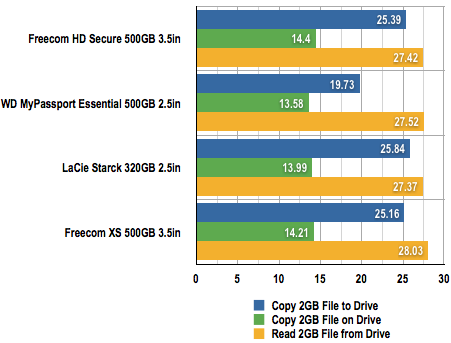 1GB Folder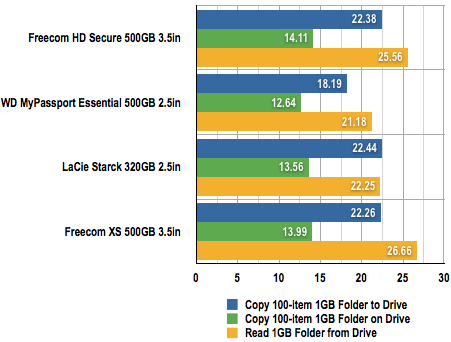 File-transfer speed in Megabytes per Second (MB/s)
Longer bars are better
You don't buy a drive like if your primary concern is performance, but it's good to know the Hard Drive Secure is reasonably zippy, given the inline encryption and decryption that's taking place as data is going back and forth.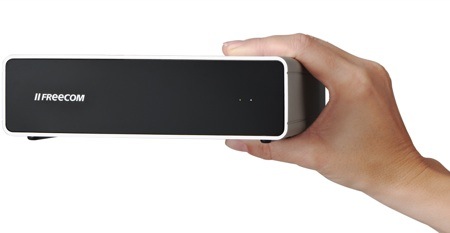 A bit of a handful?
And, as you can see from the charts on the previous page, Freecom's Windows-only Turbo USB software boots the CrystalDiskMark scores, especially the sequential read but also, to a lesser extent, sequential write and 512KB random read and write. The 4KB random read and write speeds so no improvement at all, but unless you're going to be using the Secure as, say, a Photoshop scratch disk, that's probably not going to trouble you too much.
Incidentally, there are no real-world file-transfer results for Turbo USB because these tests were conducted on a MacBook Air.
We should point out that this is a very quiet drive. There's no fan inside - or, of there is, it's a near-silent one. The alumunium enclosure keeps in the noise, and you can really only hear the drive if you put your ear up close. Aluminium's also a good heat conductor so you shouldn't need to worry that the absence of a fan is going to cause the disk to overheat.
Freecom's basic Secure comes in at £25 more than the equivalent Freecom XS, a 3.5in drive with the same capacity and single USB port but minus the security component. But the premium you pay for the smartcard system rises to £45 when you get up to the 1.5TB models - a cheeky increase given there's no difference between the two capacities' security technology. You also have to ask yourself whether you can't get the same degree of perceived data security from free, open source and fully cross-platform software like TrueCrypt.
Verdict
Freecom's Secure is a stylish if large external hard drive. While you can ignore the smartcard security system if you wish, that's really why you'd consider buying this drive over any of the many other 3.5in external HDDs out there. The smartcard system works, sure, but is it any better than, say, fingerprint protection? It's certainly easier to use - fingerprint sensors often don't read prints correctly on the first swipe. But it's limited to two cards that can be lost, unlike your fingers. ®
More External HDD Reviews...

LaCie
Starck

LG
XD4

Samsung
Story
Station