Original URL: http://www.theregister.co.uk/2009/10/26/review_phone_lg_new_chocolate_bl40/
LG New Chocolate BL40 movie phone
Widescreen wunderbar?
Posted in Personal Tech, 26th October 2009 14:20 GMT
Review LG's first Chocolate was promoted as a style phone but now, several incarnations in, its become more than just a sweet talker. The LG New Chocolate BL40 looks like nothing else (except perhaps a bar of Cadbury's Bourneville), with its 21:9 cinematic widescreen and elongated proportions. Yet, besides its unusual look, it also has a 5Mp camera, Wi-Fi, HSDPA 3G, A-GPS, an upgraded S-Class UI with widgets and an FM radio, plus a host of other features.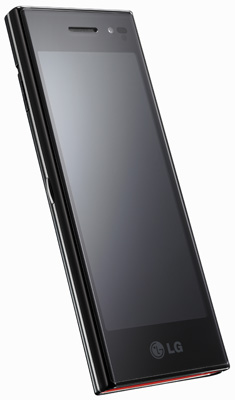 Dandy candy: LG's New Chocolate BL40
To our eyes, the BL40 looks lovely, with its glass front, glossy black plastic back, tasteful metal strip around the sides with some snazzy red trim on top and bottom. This distinctive look won't appeal to everyone but get better acquainted with it, and there's a lot to like. Initially, the dimensions of 128 x 51 x 11mm seem bizarre but we soon got used to its stretch limo aesthetics. At 129g it's no lightweight, but at least feels sturdy and well made in the hand.
Around the sides the controls are rather stylishly built into that metallic strip and include a volume rocker, camera shutter, music key, a micro USB socket covered by a plastic grommet and there's a 3.5mm jack plug on top next to the power key. The back is plain except for the Schneider Kreuznach camera lens and LED flash.
LG's S-Class interface has had a bit of an update to make it a little easier to use. The spinning cube is now a rectangular cuboid to fit in with the wide display and you can add various widgets to four separate home screens that you access by brushing across the touchscreen. And unlike past LGs, the cube displays the screens with all the latest widgets you've used to customise them.
The interface now includes gesture controls which allow you to access functions by drawing symbols on the home screen, such as 'C' for contacts, 'M' for messaging, though there aren't options to use this for all the apps, which is a shame. The 4in (88 x 40mm) capacitive touch screen looks gorgeous, featuring an 800 x 345 pixel resolution. For clarity and sharpness, it ranks along with those flashy new OLED screens we've been treated to recently.

Slim, but its length isn't too pocket-friendly
Whether it's because it's capacitive rather than resistive, or perhaps because LG has been very careful about setting the sensitivity, the screen is exceptionally easy to use and finally makes the most of the S-Class's good-looking but busy icon menu, which recent LGs – like the Arena and Crystal – tended to struggle with. Call quality was clear and sounded decent enough through the BL40's large speaker and we never had any problems accessing a network signal from our north London bolthole.
Contacts get their own dedicated homescreen offering picture views of your friends and options to call, video call – as there's a VGA camera on the front – or message them. Messaging is easy to set up, with most accounts requiring just email address and password, and while we tended to use the Qwerty keyboard – which isn't available for all apps, incidentally – the numeric keypad with T9 predictive text and suggested words wasn't bad at all.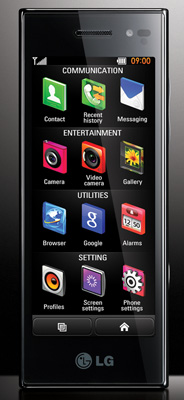 S-class interface icons have been modified to suit the screen
However, in both cases, the screen doesn't allow you to see a great deal of text at any one time. Usefully, you can cut and paste from other messages or the net easily and set up push email from several email clients, including Hotmail, Google and Yahoo.
The browser is fun to use and includes RSS feeds and the ability to save pages for viewing later when you're offline. Quick access is enabled with HSDPA 3G (up to 3.6Mbps download) or Wi-Fi. The multi-touch screen allows you to pinch and zoom, iPhone-style or you can simply tap the screen, and it makes a decent effort to adapt most pages to the screen's unusual dimensions, though some certainly work better than others.
The onboard accelerometer snaps over to landscape resolution when you turn it on its side and the onscreen Qwerty keyboard is well spaced and easy to use. Our only real gripe was that did lock up on us on occasion, and there were too many occasions when the navigation menus were very slow to appear.
The 5Mp camera won't win any awards, but it works fairly well within its limits. It takes around five seconds to load up after pressing the shutter button and another three to take a snap, so it's not the fastest out there. The camera features loads of options, including colour effects, timer, continuous shot, face tracking, smile detection, beauty shot (vignette), art shot (textures), frames, plus panorama with automatic alignment.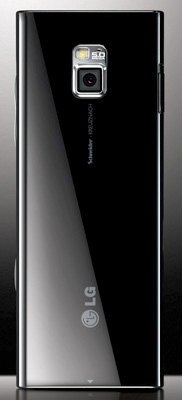 Just a 5Mp camera, but blessed with a Schneider Kreuznach lens
You can view your pics in a grid or by brushing through them cover flow-style and there are post-pic editing options which allow you to add text or icons, crop or draw on your pics as well as adjust brightness, colour and contrast.
Sample Shots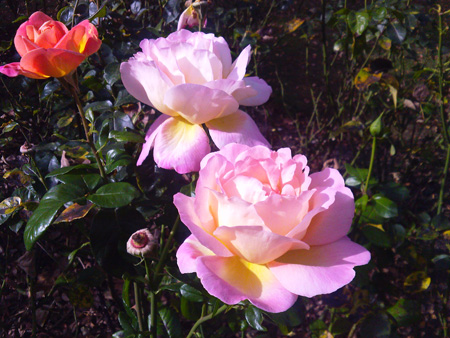 Click for a full-resolution image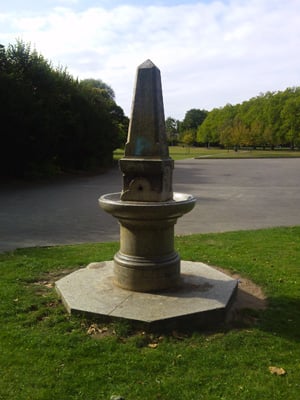 Click for a full-resolution image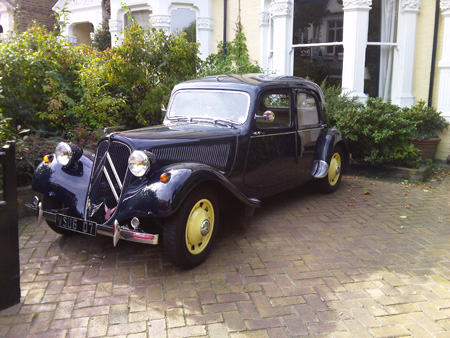 Click for a full-resolution image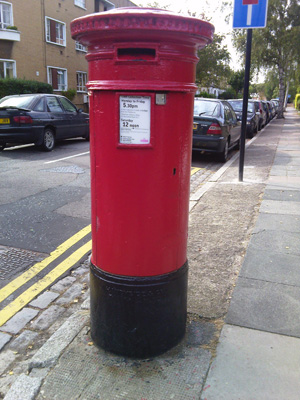 Click for a full-resolution image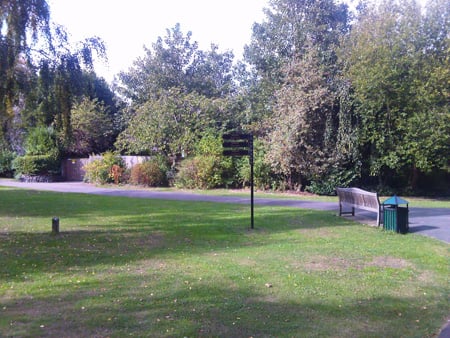 Click for a full-resolution image
Overall pic quality is pretty good, though it seemed to struggle a bit with direct sunlight and high contrast images. Purple fringing was a bit more common than we'd like and while colour balance wasn't strictly accurate, it tended to err towards the vibrant rather than the washed-out. Video quality drops a notch or two but it's not bad all, recording at 30fps in MP4 format.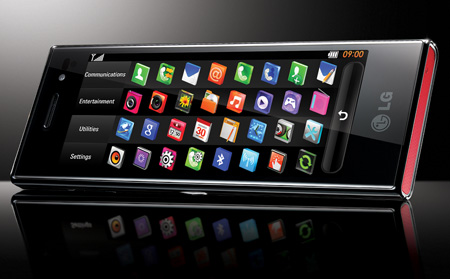 The 21:9 aspect display will appeal to film buffs
Viewing videos on the BL40 is an experience, with that wide, sharp screen showing off our test movie trailers to very good effect, sometimes without those intrusive black bars top and bottom. For more standard 16:9 resolution you can choose to stretch it to full screen, which is done fairly subtly. Dark scenes occasionally suffer from an overly aggressive contrast ratio, but mostly it's sharp, quick and clear. It plays MP4, WMV and AVI files and is compatible with DivX and Xvid too.
There's a reasonable 1.1GB of memory on board and can it handle micro SD cards up to 32GB – not supplied, and you'll need to remove the back cover to instal a card. The dedicated music button on the side takes you straight to the track menu. The player includes some fun disc-spinning icons on the interface, as well as all the usual controls.
It will play MP3, WMA and AAC files and offers audio optimisation tricks like Dolby Mobile (though we found this tended to make our tracks sound a little muddy) and a graphic equaliser with 20 presets.
While the supplied headphones are surprisingly good, with a fairly full bass and a good delivery of midrange detail, you can also upgrade them using the 3.5mm jack plug or go for the wireless option using Bluetooth. The FM radio features RDS station info, 48 channel presets and automatic scanning.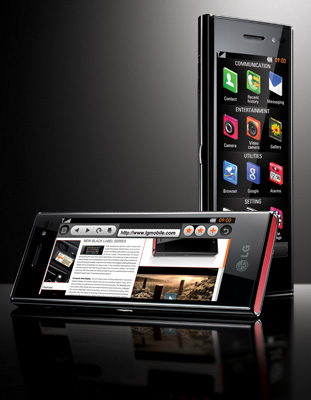 Web browsing letterbox-style takes a bit of getting used to
A-GPS is on board, backed by Google Maps and the rather basic WisePilot for LG satnav option. We wouldn't recommend it for driving, as we found it unnecessarily fiddly to use and the screen's dimensions mean it struggles to display maps and text as clearly as you'd need when you're on the road.
Syncing the BL40 with your computer should be a breeze but, while LG's latest PC Suite IV looks pretty and has lots of options, boy is it a pain to use. It's optimised for syncing files from a dedicated LG folder, so while you can drag and drop files onto the interface, transferring from phone to PC means they'll go into LG's PC Suite folder first, which isn't necessarily where you want them.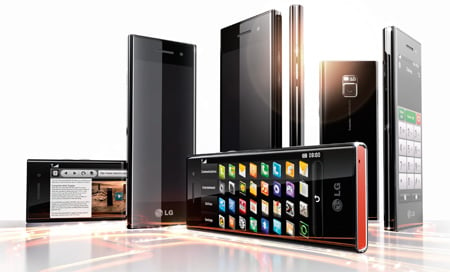 Stylish hardware, daft software
Also, there's a separate setting for music transfer, so to transfer pics or videos or to sync your contacts and messages you select 'PC Suite', but to transfer music files, you need to disconnect the phone, then reconnect and select 'Music sync'. Madness, and we can only hope it will be more user-friendly by Suite V.
Despite the phone's size, the battery is a bit of a titchy affair, with power to match. We barely got a full day's use out of it, though there's an option to reduce screen brightness to save power.
Verdict
As a style phone, LG's New Chocolate BL40 looks the part and it's encouraging to see that it's also a step or two removed from the ubiquitous iPhone and its clones. Various tweaks mean it's the easiest to use S-Class device so far, and that gorgeous screen is great for watching video, even if it feels a bit weird and letterboxy when browsing the web. What the camera lacks in megapixels it makes up for with its quality lens and can deliver some decent pictures if taken with a little care. Still, the battery life was disappointing and the syncing software really needs an overhaul. If you can live with those shortcomings, then LG's New Chocolate could be worth a taste. ®
More Phone Reviews...

HTC
Touch 2

Palm
Pre

BlackBerry
Curve 8520

Apple
iPhone 3GS