Original URL: https://www.theregister.co.uk/2009/10/23/review_hd_tv_sharp_lc40le700e_aquos/
Sharp Aquos LC40LE700E 40in LED-backlit TV
Big in Japan – not bad here either
Posted in Personal Tech, 23rd October 2009 12:02 GMT
Review Like a faded 1970's rock group, Sharp's web site proudly proclaims that the company is 'Big In Japan'. There's more than a hint of irony in that claim, though, as Sharp is no doubt aware that it's a relatively low-profile player here in Europe when compared with the likes of Sony, Samsung and Toshiba. However, it's clearly hoping that the latest additions to its Aquos range of HD TVs will put it back on the map again.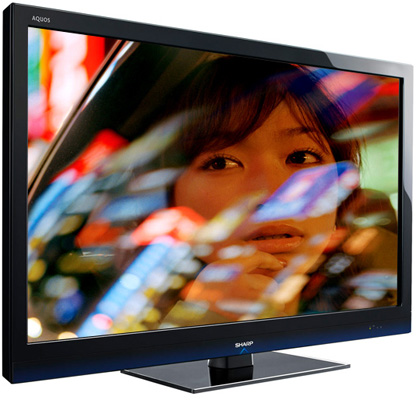 Contrasting view: Sharp's LC40LE700E Aquos
The LC40LE700E reviewed here is part of Sharp's new LE700 range, all of which are distinguished by their use of full-screen LED backlighting. This particular model has a 40in screen with 1080p resolution and 100Hz refresh, and costs £1299 if bought directly from Sharp's online store. There are also 32in, 46in and 52in versions available, priced at £949, £1599, and £1899 respectively. As always, it's worth shopping around, as there are some bargains deals out there.
Our first impressions of the LC40LE700E were a little underwhelming. The unit's design is pretty nondescript, with a simple black plastic bevel around the edges of the screen, adorned only by a glowing blue logo on the bottom edge of the screen – this can be turned off it you find it distracting. The manual was rather unhelpful and we experienced a worrying Ikea moment, with the screen turned upside down while we attempted to screw the stand into place without being entirely sure if the stand was on backwards or not.
Fortunately, the TV didn't fall over when we turned it the right way up again and things quickly started to pick up from that point. The automatic installation option asks you what country you're in and then quickly scans for available channels using its built-in Freeview tuner.
A glance around the back of the unit reveals a good selection of additional connectors, including three HDMI ports, one of which has an associated audio port so that you can connect a PC or Mac that has a DVI interface. Other connectors on the back include component video input, two SCART connectors and both digital and analogue audio output.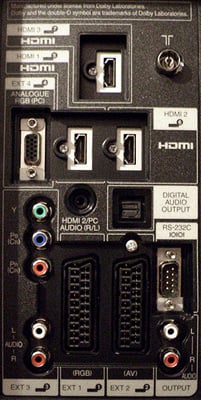 No Ethernet, but not exactly an issue at present
There's also a secondary panel on the right-hand edge of the screen that is equipped with a fourth HDMI interface, CI slot for pay-TV channels, composite video input, headphone socket and USB port for playing media files off a memory stick or other device.
The one noteworthy omission is the lack of an Ethernet port that could enable access to the online services that a number of manufacturers are now dabbling with. However, the appeal of watching blurry YouTube video clips on an HD TV is lost on us, so we weren't overly concerned by that omission.
The key feature of the LE700 range is its use of LED backlighting, with a full-screen array of LEDs that illuminate the entire LCD panel from behind – rather than merely positioning panels of LEDs around the edges of the screen, as is the case with some LED models.
Sharp claims that this produces brighter images with 'mega contrast' and more vibrant colours. In fact, we sometimes found that the colours were a little too vibrant, though this was mainly due to a rather poor collection of presets that seemed to vary between garishly bright or dull and lifeless. Fortunately, the remote control includes an AV Mode button that allows you to quickly cycle through the various presets, while the on-screen menu system provides more in-depth options for adjusting brightness, contrast and colour settings.
It didn't take us long to fine-tune the image to our liking – though first-time HD owners might feel that the jargon-heavy manual could be a lot clearer when it comes to explaining many of the menu options. With that done we have to admit that the LC40LE700E really does produce very good image quality. Standard definition programmes suffer from the usual soft, airbrushed appearance that results from scaling them up to HD resolution, but the boldness of the colours does help to add impact here.
To test Sharp's 'mega contrast' claims we also fired up some high-definition Batman movies, which genuinely benefitted from the crisp blackness produced by the LED backlighting as the Dark Knight prowls through the shadows of Gotham City.
The only minor disappointment was that the 100Hz feature wasn't entirely successful and brighter, faster imagery such as Spiderman web-swinging across the rooftops does suffer slightly from motion blur. Rivals such as Sony and Toshiba perhaps have a slight edge in terms of their ability to cope with these artefacts, but the colours and contrast produced by the LC40LE700E still work extremely well for less frenetic scenes.
Other aspects of the LC40LE700E also display a nice attention to detail. The remote control lets you cycle through different audio presets and aspect ratios without having to delve into the rather extensive on-screen menus, and there's a handy 'Flashback' button that will immediately switch you back to the most recently selected channel or external video source.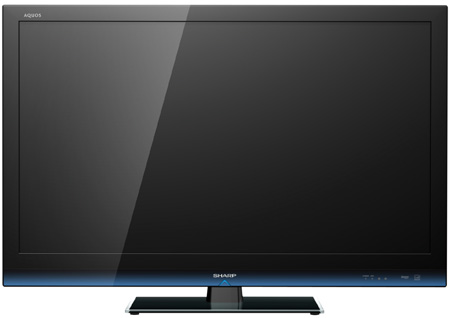 Fast action scenes could appear better, but easy on the eye for most content
You can also display the electronic programme guide in a number of different ways, cramming either three or six hours' worth of information onto the screen or switching between horizontal and vertical layouts. There's even a built-in timer that you can use to see how long the kids have been playing computer games.
We were a little disappointed with the audio performance, though. The 20W output is quite loud, but the bass wasn't terribly strong even with the bass-enhancer option turned on, and the sound tended to lack depth. Given the abundance of low cost home cinema sound systems, the built-in audio may well never be used by many considering this set.
Verdict
The lingering motion blur is a weakness, so sports fans and members of the Jason Statham fan-club might prefer an alternative that copes a little better with high-speed action. However, the bright and vivid imagery, and the crisp contrast of the LC40LE700E are very pleasing to the eye, especially when bringing out the detail in high-definition content. It's not quite a knockout blow for Sharp's rivals, but it certainly puts Sharp back in the game once more. ®
More HD TV Reviews...

Philips
Cinema 21:9
56PFL9954H

Toshiba
Regza
37AV615DB

Pioneer
Kuro
KRL-37V

Panasonic
Viera TX-P42G10
Plasma Freesat TV