Original URL: https://www.theregister.co.uk/2009/10/23/review_accessories_apple_mighty_mouse/
Apple Magic Mouse
Ergonomics, we've heard of it
Posted in Personal Tech, 23rd October 2009 08:02 GMT
Review For a company that pioneered the widespread use of the mouse as a computer controller, Apple has a surprisingly bad record at making good ones, particularly since the return of Steve Jobs and, with him, industrial design as the prime driver of product creation.

Magic Mouse: Apple gets it right at last?
Past Apple mice have either been ergonomic non-starters or have tripped up before even reaching the longevity hurdle. Who can forget the finger-crimping nightmare that was the circular 'hockey puck' mouse that shipped with the first iMac and the blue'n'white Power Mac G3?
Even its more hand-friendly successor was never entirely comfortable, thanks to its oddly pivoted button, which filled the entire upper surface of the mouse. That complete-surface button design was maintained when Apple introduced the Mighty Mouse. While adding the ability to - at long, long last - detect secondary, 'right button' clicks, this mouse also sported a tiny trackball that, initially useful, later stopped working properly as its mechanism filled with grease and dust.
Unwilling to do anything so... well... Windows as add a scrollwheel, Apple has thought different again. And this time it might finally have a mouse that stands the test of time and doesn't herald a new era for RSI lawyers.
Launched this week, the Magic Mouse - daft name - drops the Mighty Mouse's touchball in favour of a multi-touch surface like a kind of gently curved, shiny white trackpad. The single, total-surface button is still there, but it's easier to trigger than the one used in past Apple mice. And by flipping a switch in the new Mouse control panel - it's not enabled by default - it easily picks up right clicks.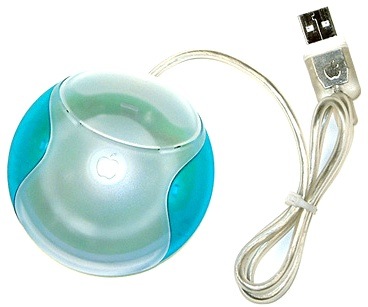 Its record is not good...
The Magic is less oblong that the Mighty. Looking down on it, you can see no straight lines at all. Once again, it's horizontally symmetrical so it should suit the sinistral as well as the right-handed. It doesn't feel as thick as the Mighty and it's certainly more narrow, maybe too narrow for some. Anyone who likes to grasp their mouse tightly within the palm of their hand or has stubby digits isn't going to like the Magic's long design, but folk who steer mice with the tips of their long, thin fingers will.
No one, though, will find the side edges of the Magic entirely comfortable. The upper surface meets the edge at a sharp right angle that descends for three or four millimetres or so before reaching a small gap and then the graceful downward curve of the mouse's lower half. This flat side falls exactly where we place our thumb and doesn't feel right at all.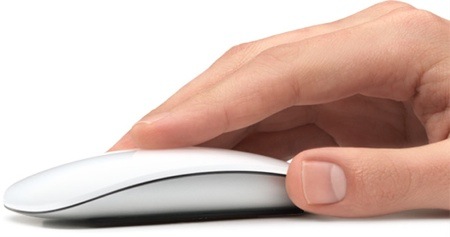 Designed to be fingered not palmed
The base of the mouse is nice and smooth though, and ran well on the wooden surface we tried the Magic on - and on flesh and a leather jacket, too. Apple has thoughtfully included a power switch to preserve battery life - more on this later - when the mouse is stowed. A latch at the base of the mouse flips up the base to allow you to access the battery bay. The Magic is powered by a pair of AAs, and while the ones Apple supplies are nothing special, you can slot in your own rechargeable pair in due course.
The batteries and the aluminium base lend the Magic mass, and the device is nicely weighted, with the right balance between inertia and smooth movement.
The multi-touch surface works well too, with almost every part of the upper face of the mouse sensitive to touches. Finger-swipe scrolling, horizontally as well as vertically, may feel odd when you're not used to it. Still, we think it's a better, more accurate way of controlling scrolling windows than a scrollwheel - ratcheted or free-running - and certainly more so than side-tilting scroll wheels.
Apple touts a zoom feature - scroll while holding down a modifier key - but it simply zooms the entire screen, not the contents of the foremost window. There's no twist-to-rotate gesture either.
Swiping two fingers sideways flips back and forth between, say, browser pages. It sounds a good idea, but we found it a tricky manœuvre to perform. Grip the mouse and it's hard to move index and middle fingers together very far. Let go of the mouse, though, and it's too easy to simply push it sideways rather than swipe across it. We suspect this is a feature, like the Mighty Mouse's side-buttons, that folk will not use.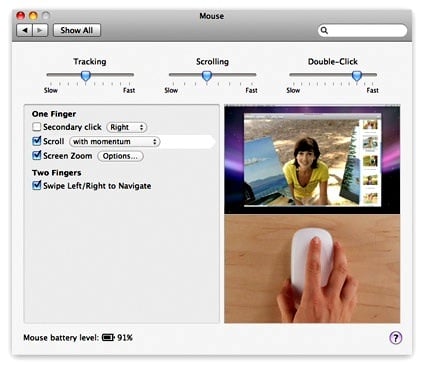 Apply your settings
The narrowness of the Magic means that three- and certainly four-finger swipes are out of the question, even though these are both useful additions to Apple's latest laptop trackpads.
The Magic uses Bluetooth for connectivity. That might not be as good as the dedicated 2.4GHz radio links found on mice from the likes of Logitech, but at least it means there's no need to fill a USB port with a dongle - especially handy if you're a MacBook Air owner.

Not chunky enough for a good grip?
We haven't had the Magic long enough to give a good picture of battery life, but we've no reason to be worried about it. Our Logitech V550 Nano has the same pair of Alkaline AAs it had in over a year ago. We don't think the Magic's two AAs will last significantly less than that, but time will tell.
The laser tracking scanner will power down when the mouse isn't being used, so how much battery life you get will ultimately depend on how you use the Magic and what batteries you use.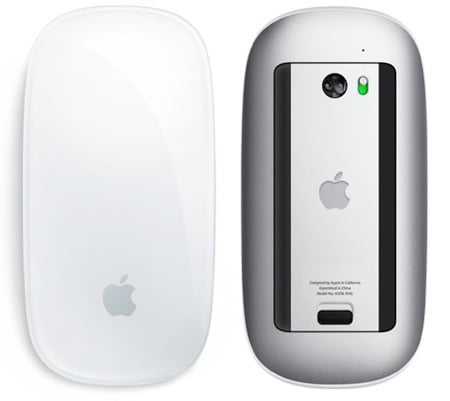 Battery swapping is easy
Verdict
Apple wants £55 for the Mac-only Magic, which isn't cheap for what is, essentially, a standard laser-optical wireless mouse. Look beyond the Apple marketing hype and that's all it is. Yes, it has that multi-touch panel, but it doesn't really do much you can't do with a scroll wheel. It's an alternative to that kind of device, not a mobile trackpad. But it is a better alternative, with superior scrolling than a tilting scrollwheel can manage and none of the dirt-induced problems all trackballs eventually suffer from.
Magic is certainly an improvement on the Mighty, but we still have doubts about Apple's ability to design an ergonomic rodent. For us, it's just too darn thin. We like to hold a mouse not push it around delicately with our fingertips, and so the Magic casts no spell on us. ®
More Mouse Reviews...

Group Test
12 of the
best mice

Hippus
HandshoeMouse

Logitech
V550
Nano

2P
Slim-Mouse