Original URL: http://www.theregister.co.uk/2009/10/22/windows_7_launch_party/
Steve Ballmer's Windows 7 dance party
Hopping on the grave of Windows Vista
Posted in Software, 22nd October 2009 22:55 GMT
October 22 has arrived, which means Microsoft can stop defending Windows Vista and start pretending it never happened. Eyes have now turned to Windows 7, while Windows Vista joins Microsoft Bob and Windows Me in the annals of underachievers past. Well, except for all those people who are still stuck with the thing.
To celebrate the virtual end of Windows Vista, Microsoft held a Windows 7 launch party Thursday morning in New York City. The SoHo venue looked like the sort of oh-so-trendy club you'd see on Sex in the City, with the requisite flashing lights and thumping electronic rhythms, as a crowd of tech journalists and other attendees gathered to see a product that everyone already knows about.
Needless to say, the crowd was far less fashionable than the venue.
Microsoft undoubtedly lacks Apple's Jobsian flair for revealing new stuffs. But Steve Ballmer was very proud of the fact that so many people have already used Windows 7, citing - repeatedly - that the beta had more than eight million testers in more than 200 countries.
As the clock approached the 11am party kick-off, the room was treated to a string of "I'm a PC" adverts featuring little kids connecting cameras to laptops and demonstrating their general ability to use a computer.
One spot showed kids competing against elderly people on common PC tasks. A seven-year-old versus a 70-year-old. An eight-year-old versus an 80-year-old. And, yes, a nine-year-old versus a 90-year-old. The children were victorious, which leads us to believe that Windows 7 is for children and the elderly should keep away.
Then the room was treated to a very special guest: Kylie, a four-and-a-half-year-old from those adverts. (She's now five-and-a-half). Kylie announced to the assembled throng: "I'm a PC and here's Steve Ballmer."
Big Steve duly appeared, engaged in some happy-chat with Kylie, and gave her a pink laptop. Here's hoping that wasn't her only payment for appearing in a national TV campaign.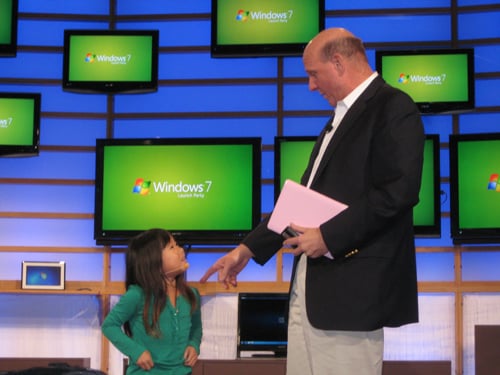 Warm and fuzzies: SteveO introduced by "I'm a PC" Kylie
Sadly, Ballmer was a lot less, um, energetic than we usually find him at such public appearances. He didn't yell. He didn't turn red. He didn't even stomp on an iPhone. He seemed very, believe it or not, scripted.
Big Steve started out by telling the crowd exactly what Microsoft is up to with this Windows 7 thing. In his words, Redmond set out to make Windows 7 "simpler, faster, more responsive" - aka not Windows Vista. According to Ballmer, Windows 7 was designed in large part in response to feedback from partners and Windows users. Ballmer referred to this collaboration as "the secret sauce". Cue the eight million beta testers bit.
Executive blather
He also said that Microsoft had three major goals in mind for this new OS: faster boot times, making it easier to perform common tasks, and providing a platform for partners to innovate new products. But we would hope those are goals for any new operating system.
Then Ballmer burbled about something called "life without walls." This marketing tagline refers to the company's strategy for integrating systems and devices more seamlessly - allowing your PCs, televisions, mobile phones, and digital picture frames to connect, and communicate. The crowd applauded. Not a pedant in the room, apparently. It would seem that without walls, you have no place to put Windows. But so be it.
Enter Caddy Shack
Brad Brooks, vice president of the Windows marketing group, then took the stage to awe the crowd with a few of the most "exciting" new features you'll find in Windows 7. He started by showing the interface for importing photos from a digital camera, pointing out that it displays an image of the actual model of camera you've connected to the system. A nice touch. But surely, this is far from the top selling point for a new OS.
Brooks then showed how he could quickly create a movie from images on his system using Windows Live Movie Maker, an app that really isn't really part of the OS. Exciting feature Number 2 is actually something you can download online.
Things got a bit more interesting when Brooks demonstrated Windows 7's multitouch capabilities. Tapping the monitor, Brooks hopped around the Windows 7 interface. In particular, he demonstrated how you can use this feature in Windows Media Center.
He started and stopped movies, flipped through the guide listings, and started a movie (Caddy Shack) streaming from Netflix. Of course, you'll need a touch sensitive television or monitor to use these touch features - and you might wanna to keep the Windex handy.
At this point, there were actually a couple new announcements. CBS, a major network in the US known for such highbrow programming as the CSI franchise and Two and a Half Men, will integrate its content with Windows Media Center. Users will be able to access all the CBS primetime shows on demand from within Media Center. Amazon also announced that it's developing a Kindle reader app for Windows 7. This is still in beta, and it's due for public release next month.
Brooks then covered such areas as setting up a home network and using a networked printer on a home network. And he showed how he could connect remotely to his home PC and stream an episode of Family Guy. Clearly, Microsoft likes Family Guy.
Briefly, Brooks noted that a work laptop can now be a member of the Domain at work and also be a member of the home group when you take it home in the evening. This was the only mention of something remotely IT- or business-related.
Finally, Brooks showed how a single Dell PC could drive more than a dozen televisions on the network, streaming an assortment of videos to a variety of HDTVs. More applause. Of course, some of the credit here should go to that Dell PC.
Don't put your wallet away just yet
The show wrapped up with a tour of some of the new Windows 7 powered PCs and devices being launched. There were thin laptops, high-end gaming systems, a notebook that docks and charges without using any cords, a tiny Media Center system, touch-capable monitors, and the like. At this point, Windows 7 took a back seat as Mike Anguilo, general manager of Windows planning, and Steve Ballmer spent more time showcasing partner products.
Then a new message became clear: If you want the full Windows 7 experience, be prepared to drop more cash on new hardware and gadgets. Just what people want in a time of economic instability.
Still, Ballmer and team seemed to please the crowd as they showed how a laptop could boot in just 15 seconds and wake from sleep nearly instantaneously. But these were clean systems. Let's see how responsive Windows 7 is after it's been running for months loaded with apps. One thing's for sure: it'll out-clock Windows Vista. ®