Original URL: http://www.theregister.co.uk/2009/10/22/review_storage_network_iomega_storcenter_ix4_200d/
Iomega StorCenter ix4-200d
Eco-friendly four-bay Nas?
Posted in Personal Tech, 22nd October 2009 12:26 GMT
Review The low end of Iomega's StorCenter range, the StorCenter ix2, is noisy, slow and lacking quite a few features you'd expect on a £300 Nas. The new StorCenter daddy, the ix4-200d, is in a different league in the speed and noise categories though, which you'd expect for 600-plus quid.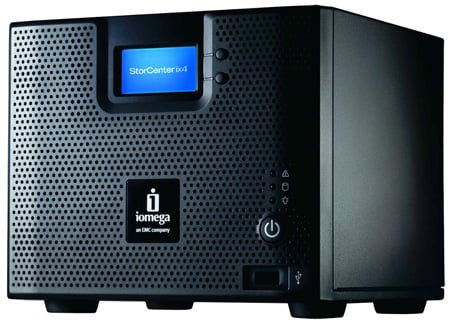 Low power, high capacity: Iomega's StorCenter ix4-200d
Inside its squat, 16.7cm tall case, there's a 1.2GHz Marvell 6281 CPU with 512MB Ram and four hard drives offering 2TB, 4TB and 8TB capacities. These are chopped into Raid 5 by default, although Raid 10 and JBOD formatting is also available.
There are two USB ports and two gigabit Ethernet ports on the back with one USB port handily placed on the front. There's no eSata port to speak of though. A blue-backlit LCD is built into the front face, cycling through free space, time, date, IP address and current function. The current function, combined with two buttons, lets you select whether or not to transfer the contents of USB devices to the internal hard drives.
The headlining feature for many Iomega Nas drives is VMware certification and the ix4-200d is no different. Iomega's parent, EMC, also owns 84 per cent of VMware so, with a yell of "synergy", you are able to use VMware in conjunction with the ix4-200d.
In effect, you can store your OS images in Nas or iSCSI mode. VMware doesn't offer specific support for Iomega Nas boxes, an Iomega spokesperson told us, but the ix4-200d has gone through a vigorous testing process to make sure the two work properly together.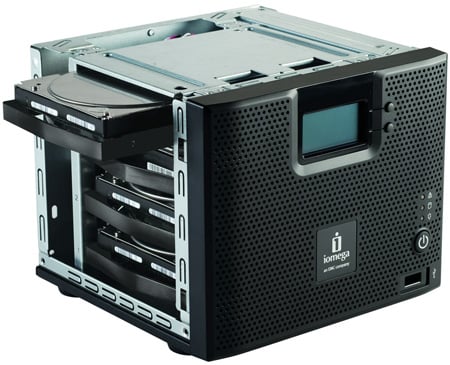 Drives slide in and out easily and have good noise insulation
If you take the VMware certification out of the equation, the ix4-200d is reasonably priced for the traditional Nas features it offers. We reviewed the 2TB Buffalo TeraStation III in June, which sells for around £600 and is direct competition for the ix4-200d.
Both have four 500GB hard drives – Seagate Barracuda LP in the ix4-200d's case – USB ports, two Ethernet ports, an LCD screen and so on. The biggest physical difference is that the Terastation's hard drives are easily removed from a front door, while the ix4-200d's are more permanently stored away. You can still remove the hard drives, but first you just need to undo a couple of screws and three sided of the case.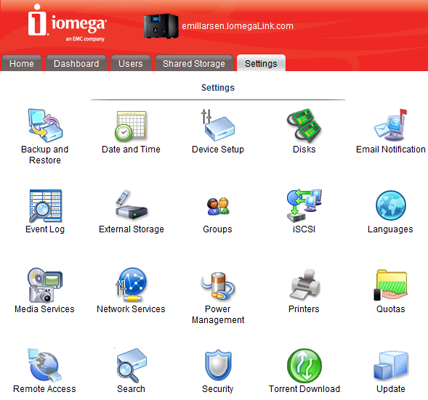 The settings page reveals most of standard Nas features you'd expect
Configuration is done solely from a web interface, with the bundled CD providing a manual, device finding software and EMC Retrospect Express HD for backing up files. The ix4-200d's web interface has a crispness to it that the Ajax interfaces from Qnap and Synology lack.
Features are divided into sensible categories, with separate pages for the web file browser, settings and user control. All the standards you'd expect from a high end Nas are supported like CIFS, SMB, NFS, AFP (including native Apple Time Machine support), FTP, Windows Active Directory so Windows, Linux and Apple users should all be happy.
At first glance, the ix4-200d provides an excellent DynamicDNS solution for remote access. From the ix4-200d's web interface you simply choose a name for Nas and pick between iomegalink.com or myiomega.com domain names and you're away.
However, after the first year you'll be charged $9.95 annually for the service and you can't use alternative, namely free, DNS services either, unless you configure your router to do the job of remote access instead.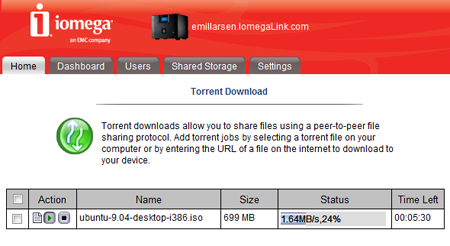 BitTorrent port selection is restricted, although our speeds were fine
DLNA compatibility hints the ix4-200d has a few consumer features, with 1080p PS3 and Xbox360 streaming no problem. BitTorrent downloading is also handled through the browser. However, we discovered you could only choose a port between 6881 and 6999, ports that used to be and, most likely still are, throttled by ISPs.
To test read and write performance, we connected the ix4-200d to a Gigabit switch (jumbo frames disabled) and moved a 901MB file to and from an Intel Q9450 quad core PC with 4GB Ram running Windows Vista SP2. A 1GB Ramdisk was installed to remove any potential bottlenecks on the PC side of things.
Performance Tests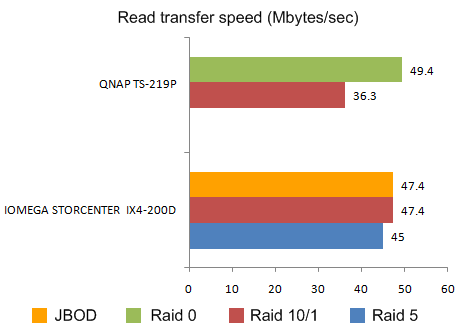 Read speeds are excellent for day-to-day usage
Longer bars are better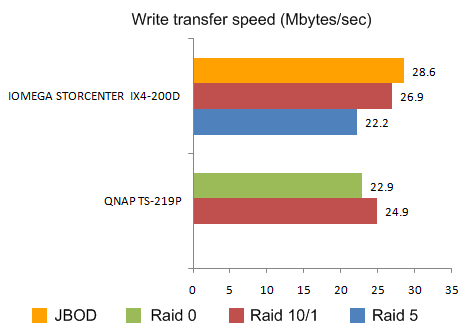 Write performance is average, probably due to the complexity of handling four drives
Longer bars are better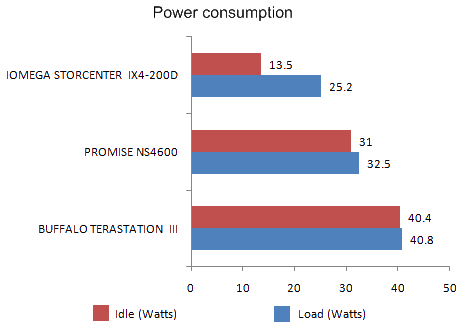 Sublime load and idle power consumption – alas, no scheduled on/off mode
Shorter bars are better
Read speeds are excellent, performing as well as you can expect from any top-end Nas, while write speeds are slower than the fastest 2-drive Nas boxes, but average for a four drive Nas. We also tested the same PC with an RTM copy of Windows 7 installed, which produced slightly faster Raid 5 and JBOD speeds, but the same Raid 10 speeds.
FTP transfers were, as usual, faster than SMB transfers, with read speeds hitting an impressive 69.3MB/sec using this method. FTP encryption, which businesses may like the look of, is missing though, which the Terastation III does handily.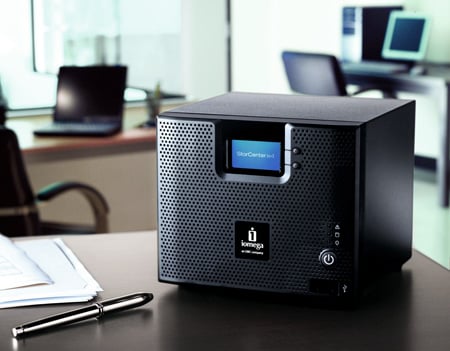 Shining example: one of the biggest and brightest LCDs we've seen on a Nas
Power consumption is superb, thrashing the 4-drive TeraStation III and the 2-drive (4-bay) Promise SmartStor NS4600. Noise levels are accordingly low, with no noticeable hard drive rattle. The ix4-200d has no scheduled on/off capability, so the ix4-200d may end up drawing more energy than its competitors, just not Buffalo's energy hog the Terastation III – the ix4-200d's idle power consumption is as low as the Terastation's hibernate mode.
The ix4-200d isn't a webserver like Qnap and Synology models (it won't render php files) and it's missing a hibernate function and Raid 0 capabilities, so it's not the most functional Nas server. It's underlying performance and features are good though and a two year warranty for European punters will give a bit of extra comfort to business users. Let's not forget VMware users, who will struggle to get more peace of mind than this.
Verdict
The Iomega StorCenter ix4-200d doesn't as many tricks as Synology or Qnap boxes, but its operating system is responsive and stable. If you need a Nas for VMware use, then the ix4-200d is a logical choice. ®
More Nas Reviews...

Synology
DS409Slim

Buffalo
Terastation III

Promise
Smartstor NS4600

Cisco Linksys
Media Hub