Original URL: https://www.theregister.co.uk/2009/10/21/windows_7_consumer_launch/
Microsoft thinks it can sell one copy of Windows 7 for every four people
How relevant will MS be by time Windows 8 arrives?
Posted in Software, 21st October 2009 18:02 GMT
Windows 7 Microsoft hopes to sell 14 million copies of Windows 7 to UK consumers next year.
The software vendor has set itself an ambitious target with its latest operating system, which will hit stores in a few hours from now. Blighty's population is roughly 60 million.
Microsoft said it had been buoyed by the response from its 15 million beta testers, only eight million of which were actually legit users, who had signed up to tinker with early Windows 7 builds.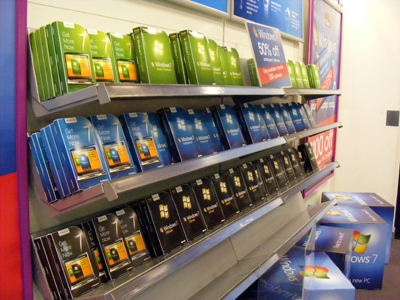 Vista is, like, so 2007
OEMs and biz customers have already begun deploying the software, but the official consumer launch of Windows 7 tomorrow will eventually herald the true measure of how well Microsoft has done to shove its Vista successor out the door.
At a press event this morning that was a little hamstrung by internet connection problems, Microsoft's UK flack overlord Ashley Highfield said the company had this time "listened and listened" to what consumers wanted from its flagship operating system.
He said the main message coming from would-be W7 customers, was to keep things "simple" and "efficient".
Highfield echoed Microsoft boss Steve Ballmer's mantra about "three screens and a cloud", and added "Windows 7 was a key strategic part of [Microsoft's] cloud vision".
Without naming Vista names, he said Microsoft's range of consumer goods had been "slightly patchy" in the past. But he said not just Windows 7, but also Bing, MSN, Windows Live, Windows Phone and Xbox "marked a new dawn for Microsoft's relationship with the consumer".
Of course, convincing a marketplace that is no longer dominated by one key player to be turned on by what Microsoft has to offer customers today remains the real challenge for the software vendor.
We asked Microsoft if the company would still be relevant by the time Windows 8 might rock up, especially given the resilience of Apple with its sexy product line that continues to send ripples through the industry with each release; and perhaps even more importantly, with the arrival of Google in the OS arena?
"We're acutely aware of the competition," said Highfield. ®