Original URL: https://www.theregister.co.uk/2009/10/21/leaf_battery_rental/
Leaf battery rental scheme unveiled
Buy the e-car, rent its battery
Posted in Science, 21st October 2009 11:09 GMT
Leccy Tech The Leaf e-car's purchase price could be similar to that of a similar size petrol car, maker Nissan has promised, thanks in-part to an innovative battery rental scheme.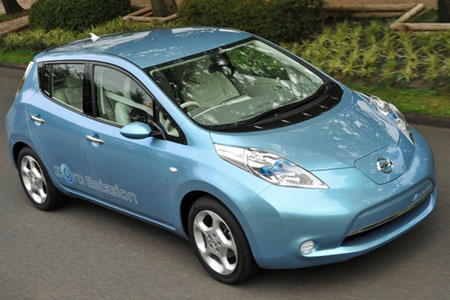 Nissan wants you to buy the Leaf, but then rent its battery
Under the terms of the deal, customers will buy the Leaf outright and then lease the battery for a fixed monthly fee.
The battery rental price will include the cost of the electricity used, Nissan promised.
Nissan plans to start selling the Leaf from late 2010, but hasn't yet been brave enough to release a firm combined price for the e-car and battery rental scheme.
In related news, Nissan has joined forces with the Sumitomo Corporation trading company to create a "Reuse, Resell, Refabricate and Recycle" business for used e-car lithium-ion batteries.
It's generally accepted that, after 10 years of average use, e-car battery packs will only be capable of holding between 70 and 80 per cent of their original charge.
The Nissan and Sumitomo co-business will give these batteries a "second-life", Nissan claimed.
For example, Nissan envisages the second-hand batteries being used to iron out fluctuations in supply from solar and wind power generation. ®