Original URL: http://www.theregister.co.uk/2009/10/20/review_storage_freecom_xs_hdd/
Freecom Hard Drive XS
The fetishist's favourite?
Posted in Personal Tech, 20th October 2009 11:59 GMT
Review Freecom appears to be taking a leap out of LaCie's book. Once known for cheap but plain looking storage products, Freecom has been bitten by the design bug.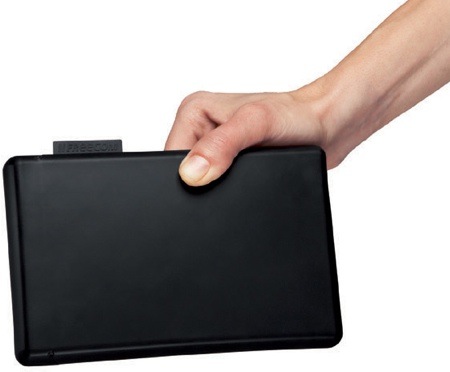 Freecom's XS: do hard drives really need clothing-style labels?
Take the XS, claimed by its maker to be the world's smallest external 3.5in hard drive. This boy is clad entirely in skintight black rubber with gaps only to expose the power socket, a mini USB port and a sticker that says how capacious the drive is.
And you know those small labels on Levi's jeans, the ones sewn into the seams that tell you who ran up your trousers, should you have forgotten? Yes, the XS has one of those.
The matte-black rubbery coating isn't totally sealed. The far end from the ports is moulded like a lid, suggesting you can flip it up and slide out the drive squeezed within. Not so. It's actually glued down, and while you could pull it up in order to swap out the HDD, you'll almost certainly tear the rubber, which, though thick around the sides of the drive is thin where it covers the front and back.
This thickness at the edge undoubtedly gives the XS some protection if it's dropped. But it also causes problems. For one thing, the mini USB port is set a further millimetre and a half back from the edge of the casing. As a result, the cable we used didn't always make a good connection. We suffered from a few instances where the drive would dismount of its own accord.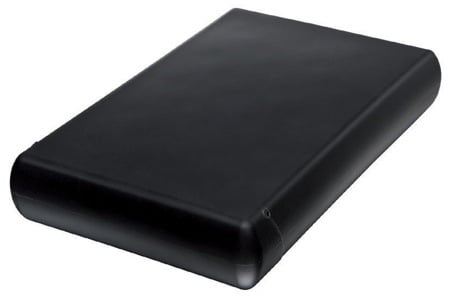 Rubbery casing for Skin 2 appeal
We've never been convinced that the mini USB connector is a good idea for hard drives - there always seems to be too much room for the plug to rotate within the socket. Few HDDs equipped with this kind of connector hold the cable snuggly.
Back to the casing, and while we're sure the tactile coating provides some resistance to knocks and bumps, we're not convinced buyers need to take into account its claimed vibration damping effect. Maybe it does, but how often does your desk shake away like a washing machine on a fast spin cycle?

The mini USB port is more deeply inset that you might think
The XS may indeed be the world's smallest 3.5in external hard drive, but if size, or rather lack of it, matters, then you'll be wanting a 2.5in mobile drive in any case. Even large 2.5in HDDs, like the LaCie Stark are thinner, shorter and narrower than the 182 x 114 x 31mm XS, and don't need a separate power supply.
When it comes to performance, the XS doesn't really make up for its larger dimensions. In both our real-world file-transfer tests - a 2GB file and a 1GB folder containing 100 10MB files, all copied from a MacBook Air - and CrystalDiskMark 2.2 Windows benchmarks, there's not much to choose between the XS and the LaCie.
The Freecom did come in slightly ahead of 3.5in drives we tested earlier in the year, with better average write speeds than both the Samsung Story and the LG XD4.
File Transfer Tests
2GB File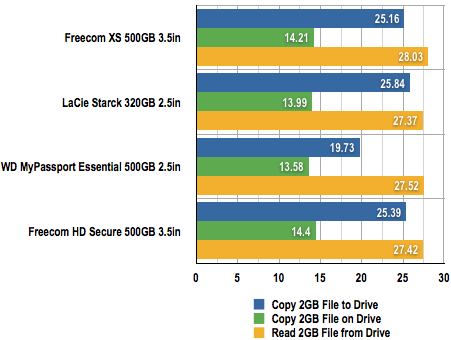 File Transfer Tests
1GB Folder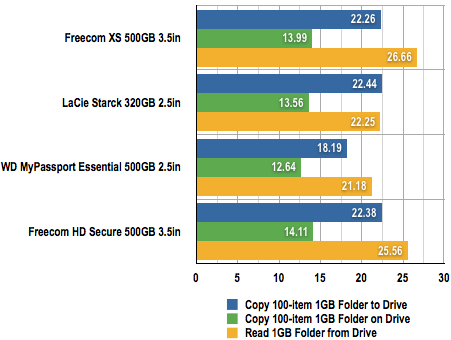 File-transfer speeds in Megabytes per Second (MB/s)
Longer bars are better
CrystalDiskMark 2.2 Results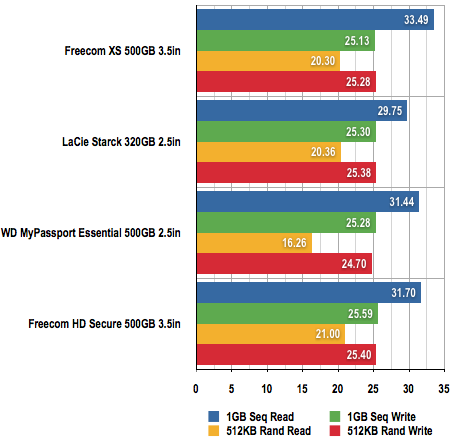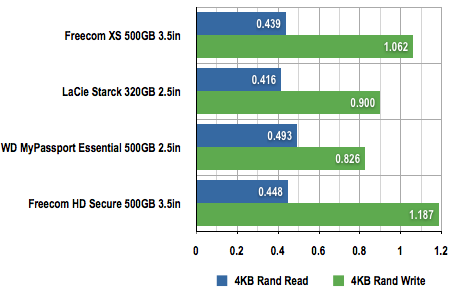 Data throughput in Megabytes per Second (MB/s)
Longer bars are better
Personally, we prefer the look of the Samsung, which also has a much more physically secure mini USB port. Looks, though, are subjective, which is why the fetishistic styling of the XS is a likely to appeal as the hi-tech design of the Samsung or the more traditional look of the XD4.
Before we move on, we should mention the Turbo USB 2.0 utility Freecom bundles with the XS. This, the company claims, can boost file transfer speeds by "up to 40 per cent". It only works under Windows, by using an alternative USB driver, NinjaUSB.sys. We suspect it's from NTI, which provides the Windows back-up software, Shadow, Freecom bundles with the drive.
We tried Turbo USB out using CrystalDiskMark and saw small gains of 6.4 per cent and 13.8 per cent on sequential read and write speeds, respectively. 512KB random read and write speeds were up by similar percentages, though 4KB random read and writes showed no improvement. Not quite 40 per cent, and only of benefit if you're copying large amounts of data. Copying a 1GB file to the drive, for example, will take about six seconds less time with Turbo USB enabled, though the more you copy, the more you save.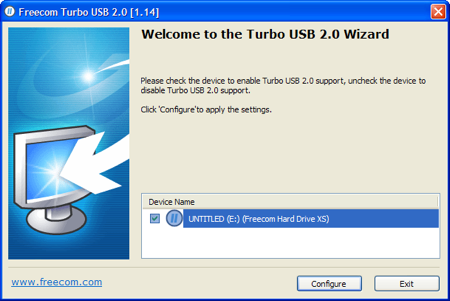 Turbo Mode will boost data-transfer speeds under Windows
There's a downside: switching Turbo mode on (or off again) will unmount not only the Freecom but also any other USB mass storage devices you have connected, we found.
The XS' small (ish) size and all-encompassing rubber skin means there's no point having a fan inside, and Freecom hasn't done so. It certainly makes for a quiet drive, but it's not significantly more so than other recent 3.5in drives we've tried.
We tested the 500GB version of the XS, but Freecom also offers 1TB and 1.5TB versions. Freecom wants £75 for the cheapest of three, which is only a fiver or so above the average price of a 500GB 3.5in external hard drive with USB 2.0 only. We're sure you'll find it for less if you shop around.
Verdict
The XS is a decent enough 3.5in external drive. The rubbery skin is all for show - we wouldn't treat it as a ruggedised product and neither should you - but it's quiet and a reasonable performer. It doesn't come at a bad price. And Windows users in particular will appreciate the speed boost from Turbo USB mode. ®
More External HDD Reviews...

LaCie
Starck

LG
XD4

Samsung
Story
Station

Iomega
eGo