Original URL: https://www.theregister.co.uk/2009/10/20/review_phone_samsung_gt_s5230_budget_touchscreen/
Samsung Tocco Lite budget touchscreen phone
Too Lite a touch?
Posted in Personal Tech, 20th October 2009 08:02 GMT
Review Having scored considerable touchscreen success with its debut Tocco F480, Samsung has been understandably keen to extend its Tocco-branded portfolio – first with the Tocco Ultra Edition GT-S8300 numberpad-packing slider/touchscreen combo, and now with a budget version, the Tocco Lite GT-S5230, also known as the Star in some territories.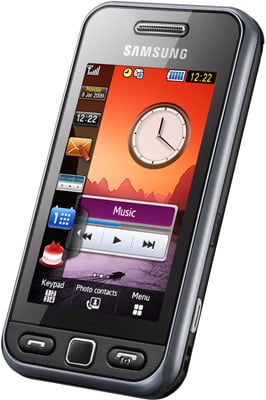 Low connectivity diet: Samsung's Tocco Lite
As its name suggests, the Tocco Lite goes easy on high-end features. It offers a similar TouchWiz user interface as recent Samsung touch phones, but 3G connectivity is absent. It doesn't do GPS or Wi-Fi either, and its camera is a modest 3.2Mp snapper. This Tocco is also light on the pocket, selling for as little as £90 in some pre-pay packages. Its obvious rival is the LG Cookie – another sub-£100 touchscreen handset.
The Lite measures 106 x 53.5 x 11.9 mm and weighs a mere 92g. The front is a slab design dominated by a clear and bright 3in, 240 x 400 resistive touch display. A simple trio of buttons sit under this: Call, End and Back keys. On the sides are a camera key and a screen lock/unlock button on one side and volume/zoom rockers on the other. A covered slot on the flank hides a regular Samsung multi-connector port for charger, USB cable and earphones. There's no standard 3.5mm headphone socket.
The user interface feels and behaves in a similar way to its Tocco predecessors. The resistive screen means you press and drag to select and scroll around the display with none of the easy, fluid gesture movement you get using the iPhone or other capacitative screen handsets. Still, for this type of display – and at this sort of price level – Samsung has down a good job in ensuring the TouchWiz UI is responsive and accurate.
On the standby screen, the TouchWiz UI features user-selectable widgets that can be dotted over the display. These can be used to activate applications, give tap-to-activate control over functions, or access online services from the standby screen. In fact, there are three alternative standby screens you can swipe between, using a sideways sweep of your finger, like turning a page. They can be handy for keeping the homescreen uncluttered if you're using lots of widgets.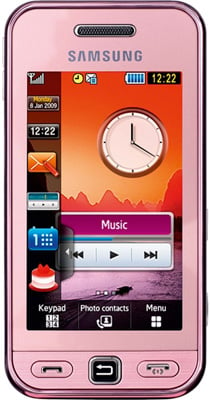 Also available in pink
There are some 37 widgets you can choose from - some hidden but selectable in the menus - which can be dragged and dropped from a toolbar. These range from stuff like calendar, messages, photo gallery and music players controls, to ones launching online services such as Facebook, MySpace, Flickr, YouTube and Google apps. Additional widgets can be downloaded, though the choice is limited.
The touchscreen user interface is generally straightforward to negotiate. The standby screen has three buttons, pulling up the numberpad, phonebook or menu. The main menu grid is conventional stuff, a tap taking you into sub-menus, mostly with lists of options – like on a regular phone. It should mostly be intuitive for anyone who hasn't used a touchscreen phone before with haptic feedback affirming each prod.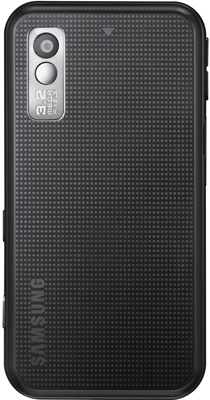 Camera pics can be toyed with using the touchscreen drawing app
One button option at the foot of the main menu screen takes you into a Photo Contacts carousel of most-used numbers, for quick dialling or messaging. If photos are assigned, these appear next to the name. A quick swipe and tap can be used to browse through and select contacts by image.
Sub-menu lists can be scrolled by finger dragging, and some, such as phonebook contacts, can be searched by pressing a search panel and tapping in letters using a virtual keypad. In the menus there's usually enough room for fingers to manoeuvre comfortably onscreen. Occasionally, you may find your dawdling digits selecting rather than scrolling mid swipe, but it usually does what's required without frustration.
Text messaging is reasonably good for a touchscreen phone, with the numberpad suitably spacious for fingers to avoid mistakes, and a clear key layout. There's also a virtual Qwerty keyboard option when you tilt the phone sideways, which is also relatively roomy and fairly accurate to use, plus two serviceable handwriting recognition alternatives. Conventional keypad users are likely to find the touch method slower and not as effortless – in particular, for altering text, and for adding recipients from the phonebook.
The Tocco Lite has around 106MB of internal storage, and it can take Micro SD memory cards up to 16GB capacity. It can be sync'ed with Windows Media Player 11 on a PC, using a USB cable, or tracks can be dragged over in mass storage mode. Users can download Samsung PC Studio software if they want to use this to manage tracks instead. Bluetooth transfer is another option.

Alas, no 3.5mm headphone jack socket
The music player software, handles audio files adequately, identifying new tracks loaded onto the phone or slipped in on a memory card, and listing them under standard category headings. The audio interface is simple to use and looks presentable, like previous Toccos, though it's no iPod or Walkman. You can tap to control, alter sound effects settings and drag timelines with your finger.
A Find Music song search function enables you to ID tunes you hear around you, in a Shazam kind of way, and the audio entertainment is complemented by an intuitive onboard FM radio. The audio performance is satisfactory, with reasonable sound quality, despite the basic headset. Bass was a bit flat and it was a touch trebbly but it was generally fine without being exceptional. It's a shame, though, that without a 3.5mm socket or adapter it's not easier out of the box to upgrade to better quality headphones.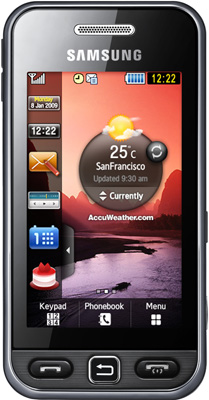 Without Wi-Fi, YouTube playback is anything but smooth
The 3.2Mp camera is pretty mediocre with its fixed focus often producing images lacking precision and sharpness. Colour reproduction was generally fine, but in bright conditions, some colours appeared oversaturated with some bleed apparent. You can also tinker with shots, using editing tools, and scribble notes on pics. The photo gallery allows a bit of touch browsing and scrolling too. Video capture is typical mobile quality, recording at a maximum 320 x 240 resolution at 15fps, producing low quality, juddery images.
Video playback on the large screen isn't bad, though the lack of high-speed 3G mobile connectivity or Wi-Fi means it's more suited to watching sideloaded material than streamed content.
The Samsung browser brings in touch control operation for zooming; holding a finger onscreen and then dragging one way or the other zooms in or out. Alternatively, you can use the zoom/volume controls to go in an out. The browser's better than most mobiles at this price level without straying into iPhone slick usability. There are control icons onscreen for easy operation, and you can view full screen and in landscape mode. The lack of high-speed data connectivity is a drawback though, giving a very pedestrian performance for accessing full web pages, which can take an age to load up.
Onboard Google Maps is nicely implemented on the device's screen, although with no GPS receiver inside, cellsite triangulation, rather than satellite positioning, is used to get an approximate area fix to within a few hundred metres. Still, handy to have if you're in unfamiliar territory.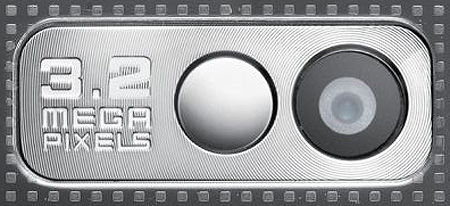 The fixed focus lens delivers mixed results
The Tocco Lite covers the bases for regular organiser features and tools: calendar, memo, task, world clock, calculator and convertor, plus voice recorder and various clock and timer functions are all included. A few games are loaded up too.
We had no problems at all with call quality. Chatting was loud and clear, with no unexpected drop-outs or other issues in our extensive testing over multiple locations. The virtual keyboard is a doddle to use, and the phonebook works effectively once you get acclimatised to the touch element.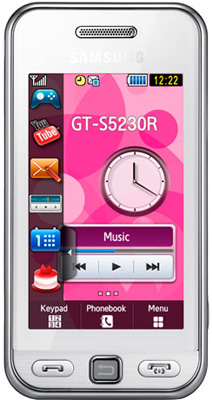 Undemanding users – tap this way...
With no power-hungry Wi-Fi or GPS, battery life was impressive for a touchscreen phone. With moderate music playing we managed around three days between charges. Samsung estimates optimum figures of 700 hours' standby or ten hours of talktime.
Verdict
The lack of 3G, Wi-Fi and other high-end features dull the performance of the Samsung Tocco Lite and certainly limit its appeal, especially compared to the similarly priced touchscreens such as Nokia's 5530 XpressMusic. Yet, operationally, the Tocco Lite's handling is consistent with other Samsung TouchWiz devices and offers a decent touchscreen experience. ®
More Phone Reviews...

Nokia
5530 XpressMusic

Sony Ericsson
C903

Orange
Vegas

LG
GC900 Viewty Smart