Original URL: http://www.theregister.co.uk/2009/10/20/review_media_player_philips_gogear_muse/
Philips GoGear Muse
A good all-rounder to ponder on?
Posted in Personal Tech, 20th October 2009 15:02 GMT
Review Philips' media player range has been undergoing something of a renaissance of late. Both its Spark and Opus players struck us as a thoroughly respectable little devices that sounded good, worked well and represented decent value. Now Philips has released the Muse and, even from a cursory glance at the spec sheet, it is clear that Philips has raised its game.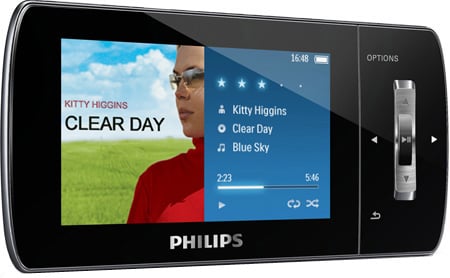 Philips' GoGear Muse: an inspired choice?
In the hand, the Muse looks more like a thin mobile phone than a media player. The lettering on the fascia clearly indicates that the device is supposed to be held landscape-style, with the controls to the right of the 3in screen. Yet, even after a week of use we still tended to pick it up and hold it so the controls were at the bottom.
Physically, the Muse is a solid device, and a smart one too, with its brushed metal back and sides and glossy black fascia housing a flush screen. It won't take up too much pocket space either, measuring up at 110 x 8.9 x 55mm and weighing 95g, which is on a par with Samsung's P3.
At a glance you'll find the usual 3.5mm headphones jack, lock slider, volume rocker, mini USB port and lanyard eye, but also a less common on/off switch for the device's active noise cancellation ¬– more on this later.
Philips has still to take the leap into the world of touchscreen navigation, so the Muse makes do with more traditional controls. Interface manoeuvres are performed with a two-piece navpad adjacent to the screen. The outer part of the pad takes care of forward/back/return and option commands while the inner part looks after up/down, play and pause.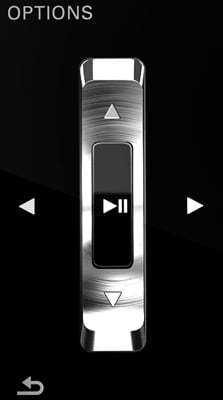 Hardware navigation controls are utilised on this non-touchscreen player
The Muse boasts a far more comprehensive raft of codec support than previous Philips media players. On the audio side, the Muse will play MP3, WMA, AAC, FLAC, Ogg Vorbis, APE, RealAudio and Audible (.aa) files. Turning to video the Muse supports WMV, RMVB, AVI and MP4 files. If still images are your thing then you can use the Muse to look at JPEG, BMP, GIF and PNG files.
The Muse also features an FM radio, which lacks RDS but has plenty of pre-sets and offers the facility to record off-air, a voice recorder and a text reader. All recordings are stored as MP3 files. Navigation around all these functions is very straightforward, with the main menu housing seven icons that take you to all your relevant media, plus two more to access the folder view and now-playing/last-played.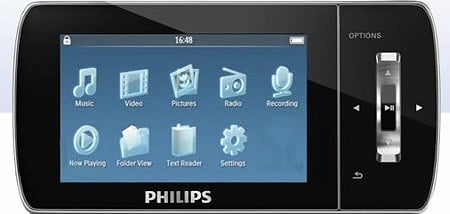 Various menu options are clearly laid out
Philips has made good use of the screen size when it comes to browsing through media. For instance, scroll down the artist list and thumbnails of all the relevant albums appear in a small column to the right. Press play and a large sleeve image appears with all the relevant media and device data displayed alongside. None of this is rocket science, but it does make the Muse a pleasure to use.
The Muse proved impressively capable of handling video files with a higher resolution than that of its 400 x 240, 262k colour screen. According to Philips, the Muse can handle Xvid and Divx files up to 720 x 480 and all other formats up to 640 x 480. Our tests confirmed this with files at or below those resolutions playing crisply and cleanly.
The video scan facility is fast and smooth and doesn't require you to keep the relevant button held down. You can set it to fast-forward or rewind at either 4, 8 or 16 times normal speed and let it run to the desired point before tapping play to resume.
Though there is no option the set bookmarks the Muse will remember at what point in a video file you switched off and will resume when the same file is re-selected. The Muse also rendered all the videos we tried at the correct aspect ratio which was just as well as there isn't a manual override. In fact the only slight disappointment was an inability to handle SupRip subtitle files.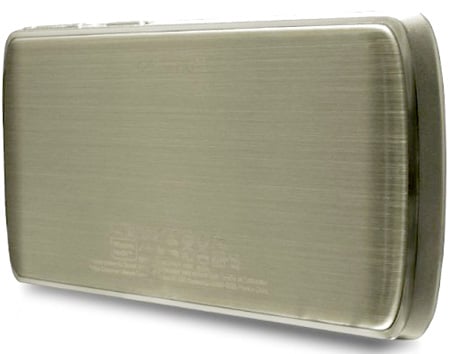 Appearing like a slim mobile, the Muse features a robust casing
Sound modification is limited to Philips' FullSound – actually FullSound2 in this case - system which can be set to either 'on' or 'off'. Switch it off and you also have access to ten pre-set and one user-definable EQ settings.
We're not sure what Philips has done to FullSound to turn it into v2.0 but whatever it is its slightly over egged the pudding by putting just a little bit too much brightness back into the music for our taste and making everything sound rather too forward. On the plus side the definition and clarity that FullSound brings out is very impressive.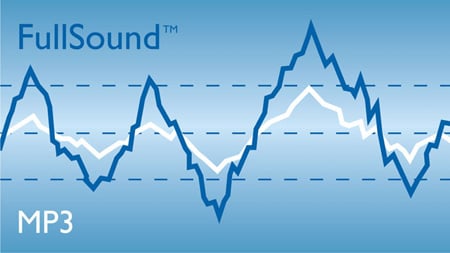 If you're unsure what FullSound does, perhaps this graph will help – or perhaps not
Switch FullSound off and the Muse produces a smooth, balanced and composed sound that, to our ears, sounds more natural. Yet, what really separates the Muse from the herd are its bundled active noise cancelling headphones, which generate an audio signal to cancel out ambient background noise.
Put the Muse in an environment with a lot of low frequency background hum and those earphones come into their own. We had occasion to try the Muse on an airliner and an underground train and, in both circumstances, the amount of background clutter elimination was pretty impressive and definitely made for a more enjoyable listening experience.
The degree to which the sound cancellation works can be altered to suit your surroundings without any overt impact of the quality of playback. If, for any reason, you don't want to use the system, you can simply switch it off or use a pair of regular earphones.
Of course, the Muse will only remove low frequency noises. Listen to Tristan and Isolde on the Central Line and you are still going to be left wondering why Wagner put the short aria "Mind The Gap" in it quite so often.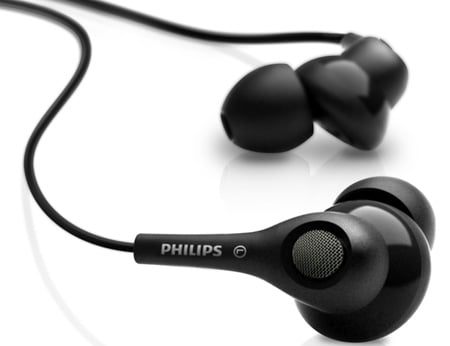 Noise-cancelling earphones as standard
The Philips earphones produce a more than decent sound and are pretty comfortable and you can live with them without major compromise. In fact, their only real failing is the way the connecting cables hang forward when worn. This means the cables tend to flit in and out of the wearer's peripheral vision. One word of caution - the 3.5mm earphones jack has a small lug on it that needs to be lined up with the housing in the player, so don't try to just ram it in any old way.
With its MSC/MTP connection switch, the Muse can be easily hooked up to either Linux or Mac machines, while playlists can be set up on-board or synchronized from the likes of Windows Media Player. The Muse also automatically creates a Most Played playlist. We experienced no problems with DRM-protected BBC iPlayer downloads, which loaded and played without a hitch.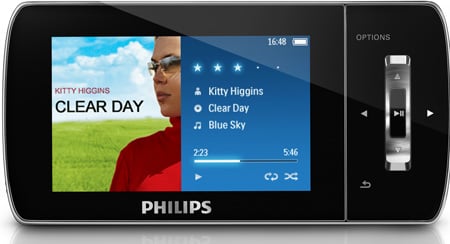 Fixed storage capacities to mull over, but great format support
Philips claims the Muse's 750mAh battery is good for 30 hours of audio playback and 6 of video. We found these numbers to be commendably accurate, managing 28 hours 40 and 5 hours 25 respectively during our test. As we have come to expect from Philips the Muse is pretty aggressively priced with the entry-level 16GB device costing £150 and the 32GB device coming in at only £30 more. That makes the latter the model of choice for us.
Verdict
There is a lot to like about the Muse. Format support is excellent, as is the player's ability to handle video above the screens native resolution. The bundled noise cancelling earphones will hold obvious appeal to anyone who regularly uses their music player on a tube train or plane. However, some may see the absence of storage expansion as a drawback, but we reckon that is countered by the generous capacity/price combination. ®
More Media Player Reviews...

Apple
iPod Nano 5G

Cowon
D2+ DAB

Samsung YP-Q2
v.
Sony E-series

Apple
iPod Touch 3G