Original URL: http://www.theregister.co.uk/2009/10/16/review_phone_palm_pre/
Palm Pre smartphone
The next best thing to an iPhone?
Posted in Personal Tech, 16th October 2009 12:10 GMT
Review The most hyped phone of the year, the Palm Pre, has arrived and now you can actually buy one. The 3.1in touchscreen combined with a physical keyboard are welcome features, but it's the software that might change the face of the smartphone market and challenge the Apple iPhone.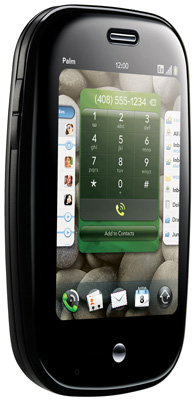 Palm's Pre smartphone touting its new WebOS
The iPhone has been top of the smartphone pile since it was released and, with every new version, its software, hardware and developer support has been greatly improved. Even now, just shy of its third birthday, other smartphone manufacturers still appear unable to catch up with it.
HTC has been hampered by Android's slow start and Windows Mobile's various weaknesses, while other manufacturers' implementations of touchscreens, such as LG with its S-Class OS, look derivative and clunky by comparison. Can Palm, with its impressive track record as a smartphone maker and vaunted WebOS platform, do any better?
The Pre's hardware is fairly standard – we've all seen touchscreens before, after all. The most interesting thing about the phone – and what Palm is pinning its hopes on – is the software it runs, and WebOS deservingly joins the top of the mobile phone operating system pile along with Apple. It has more polish than Android, and while it isn't as smooth as the iPhone, it arguably does more.
First up is Palm's 'Synergy' system. It's designed to take the pain out of setting up your phone and managing your contacts. Rather offering platform specific sync applications, you just simply pop in a Gmail email address when you first start it up and it will pull in your calendar and contacts information as well.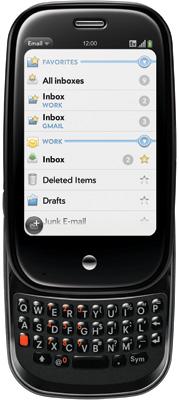 Touchscreen and keyboard combo
Of course, this assumes you've all this set up on Gmail already. Likewise, give it your Facebook details and it will look up your friends and put them into its contacts database as well. Third party apps are available for sync'ing and media can be dragged and dropped to the Pre's storage when plugged in to a computer.
Overall though, it works well – if you have the same contact in Facebook and Google Contacts it will roll them both into one entry, making looking up and contacting people easy. It also streams instant messaging into SMS messaging – so if someone contacts you by IM you can reply by text or vice versa.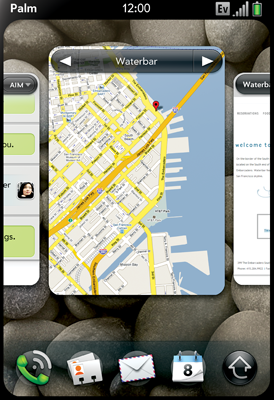 Multitasking support delivers a more versatile user experience
Not being able to multitask on the iPhone is why you can't listen to music on Spotify and browse Google Maps, for instance. WebOS feels like it's been built with multitasking in mind the whole time. Every application runs on its own Activity Card, and the button beneath the screen is the Pre's equivalent of Alt-Tab; zooming out from your current application and allowing you to swipe sideways to get to different applications. Closing an application is satisfying – just flip it off the top of the screen with a finger.
It works superbly on the Pre. In our tests, we ran multiple applications, including Google Earth, the Pre's photo viewer, email client and YouTube and didn't experience performance issues. Switching between applications is smooth, and being able to switch between the calendar and Google Maps, for instance, makes finding your way to elusive meetings easier.
There are other neat navigational touches. The space immediately below the screen is touch-sensitive as well: swiping to the left and right work as back and forward commands respectively – this works in most applications, not just the browser.
Browsing the Internet on the Pre is a simple pleasure. A double tap on the screen zooms in to the width of a column, and, like the iPhone, pinching in and out works too. There are plenty of data connections – 3G is the headline act, with EDGE a useful backup for when you're out in the sticks and 802.11b/g wireless filling in for home duties. The only annoyance with the web browser is the apparent lack of a custom '.com' button, which would save a bit of time typing in addresses.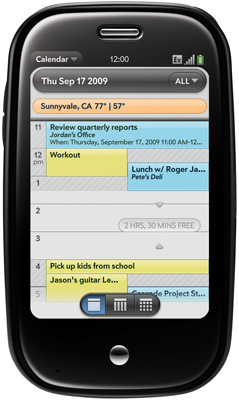 Google and Facebook details can be downloaded to the Pre
The rest of the internal hardware is straightforward. A GPS chip allows you to use location-based services, and there's 8GB of internal memory for music and so forth. It's a respectable amount of space for video and so on, although it doesn't challenge the 16 and 32GB iPhones. Yet there's no memory expansion in the form of a micro-SD card slot.
Sample Shots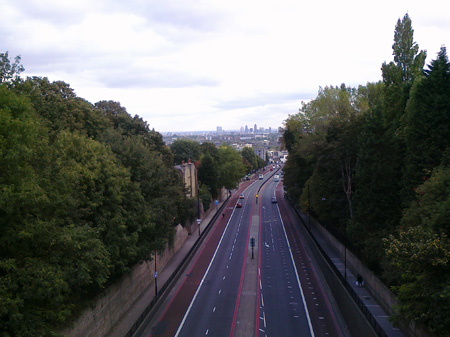 Click for a full-resolution image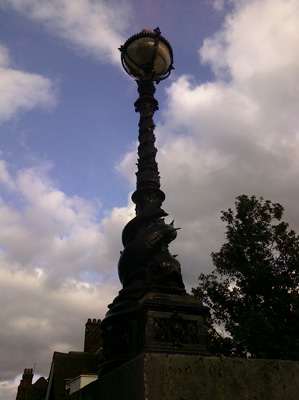 Click for a full-resolution image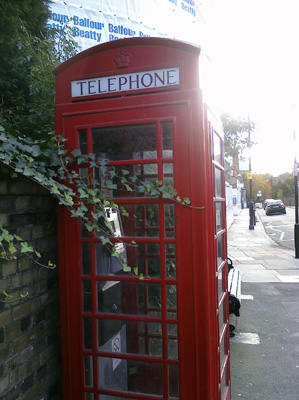 Click for a full-resolution image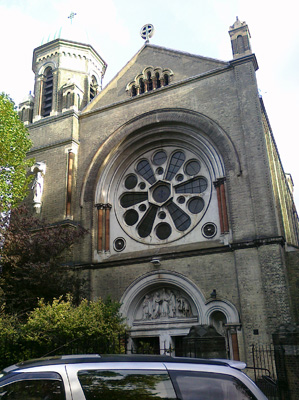 Click for a full-resolution image
The shiny black plastic has a weight to it that makes the Pre feel expensive. The back is curved and, when the phone is slid open, it presents a satisfying shape to the hand that you're unlikely to drop. Compared to the best efforts of, say, Samsung or HTC, the Pre is beautifully designed.

Cutting edge design? But not in the way Palm intended
Until you open it, that is. The first thing you'll notice is the lip at the very bottom of the handset beneath the keyboard. It's sharp enough to cut things, and although you're unlikely to do yourself much accidental mischief, such a sharp blade is very much at odds with an otherwise smooth piece of design. The sliding mechanism on our review sample also seemed a little loose for a brand-new phone.
Once or twice snapping the Pre shut caused it to power off. The second problem is the keyboard. There are no onscreen keyboards on WebOS – the screen would likely be too small for one anyway – so the four-row Qwerty keyboard is all you get, and unfortunately it's a stinker.
If you've used the Palm Treo the keyboard will be familiar, and it's true that it's easy enough to work up a fair head of steam after some practice. But to us the keys felt stiff and the rubbery finish is unpleasant. The top row of keys is too close to the bottom edge of the top half of the sliding mechanism and you need to contort your hands to type. It compares poorly to the Nokia E71 and very badly to the BlackBerry Bold.
Then there's the question of accuracy. Apple's message to iPhone newbies if they make a mistake halfway through a word is to keep typing and trust the phone to correct it and, on the whole, it's very effective. The Pre, although inherently slightly more accurate because of the physical keyboard, doesn't offer anything like so clever a solution.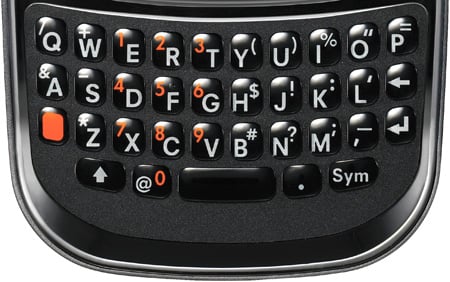 Using the keyboard certainly takes some getting used to
It will catch and auto-correct normal spelling mistakes, popping in apostrophes and the like if you forget, but if you type "pixza" it won't guess that you meant "pizza". Typing long messages – particularly emails – is exhausting. The uncomfortable keyboard, coupled with the need for unstinting accuracy, takes a lot of joy out of using the Pre.
And, while we wish we could say something good, or at least interesting, about the 3Mp camera, the fact is our test images were variously underexposed, handled high contrast scenes badly and produced lots of JPEG artefacts. It's a standard mobile phone camera with no video recording.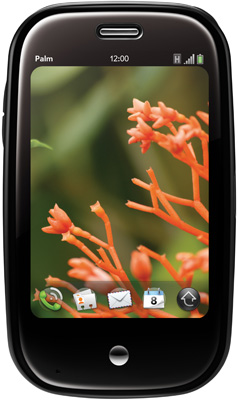 Images look good on-screen, but the ones taken with the camera are none too special
The media player is better than most and easy to use and thankfully the headphones connect with 3.5mm jack and do the job. The call quality was absolutely fine and reception was too, with no dropped call issues or ropey Internet connections, but maybe living in London helps.
Battery life was about as good as the iPhone, but nowhere near the bar set by Blackberry's finest. With it set to receive push email, calendar, contacts from Gmail, along with regular Google Maps and YouTube usage on the bus, it managed around a day and a half. Not bad really.
So you're after a smartphone, you've got money to burn and an obvious decision to make: this or the iPhone. No other touchscreen smartphone is even in the running. The Pre has some obvious advantages. It's a bit smaller than the iPhone and 'Synergy' works well, which could prove useful if you're more familiar with Facebook than the concept of Gmail or an Exchange server. But weigh it against the iPhone and it's hard to recommend.
The keyboard is horrible and the rest of the hardware design, while initially desirable, just isn't up to snuff. The screen is smaller than the iPhone's and things like web browsing or watching YouTube videos are less enjoyable.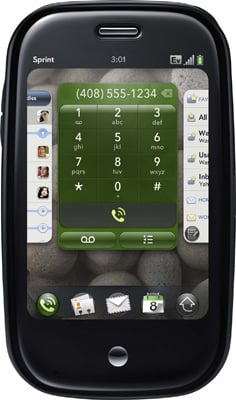 And you can make calls on it too
We're hopeful, of course. WebOS is a work of genius that should appear on as many phones as possible, as soon as possible. It's responsive, extremely fast and offers a huge number of productivity tools. Having your Facebook contacts rolled into your everyday contacts list is incredibly useful. The ability to multitask is brilliantly implemented and genuinely useful, besides providing a valuable point of difference over Apple iPhone.
Still, the Pre's App Catalog is well and truly in its infancy as well, although Palm's WebOS Developer Program isn't set to kick off until December. If the Pre was a bargain – £20 a month, for instance, with £50 up front – it would be easier to endorse, and it would certainly have an edge over the iPhone in value terms.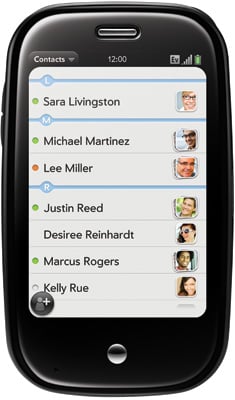 Work in progress: look to 2010 for WebOS apps to come on stream
As it is, the Pre will set you back at least £625 over the life of the cheapest 18 month contract – exactly as much as the iPhone. Unless (or until) the price drops, those who have been waiting to see if Palm's best can match the iPhone should be following in the footsteps of the Apple fans.
Verdict
It's difficult to use the Pre for a few days and feel anything other than nagging disappointment. This was the phone that was supposed to turn around Palm's fortunes and provide the iPhone with something to truly worry about and, in its current form, with its current price, it does neither. ®
More Phone Reviews...

Apple
iPhone 3GS

BlackBerry
Curve 8520

HTC
Hero

Ten of the best…
iPhone beaters