Original URL: http://www.theregister.co.uk/2009/10/15/review_storage_blu_ray_combo_drive_plds_ihes208/
PLDS iHES208 Blu-ray drive
More than just an interim enhancement?
Posted in Personal Tech, 15th October 2009 08:02 GMT
Review PLDS is a joint venture between Philips and Lite-On that develops optical disc drive technologies and markets related products. The PLDS iHES208 internal drive is new take on the 'combo' drive concept, providing complete CD and DVD reading and writing functions, plus the ability to play Blu-ray titles at full 1080p quality. Indeed, its Blu-ray functionality makes it a tempting upgrade for your PC's existing internal CD/DVD writer, while possibly also improving your disc writing speeds too.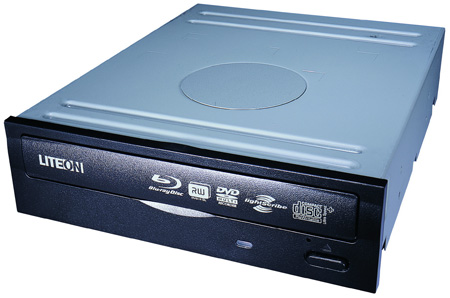 Joint effort: the PLDS iHES208 is a combo of manufacturers as well as optical media
As a Sata drive, the iHES208 is relatively simple to instal, especially if you are replacing an existing CD drive. If you want to instal it as a second drive, you will need a spare CD drive bay, a spare power supply plug-and-cables, and a free Sata port on your motherboard. Whatever you do, make sure your motherboard provides Sata support, since you will not be able to fit this product in legacy PCs. It is also worth noting that the iHES208 is a Windows-only product.
The drive reads single-layer Blu-ray discs at 8x and dual layer at 4x. It can write to DVD+R and DVD-R discs at 16x, and to rewritable DVD media at between 6x and 8x. It is a 16x reader for all types of DVD. The iHES208 is also a 48x CD-ROM reader, 48x CD-R writer and 32x CD-RW rewriter.
After installing the hardware, we found that the iHES208 could operate as a regular CD writer straight away without adding any software. For full rewriter and Blu-ray support, however, you will need to install the CyberLink Blu-ray Disc Suite provided. This is a rather long installation, unfortunately, and no sooner had we launched the program for the first time than it prompted us to download a newer version and do it all again.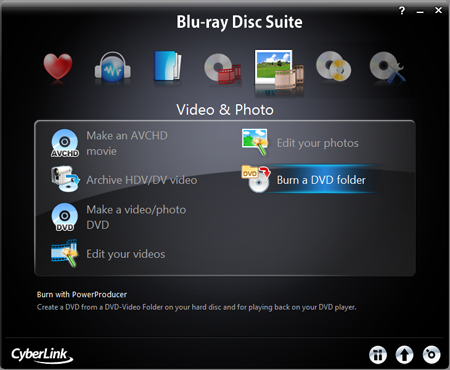 The supplied Cyberlink software is very effective and leaves little to complain about
The trouble was worth taking as we found the iHES208 to be a fast, reliable and (most importantly) quiet drive in operation. The last-mentioned makes it ideal as a movie player on a home computer since you are going to be sitting a mere couple of feet away from the drive while the player is running. Equally, if your PC hardware can support it, the drive and its bundled software correctly delivery a variety of multi-channel audio options as offered by the Blu-ray or DVD title itself.
We thought Blu-ray movies looked pretty good on our TV but they looked and sounded fantastic on a computer. BD-Live features were actually easier to operate from a PC too, especially with those that require you to register your details. CyberLink's ubiquitous PowerDVD makes an effective movie player for both Blu-ray and DVD, even if its interface is unnecessarily fiddly. We experienced no slipping, catching or sync problems at all.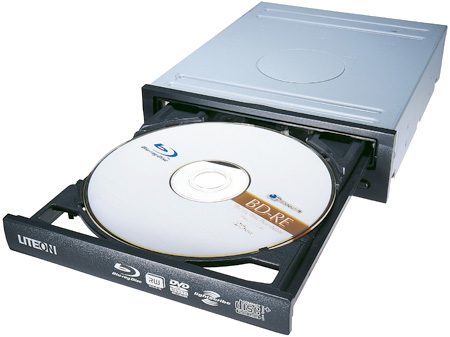 The drive comes supplied with user-swappable fascias: choose between silver or black
The other programs included in the Suite are: Power2Go (burning data files to discs), Power Producer (putting video and pictures on CD and DVD), Power Director (making home movies), Power Backup (back and restore utility), Photo Now! (basic photo correction and enhancement) and Label Print (printing disc labels and insert cards).
Also included was Instant Burn, a system tray utility that allows you to copy files to rewritable discs in real time, as if they were conventional media, by keeping their sessions open. Despite the complexity of software, the Suite is presented using a task-based interface, so you just pick a task and let the Suite determine which program to launch.
Label Print was notable for integrating with the iHES208's LightScribe support. So, as well as being useful for printing stick-on CD labels, the software can etch the same label information onto the top surface of LightScribe media. The process is slow (graphic designs with picture backgrounds can take 20 minutes or so) but the results are more durable than stick-on labels and direct print-on CDs.
We found certain other programs in the Suite to be less compelling. Photo Now! and Power Backup, for example, are only likely to get used if you have no alternative. Power Director and Producer, however, although a bit plain in appearance, are very effective programs for domestic users wanting to get their home movies onto DVD without too much effort.
Verdict
While the ability to write to Blu-ray media remains a high-end aspiration for most of us for some time to come, this iHES208 combo drive is just the trick to fill the gap. The £110 price tag looks a tad expensive at first, but the wide versatility of the hardware and the unexpected generosity in the software bundle make it decent value – for the time being. ®
More Blu-ray Gear Reviews...

Philips BDP3000
Blu-ray player

Pioneer BDP-51FD
Blu-ray player

Group test:
Blu-ray players

Pioneer BDR-203BK
Blu-ray recorder