Original URL: http://www.theregister.co.uk/2009/10/14/review_phone_samsung_gt_c6625/
Samsung GT-C6625
Basic business wannabee?
Posted in Personal Tech, 14th October 2009 12:02 GMT
Review Windows Mobile smartphones with miniature Qwerty keyboards are rarely extremely exciting to look at, and the Samsung GT-C6625 is a case in point. Blocky hardware and a somewhat old-fashioned design, makes it look a couple of years out of sync with the latest smartphone trends.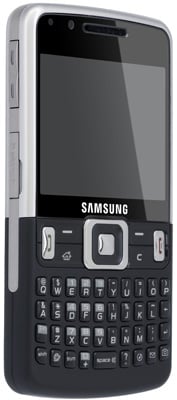 Samsung's GT-C6625: no Wi-Fi, but HSDPA 3.6Mbps connectivity
But put that aside and what you have here is a serviceable smartphone for text creators, be that mobile email, writing documents or simply plentiful SMS work. Our review sample came from Vodafone, where it is free on business tariffs. You can also get it SIM free for prices around £130.
There is no point coming to this handset with expectations of the very latest geekery because you won't find it. For a start, with Windows Mobile 6.5 just arrived its 6.1 Standard credentials might mean you decide to hang on for a successor with the updated operating system beating at its heart.
This is an HSDPA device, which means Web browsing, mobile email and other data rich activity is a definite possibility. It is a shame that the device only supports downlink connections to 3.6Mbps, though. With Vodafone having recently announced upgrades of selected parts of its network to 14.4Mbps and offering 7.2Mbps more widely, you may feel disinclined to top out at 3.6Mbps.
But then again, significant parts of the UK don't enjoy high speed data coverage, so this may be less of an issue depending on where you live and work. There's no Wi-Fi, though, so you are going to be reliant on network speed and contract minutes for data access.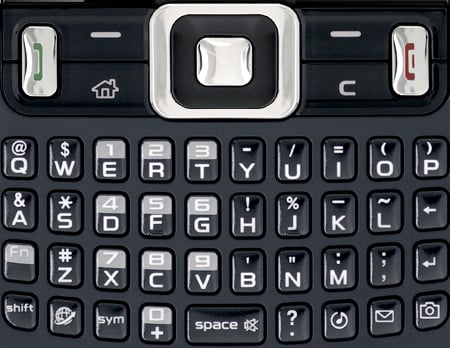 The well-spaced keys have a reassuringly positive action
More important, arguably, is the screen size. At 2.6in and displaying 320 x 240 pixels it is a reasonable size for viewing text, though complex Web sites are a bit squeezed. Still, you could download Opera to improve on what Internet Explorer offers. There's no screen rotation so you are stuck with a landscape format for the display. That's fine most of the time, and is the norm for Windows Mobile 6.1 Standard, but you may hanker for screen rotation if you see colleagues tilting and rotating their accelerometer-toting devices.
At least you can partake of navigation with the built in GPS. Google Maps has been pre-installed, so you can make a start with location-based services. You can add third party applications for full point-to-point navigation. With 100MB of user memory built in and a side-mounted slot for an SD card, memory should not be an issue. Vodafone's Web site says cards to 8GB are supported, but we tried a 16BG microSD card and it was recognised.

Not the slimmest, but acceptable for a smartphone
The GT-C6625 weighs 109g, which is well within acceptable parameters for a smartphone. It looks a little on the chunky side but at 113 x 63 x 11.95mm it compares well, for example, to HTC's Snap at 117 x 62 x 12mm yet, thanks to its design, the Snap actually looks smaller and neater.
On the GT-C6625, the buttons under the screen are sizeable and comprise of two blocky Call and End keys, a large retro looking navigation button and flat, shiny softmenu, Home and Clear keys. The Qwerty keyboard is well put together and easy to use.
Individual keys are fairly large and, importantly, they are well spaced and raised from their surroundings. This tends to make for ease of use, and does so here. The keys depress a good long way and give a satisfying click, which are two more characteristics of a good keyboard.
On the keyboard's bottom row are dedicated shortcut keys to the Windows Media Player software, Messaging, Internet Explorer, and the built in camera. With a long press on the space bar you can mute the handset.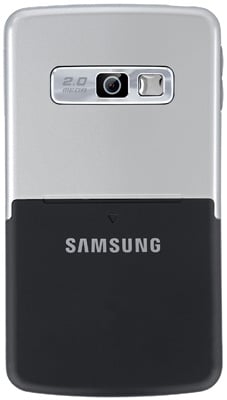 Just a 2Mp camera – and that's a mirror, not a flash, next to the lens
Having mentioned the camera, let's give it a bit of airplay. It shoots stills at 2Mp, video is limited to 320 x 240 and 176 x 144 resolutions. The camera is quite short on features, though Samsung shows a bit of a split personality – as it often does with its business focused handsets – by offering among its options, a funny mask mode which variously overlays things like headphones, rabbit ears, tears and glasses onto photos. Smile detection is here too, but there is no flash.
Shot using the auto settings in all cases, outdoor landscape type photos were generally a bit of a disaster. The camera just can't cope well with variables of light and shade. In the sample shot the sky is reasonably good but the tree detail is poor, dark and dull. Closer up, with fewer light and shade variables to worry about, the camera did better. The flowers are well reproduced for colour and brightness. This was a fairly close in shot, and focusing is dodgy.
Sample Shots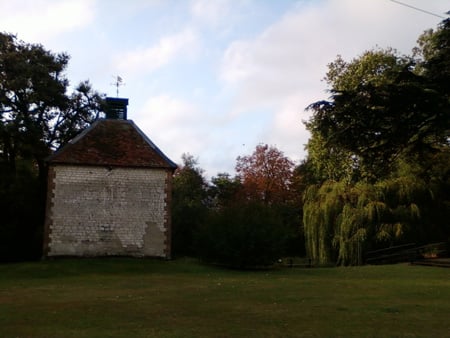 Click for a full-resolution image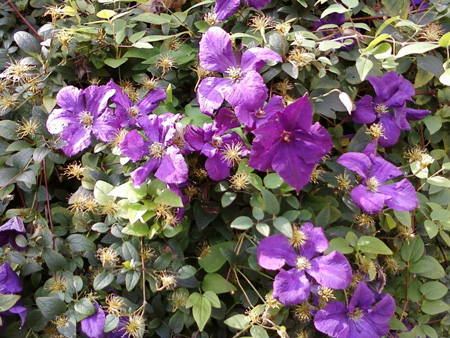 Click for a full-resolution image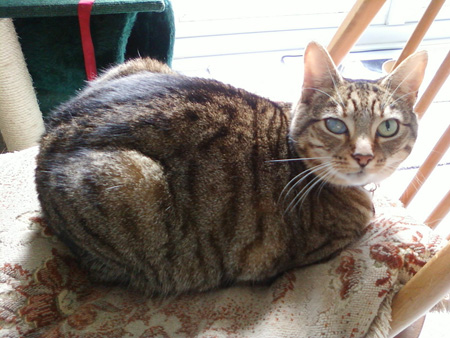 Click for a full-resolution image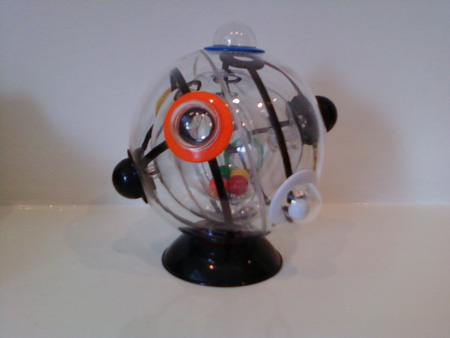 Click for a full-resolution image
Indoors, under normal household lighting, the camera again produced variable results. The fairly close in shot of the coloured ball is blurred and not really usable. The cat, backlit by a large window, is bright and cheerful. All of which suggests if you choose your locations you can get passable shots, but that won't happen every time.
Vodafone, like many others before it, is not too enamoured with the Microsoft user interface, and has installed its own over the top. This gives you a home screen with a vertical side panel of menus through which you can step using the navigation button.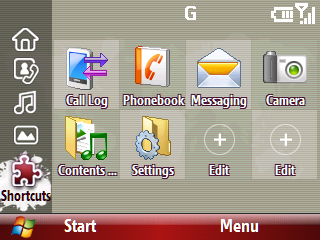 Buyers from Vodafone get a customised interface
One of these can be populated with eight shortcuts to applications or services on the handset. You can access everything via the Windows Mobile Start softmenu as is usual.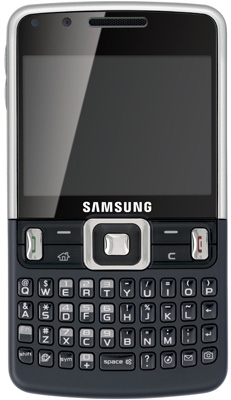 Ticks most of the boxes for low-maintenance business users
When it comes to software the Windows Mobile 6.1 Standard applications, including MS Office viewer, have been bulked out a bit. We've already noted Google Maps. There is also an FM radio. Alas, audio playback requires the use of Samsung's headset whose proprietary connector shares the same slot as mains power and PC sync cable. Music quality was surprisingly good through the provided headset, but its flat-in ear buds aren't the easiest to keep in place – in our ears anyway.
There's an app called D-Day, which we've seen before from Samsung and it offers a count down to any dates you choose to enter. As it merely duplicates the Outlook sync'ing Calendar app's ability to store dates, we aren't sure it will be overly popular. There is a PDF reader, unit converter and stopwatch too.
Verdict
Call quality was fine. Samsung rates the battery life as 8 hours GSM talk, 500 hours GSM standby. We got about three days from it between charges, though if you are heavy on the built-in Bluetooth, GPS or HSDPA you should budget for more frequent charging. Yet all told, there's nothing here that makes the Samsung GT-C6625 stand out from the crowd. Even so, this is a solidly built smartphone with an excellent Qwerty keyboard and GPS to boot. ®
More Qwerty Phone Reviews...

Nokia
E55

BlackBerry
Curve 8520

Acer
Tempo M900

HTC
Snap