Original URL: http://www.theregister.co.uk/2009/10/14/hands_on_acer_d250_dual_os/
Hands on with Acer's dual-OS netbook
Run Android and Windows 7
Posted in Personal Tech, 14th October 2009 14:59 GMT
First Look At an Acer product launch in central London earlier today, Register Hardware got up close and personal with the firm's first netbook to ship with two operating systems.
The machine isn't actually a brand new model. It's the old Aspire One D250 – reviewed here – that's been out for since the Spring, just updated to run both Google's Android OS and the 32-bit version of Windows 7.
Can't see the video? Download Flash Player from Adobe.com
The first point to note is that despite this two-OS capability, you can actually only boot up into Android. Switch the machine on from scratch or do a restart, and you'll go straight to the Google OS.
To load Windows 7, you must first start Android, then select "Switch OS" from Android's slide-out menu and then wait for Windows to load up in the usual way.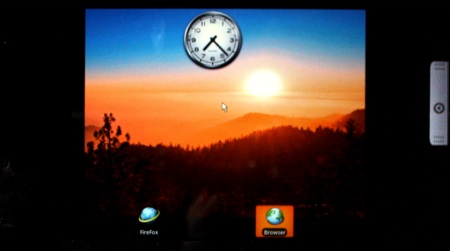 The Android desktop on the D250
Acer isn't clear about exactly why users can't boot the machine directly into Windows - there's no Grub-style 'Select which OS you want' dialog box at start-up. However, Jim Wong, Acer's Senior Corporate VP, told us that Android provides that "instant on" capability.
In essence, then, Acer sees Android as an alternative to offerings like DeviceVM's SplashTop - basic Linux distros designed to provide quick access to the internet and media files, but not much else.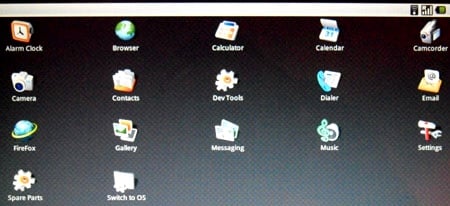 Acer's main slide-in-from-the-side menu
Indeed, Android on the D250 is basic. The desktop had just two icons, both of which were for web browsing. The main Android menu is slightly richer, containing icons for a picture/video gallery, another for development tools, one for messaging and another for, of course, the Windows boot-up.
However, Acer must see a greater potential in Android than as a fast-access alternative to Windows. If it didn't, it would have told us it's working on an try-or-buy application store for the platform to allow developers to sell apps designed for the D250's 1024 x 600 screen.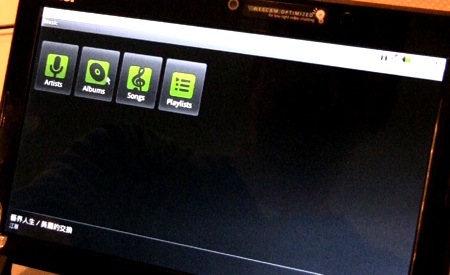 View your photos, videos etc.
As it stands, since the D250 is a netbook and Android here provides almost all of the functionality most folk want from a netbook - web and email access, and content viewing - how often will users actually boot into Windows?
Acer expects then to do so when they need to use productivity apps and software tools that are specific to the Microsoft platform. Clearly, it's worried that not having Windows aboard may put punters off. For our part, we'd like to see an Android-only version of the D250.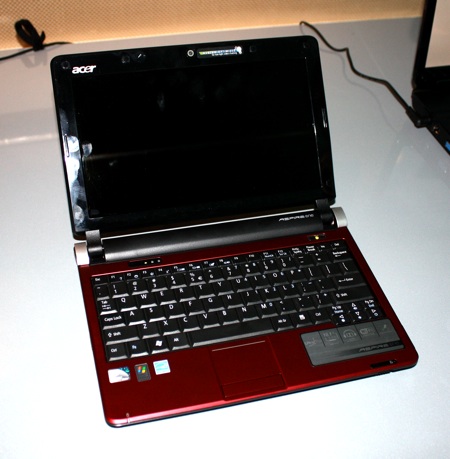 The hardware is Acer's standard Aspire One D250
Operating systems aside, the machine itself is light, good-looking and well built. A quick look at the PC's systems settings screen – through Windows, of course – revealed that the D250's specifications haven't changed since our review in June.
It has a 1.6GHz Atom N270 processor and 1GB of DDR 2 memory. It has the usual netbook-standard set of USB ports, analog audio jacks, Ethernet and VGA connectors, and an SDHC memory card slot.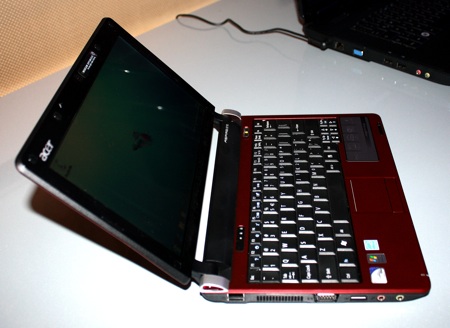 Customary netbook spec and features
One word of warning, though: the D250's trackpad and key are both annoyingly small, which could prove an issue for those with big-thumbs.
Acer has yet to release the dual-OS D250's final specifications, price or launch date. ®