Original URL: https://www.theregister.co.uk/2009/10/13/wikireader/
WikiReader feeds you factiness on the go
Is that a cloud-sourced encyclopaedia in your pocket? Oh.
Posted in Networks, 13th October 2009 10:40 GMT
OpenMoko's Project B: WikiReader, a hardware implementation of Wikipedia offering mobile users access to the font of all knowledge, goes on sale today.
Openmoko promised the new hardware when the company admitted it couldn't afford to develop a new handset, the GTA03. We had no idea what the mysterious "Project B" would be, but a $99 mobile version of Wikipedia wasn't on our list of possibilities.
The device, which will be available later today, has the whole of Wikipedia's cloud-sourced knowledge stored on an SD chip, ready to be rendered in glorious monochrome. There are no pictures, but there is a "random" button for those who know they want to know something but don't know what it is they want to know.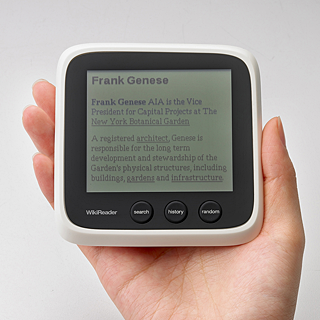 For when you really need to know (but not see) what's what
Old-fashioned users wanting information on a specific subject can use the touchscreen to enter search terms, but that's the only interaction possible - users of a WikiReader won't have the opportunity to edit articles, thanks to the non-connected nature of the product.
The mono screen can't cope with graphics, but textual information can be navigated with the swipe of a finger, and who needs pictures when there are three million topics to read about?
Those topics can be updated by connecting the WikiReader to a suitably linked-up computer, or you can pay the Openmoko project $30 a year to send you quarterly SD cards full of the latest information sourced from the enthusiastic under-employed.
In April Openmoko had shifted about 10,000 of its FreeRunner handsets, and was laying off staff to cut costs while dropping development of new handsets in favour of "Project B" which would be fast to market and make some quick cash for the company. Now we know what Project B is, and Openmoko has done well to get it to market - but we're not convinced a mobile version of Wikipedia is going to raise the quick cash the company will be hoping for. ®