Original URL: https://www.theregister.co.uk/2009/10/13/review_media_player_wd_tv_live/
Western Digital WD TV Live
HDD media player revamped with networking
Posted in Personal Tech, 13th October 2009 12:14 GMT
Review We liked the first version of Western Digital's WD TV box. It was released in December 2008, barely nine months ago, but WD has already rolled out its successor.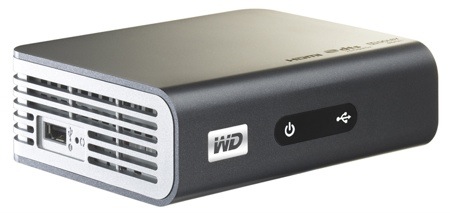 Western Digital's WD TV Live: now with networking on board...
There's no substantial change to the functionality: WD TV - now called the WD TV Live - is a compact media player that has no storage of its own. Instead, you use its two USB ports to connect external hard drives, cameras and the like, and the WD TV will cast their contents onto your telly.
As before, the box has an HDMI 1.3 port and a composite-video output, though this time the three RCA jacks - yellow, red and white - have been replaced by a 3.5mm headphone-style jack that's converted to RCA by the bundled cable. WD TV uses the same mechanism to provide component-video support, which is new to this edition.
The big change, however, is the addition of an Ethernet port and tweaks to the firmware to allow you to access folders shared on your network. WD really should have built Wi-Fi in too, but it would rather sell you an optional USB wireless adaptor. Maybe that makes sense to WD's North American design team, but few folk in the UK have Cat 5 cabling on tap. WLANs, on the other hand, proliferate, and WD really should have integrated it into the box.
For a moment, we thought it had. The WD TV's Sony XMB-inspired UI contains a "Wireless Favourites" panel with in its Settings area, allowing the box to remember five separate WLANs' SSIDs and passwords. But no, this is only used if you have said wireless adaptor.

...but not wireless
Remembering multiple WLANs makes sharing content with chums child's play. Hook up your hard drive, connect your friend's, and WD TV's file management facility will let you select music, movie or photo files en masse and copy them from one storage medium to another. It's no drag-and-drop, but it's not particularly hard to do with the unit's small, nice remote.
The WD TV's menu system isn't at all bad, and a darn sight more attractive than some of the media players to have come out of storage companies, though it's not a smooth nor as smart as the one on the Apple TV, or other gadgets used as media players, such as the Xbox 360 and PS3.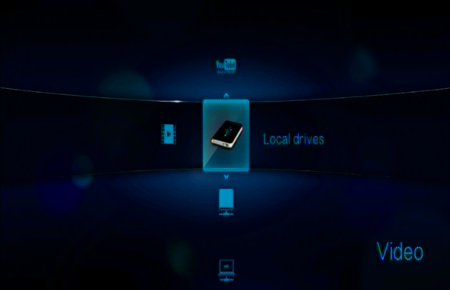 The UI owes more than a little to Sony's XMB
When you highlight a menu entry, there's a half-a-second pause while the WD TV changes the monochrome 'not selected' icon to a different, colour 'selected' one. It's a small pause, sure, but it's very noticeable. The WD TV's progress graphic animates slowly and slightly jerkily, again giving the impression there's not enough CPU horsepower for the UI. There must be, as the unit plays HD video perfectly well, but the effect is nonetheless to make the box feel less consumer electronics smooth than it should be.
It's quirky too. You navigate around the main menu and its sub-options using the remote's four arrow keys, with the left key taking you back a step. But once you're looking at content listings, you used the Back key to return to previous screens. This switch is necessary because the WD TV presents content not as a top-to-bottom list, iPod-style, but as a grid, which necessitates left-to-right movement as well as up and down. You often find yourself wanting to move through the menu system but not doing so because you're pressing the wrong button.
It also makes the UI less attractive than it might be. We put a two-dozen videos on a hard drive and all we got in the menu was a grid of generic disc icons. Fortunately, there are List and Preview options in the Settings that, respectively, drop the picture and show a clip from the video instead. The Music and Photo sections were better, the WD TV ably pulling thumbnails from the pictures and album art from the track files - though oddly not when you sort by Album, Artist or Genre even though is does when you navigate through the drive's directories to a single-album folder.
However, the WD TV does a good job of presenting a unified music, movie or photo collection if you have parts on multiple drives and shares. It will list, say, all your tracks on the one screen irrespective of where they're located.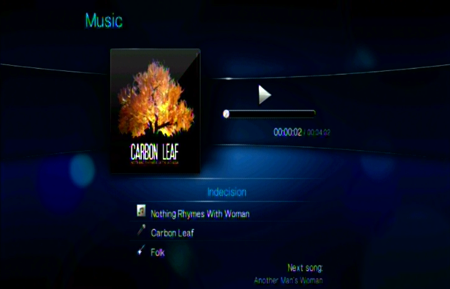 Album art is supported in some views, but not others
Well, almost. WD TV makes a distinction between local storage and remote, so you have to know that the song, film or shot you want is one one or t'other in order to locate it. Pressing Enter on the main menu's Video icon, for example, presents a second list of options: 'Local Drives', 'Media Servers', Network shares' and 'YouTube'. The latter makes sense as a separate item, but should you really have to remember where and how your content is stored in order to access it?
This is doubly a pain because the box doesn't remember you journey through the menus. Visit YouTube, and then go and listen to some music, and you'll find that when you eventually go back to the Video menu, you once again start off on Local Devices. This will irritate anyone who stores everything on a Nas box.

More sober styling this time round
That said, the list of formats the WD TV supports is extensive and here augmented with DivX - XviD has never been a problem - and our test file played just fine. We won't list them here - the More Info link at the end of the review takes you to WD's product page, which enumerates them all. Suffice it to say, all iTunes friendly formats are catered for - except DRM'd files - along with MKV, Ogg and Flac for the open source crowd, and Windows Media for Microsofties.
Connected by composite-video, the WD TV's UI is a mite fuzzy, though video and photo playback was fine. You shouldn't expect staggering quality from composite, but we have seen better - even on the Apple TV, which doesn't officially support it. HDMI and component will be fine.
Connecting the WD TV to a network allows it to check for firmware updates - several were released for the previous edition - and to sniff out aforementioned network shares and servers. It will also operate as a server too, allowing you to view content on, say, a laptop while viewing something else (or the same video) on your TV. It'll happily pick up Windows SMB shares but not AppleShare or FTP - we tried all three.
WD wanted £100 for the first WD TV. The new one is £120, but the increase is probably the result of Sterling's plunge on the exchange markets as anything. Certainly, £20 is well worth paying for the extras the new model brings.
Verdict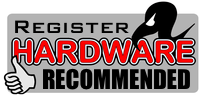 The WD TV grows up. The original was a great way of hooking up a hard drive full of content to your telly, but the Live makes it a fully fledged network media player, allowing you to hide the HDD right out of the way. It's not perfect - the UI is still a tad clunky and inconsistent in places - but it does the job. ®
More Network Media Player Reviews...

LaCie LaCinema
Black MAX

Freecom
MediaPlayer
II

Wyplay
Wyplayer

Netgear
EVA9150