Original URL: https://www.theregister.co.uk/2009/10/13/review_laptop_packard_bell_easynote_butterfly_s/
Packard Bell EasyNote Butterfly
All-day battery and then some
Posted in Personal Tech, 13th October 2009 08:02 GMT
Review Over the past two years Acer has bought the eMachines, Gateway and Packard Bell. Dividing the buying public into a number of categories that it can target with specific brands, Packard Bell covers the 'Trends & Lifestyle' group in Europe, and the EasyNote Butterfly s laptop is part of the plan.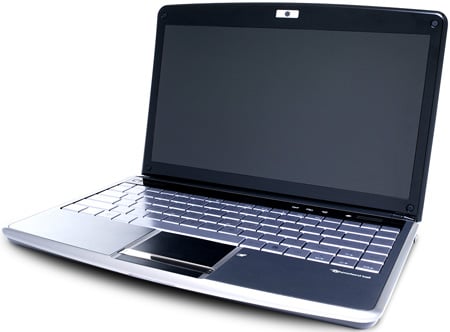 Light on power consumption: Packard Bell's EasyNote Butterfly s
You might hope that the EasyNote Butterfly s gets its name in some way from the fold out butterfly keyboard on the legendary IBM ThinkPad 701, but no, it's more to do with hype rather than invention.
Let Acer explain: 'In Mandarin Chinese the word for butterfly has become a symbol for long life. Which better name for a product that, thanks to a combination of new technologies, has one full working day of battery life?' And there we were, thinking that Acer had this facet of laptop performance nailed with the Timeline name.
Continuing this theme, nausea creeps in: 'Often associated with the human soul, the image of a butterfly suggests the sense of lightness. The new EasyNote Butterfly by Packard Bell is definitely light, 500g less than a standard notebook and less than one inch thick.' In truth, the Butterfly s isn't especially thin or light, as it's fairly typical for a notebook with a 13.3in screen. Dispensing with a DVD writer and supplying it as an external USB drive that weighs 350g has kept the notebook's weight down to 1.87kg.
The desire for long battery life has been addressed in the time-honoured way by using Intel hardware throughout. The combination of an Intel Core 2 Solo U3500 1.40GHz CPU, Intel GS45+ICH9-M chipset and Intel 5100 AGN wireless gets the most from the 5600mAh battery. During our testing we observed a remarkable figure of five hours and 27 minutes running continuous loops of PCMark05. That is five and a half hours of continuous use so you can double the figure to 11 hours of regular day-to-day use.
IBM ThinkPad Butterfly: the lepidopteran epithet is associated with the keyboard design rather than lightness
However, there's not a lot of processing power from a low voltage single core processor and neither can you expect too much from Intel GM45 graphics with 64MB of DDR2 memory. Packard Bell has installed 4GB of dual channel Samsung PC3-8500/DDR3-1066 RAM that runs at 800MHz and the 250GB Toshiba hard drive is a 5400rpm model rather than a faster 7200rpm unit – evidently, this laptop is built for comfort rather than speed.
The 13.3in LED screen has a resolution of 1366 x 768 so you can, in theory, watch HD movies. Things are slightly more complicated in practice, as you need to use the USB drive to watch regular DVDs with the bundled copy of CyberLink PowerDVD 8 – complete with nags to upgrade to the new version 9.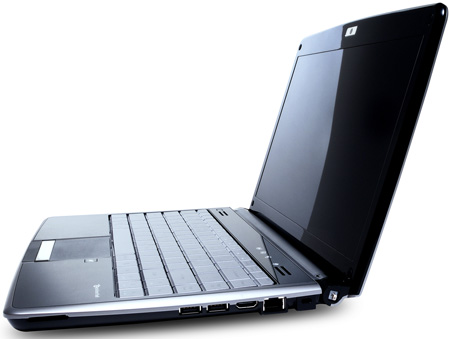 Weight loss: no built-in optical drive, but an external USB one is provided
If you want to watch HD movies, you'll need to use a player such as QuickTime and this is where things get messy; at the native movie resolution of 1280 x 720 the movie fits the screen however the control buttons vanish off the bottom and out of sight.
If you run QuickTime in full screen mode the buttons undock and can be used correctly but of course you're now watching at non-native resolution and as a result the picture loses clarity. Retaining the original size is possible with the Present Movie option in QuickTime Pro, if you're prepared to pay for it though. Still, there's a get out of jail card as Packard Bell has included an HDMI output so you can connect to an HDTV as a secondary screen for movie duties.
The LED screen looks rather good in general use – with a lovely depth of colour – no doubt assisted by the screen coating which is glossy, without being ludicrously shiny and reflective. During our testing we used the standard power scheme, which dims the screen to half brightness when running on battery, but it was too dark for comfort. We adjusted the power scheme to full brightness and re-ran the battery test. The battery life only dropped by 16 minutes to five hours 11 minutes, which is still very impressive.
When we restarted the laptop we found the power scheme reset itself to the original dim state of affairs, which is annoying and seemingly quite unnecessary. In many ways this sums up the Butterfly s, as the hardware is perfectly decent, but there are enough annoyances to temper our opinion.

An Intel Core2 Solo single core processor helps sustain the battery life
Let's take the hardware first which delivers the HD screen, 250GB hard drive, 4GB RAM, three USB ports (you'll need two of them to power the DVD writer), Gigabit LAN, 802.11b/g/n Wi-Fi, headset jacks, webcam with 1280 x 800 resolution, card reader, VGA and HDMI outputs, and that amazing battery life. Bluetooth is an option and we'd prefer a dual core processor, but that would eat some battery as well as increasing the cost.
PCMark05 Results
Overall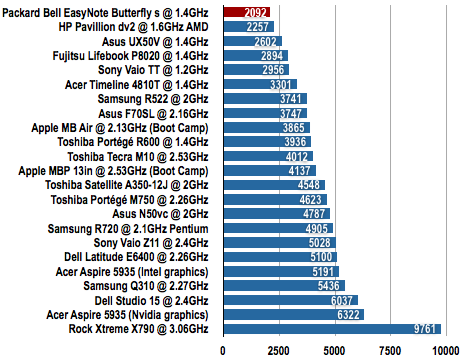 Longer bars are better
CPU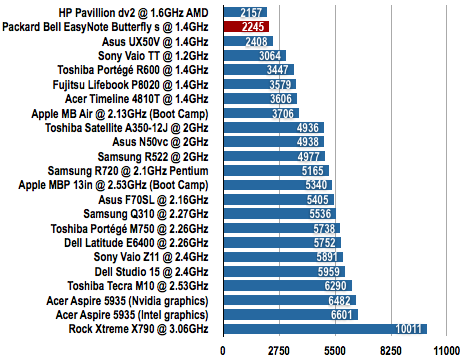 Longer bars are better
Memory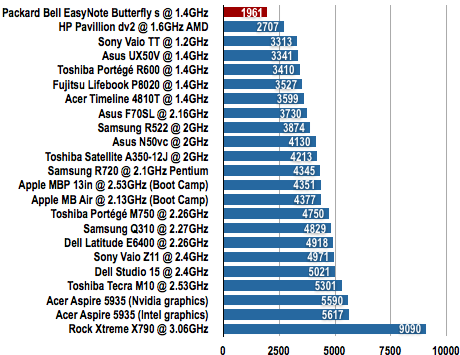 Longer bars are better
Graphics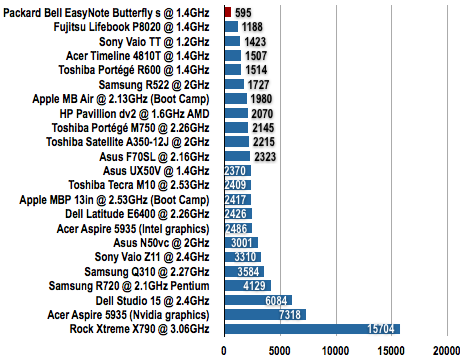 Longer bars are better
HDD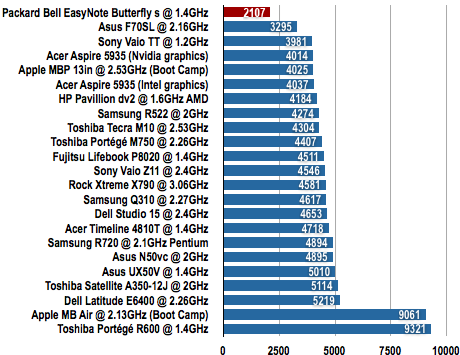 Longer bars are better
3DMark06 Results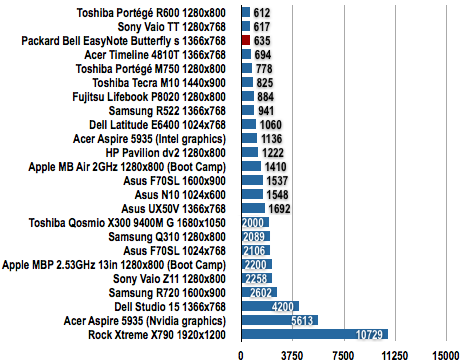 Longer bars are better
Battery Life Results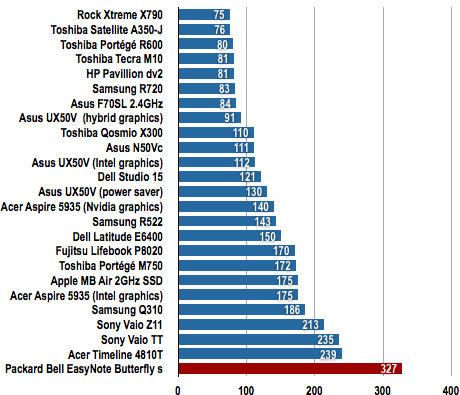 Battery life in minutes
Longer bars are better
Now let's turn to the less inspiring stuff. For starters, there's the styling, which can best be described as bland. The keyboard is quite serviceable, despite having keys that are very flat. There is a decent amount of separation between each of the keys and the action feels solid and responsive, but the layout of the keys is a little vexing. Specifically, the Enter key is not located on the outside edge of the keys but is inboard of the Page Up and Page Down keys.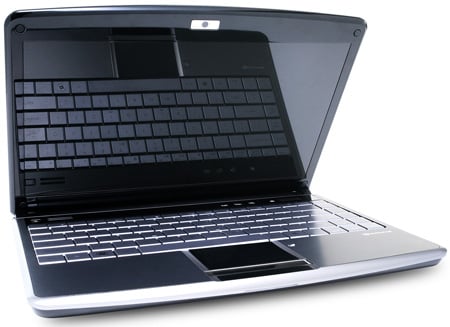 Keyboard layout could be better and the styling of the trackpad buttons is a tad confusing
The multi-gesture touchpad is somewhat on the small side and the zoom in and out function is a bit jerky. We reserve a particular hatred for the mouse buttons, which are located at either end of a tilting strip that carries a shiny Packard Bell logo. It is not immediately obvious that this is the mouse control even though it is located below the touchpad, and that smacks of poor design.
The Butterfly s runs Windows Vista Home Premium and although we like the inclusion of Adobe Photoshop Elements 6 and Microsoft Works 9, we are, no doubt, not alone in feeling that the trial versions of Office, Norton Internet Security 2009 and Premiere Elements 4 are a waste of hard drive space.
Verdict
Packard Bell has delivered a laptop under 2kg that packs some decent low power Intel hardware inside a fairly bland chassis. Indeed, the CPU performance compromises on the Butterfly s allow for the stunning battery life, but we would hope for something extra for our seven hundred quid. ®
More Notebook Reviews...

Asus
UX50V

Toshiba
Satellite A350-12J

Samsung R522

Dell Studio 15