Original URL: https://www.theregister.co.uk/2009/10/13/mitsubishi_px_miev_reveal/
Mitsubishi preps 'versatile' plug-in hybrid e-car
4WD or 2WD; battery, petrol or both - PX-MiEV drive train will do it all
Posted in Science, 13th October 2009 10:56 GMT
Leccy Tech Mitsubishi has announced details of the range-extended plug-in hybrid that Reg Hardware first got a sniff of back in July and which will be officially unveiled at the Tokyo Motor Show next week .
Called the PX-MiEV, the concept vehicle promises to have one of the most versatile hybrid drive trains yet developed.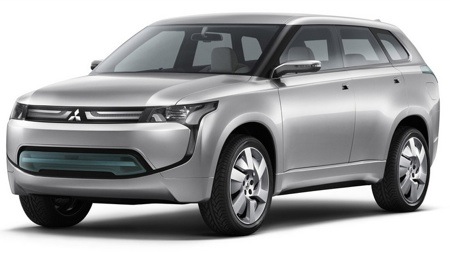 Mitsubishi's PX-MiEV: works as a hybrid, works as a pure EV
At low speeds, power will be fed to the front wheels by an electric motor. When things get a bit slippery, a second electric motor will provide power to the rear wheels.
At medium speeds, or when the lithium-ion battery pack begins to run low on charge, a 1.6l four-cylinder petrol engine will fire up to drive a generator that will power the electric motors and re-charge the battery.
At higher speeds, the vehicle will run in front-wheel drive mode with power coming directly from the petrol engine. The battery pack will provide extra performance or drive the rear wheels as needed.
All that means the PX-MiEV can operate as a pure EV as well as both a parallel and a series hybrid.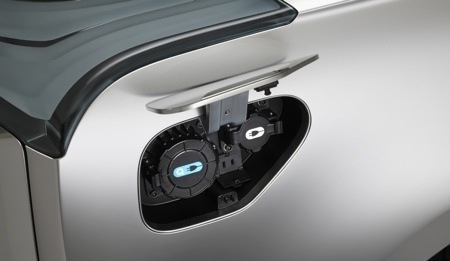 Charge the battery here - or tap it if you need juice while you're out and about
Combined, the two electric motors have a maximum power output of 60kW (80.5bhp) and produce 200Nm (148lb ft) of torque.
No details of the battery capacity were released, but Mitsubishi said that with a full charge the vehicle should be able to travel around 31m (50km).
The petrol engine produces 85kW (114bhp) and 125Nm (92lb ft) while the attached generator has a maximum output of 70kW.
In the event of PX-MiEV users finding themselves up the creek without a paddle, the vehicle's domestic charge plug doubles up as a power socket, allowing the battery and/or engine to be used as a power source.
A 100V AC auxiliary socket in the boot allows for less crisis-related access to the power stored in the battery.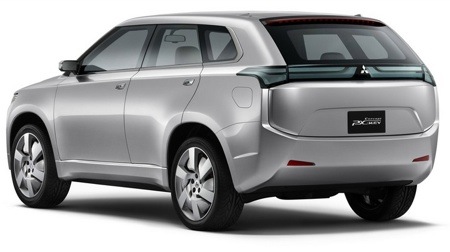 Concept for now, but will be a product very soon
Like the iMiEV, the PX has two charge sockets, one for a domestic charger and one for high-power quick charge.
Though the PX-MiEV is billed as a concept something very, very similar will be available to buy from your local Mitsubishi dealer in the next 18 months. ®