Original URL: https://www.theregister.co.uk/2009/10/12/review_graphics_amd_ati_radeon_hd_5870/
AMD ATI Radeon HD 5870 and 5850 DirectX 11 GPUs
Next-generation gaming
Posted in Personal Tech, 12th October 2009 12:02 GMT
Review Before we dive into our review of the HIS Digital HD 5850 and Sapphire HD 5870 graphics cards, let's take a quick look at the technology behind the AMD's new family of graphics chips.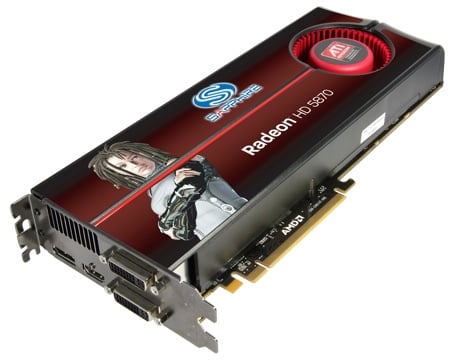 Sapphire's Radeon HD 5870: a 50 per cent gaming performance boost...
These DirectX 11 graphics cores use the same 40nm fabrication process that we saw in the ATI Radeon HD 4770 and this has allowed AMD to increase the transistor count by a huge margin. The 55nm HD 4870 packed 956m transistors into a die size of 263mm² while the new 40nm HD 5870 has 2.15bn transistors - 2.25 times more - in a die area of 334mm², 27 per cent bigger than the previous one.
Most of those extra transistors have been used to double the number of stream processors, or unified shaders, and the remainder support the DirectX 11 features that will be introduced with Windows 7.
The HD 4850 and the HD 4870 each have 800 shaders, but we step up to 1440 shaders for HD 5850 and an enormous shader count of 1600 for the HD 5870. Like the HD 4890, the 5870 has an 850MHz core speed and a 256-bit memory controller. The 1GB of GDDR 5 memory it connects to has a clock speed of 1200MHz (4800MHz effective).
The short version is that HD 5000 is HD 4000 with double the number of shaders, more than double the transistors and the addition of DirectX 11. That may sound like a recipe for a volcano of a graphics chip but the 40nm die shrink has done the trick. The fully loaded power draw of the HD 5870 card is 188W, a tad lower than the HD 4890's 190W.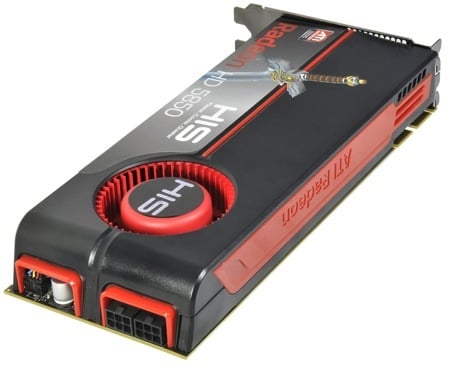 HIS' 5850: ...but with an incredibly low idle power consumption
But the amazing thing is that the idle power draw of the HD 5870 has been reduced to a mere 27W. AMD is emphasising that this is one third of the 90W idle power draw of an HD 4870, but we feel it's more appropriate to focus on the 60W draw of the HD 4890. No matter how you look at it, the 27W power draw of the HD 5850 and 5870 is incredibly low.
Despite this apparent win-win situation, AMD has come up with a reference design for HD 5870 that is surprisingly bulky. The HD 5850 board is as long as the HD 4890: 240mm (9.5in) while the HD 5870 runs to 280mm (11in). This means the HD 5870 projects beyond the motherboard and you need enough space to connect the two six-pin PCI Express power plugs. Those two power plugs each supply 75W and when you add the 75W feed from the PCIe graphics slot itself, you get a total of 225W which is comfortably higher than the 188W max power draw.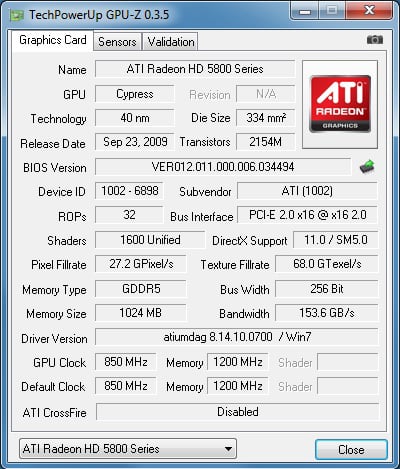 Radeon HD 5870
However, we note from strip-down photos that AMD has the option of replacing one six-pin connector with a 150W eight-pin plug. That would take the total power envelope to 300W so it's safe to say that AMD has an HD 5870 X2 on the drawing board.
The new reference designs have two DVI outputs as well as one HDMI and one DisplayPort. The drivers have support for three displays each with a resolution of 2560 x 1600, but AMD has another trick up its sleeve. It has the ATI Radeon HD 5870 Eyefinity 6 Edition in the works, a beast with six DisplayPorts. Eyefinity offers the opportunity of ganging up as many as six relatively cheap TFT displays in a vast video wall.
Clearly this isn't a mainstream application, but the very fact that it's possible is impressive for an all-in cost below £3000 for the graphics card and displays.
We've got two examples of the new Radeon HD 5870 graphics card on our test bench. The first is from HIS Digital and the second from Sapphire. However, they are both reference designs so there's nothing to choose between them in terms of the design, cooling system or clock speeds. We also have an HIS HD 5850 which looks identical to the 5870 only a bit shorter. Both brands come complete with the usual accessories and a voucher for a free copy of Dirt 2 on Steam, due for release on 11 December.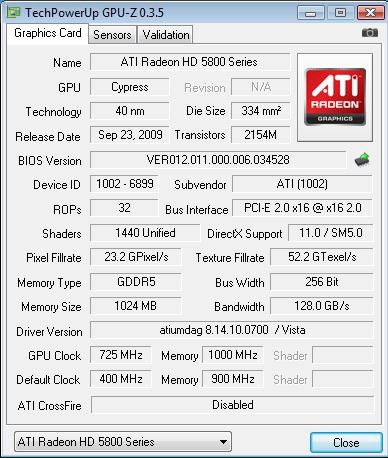 Radeon HD 5850
Testing was carried out on an Intel DX58SO motherboard with a Core i7 965 processor, 3GB of Ram and an Intel SSD. We used both Windows Vista and Windows 7 RC in the hope that we might see some benefit from the new DX11 operating system. One of the games we used for testing is Battle Forge which has recently been patched to support DX11. Alas, we didn't see any benefits. One possible reason is that Windows 7 RC is rumoured to have an incomplete version of DX11 that will be patched when Windows 7 is released.
3DMark Vantage Results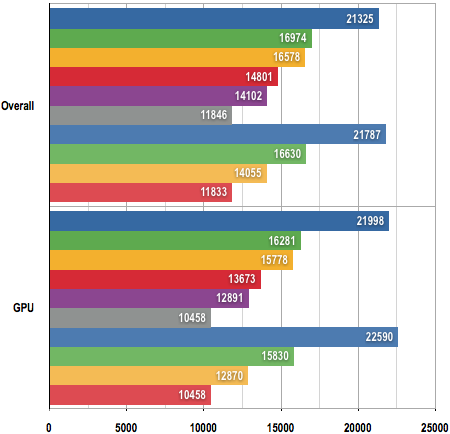 Longer bars are better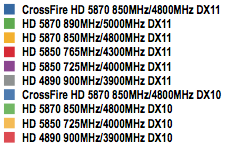 Battle Forge DX11 Average Framerate
1920 x 1080, Very High quality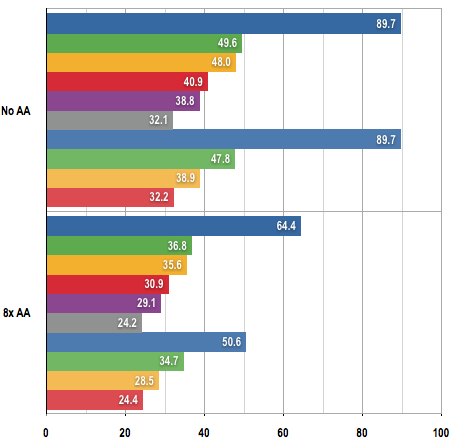 Framerates in frames per second (f/s)
Longer bars are better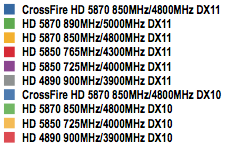 Far Cry 2 DX10 Average Framerate
1920 x 1080, Ultra High quality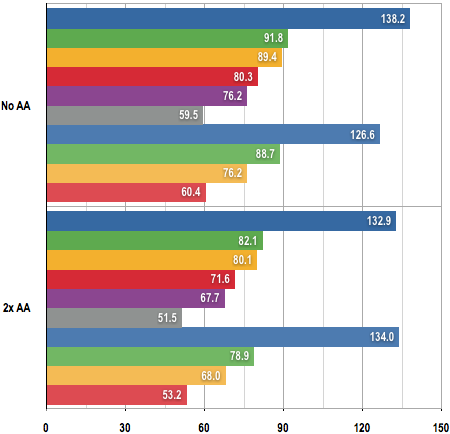 Framerates in frames per second (f/s)
Longer bars are better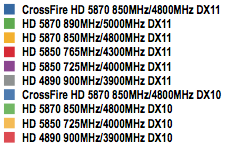 System Power Draw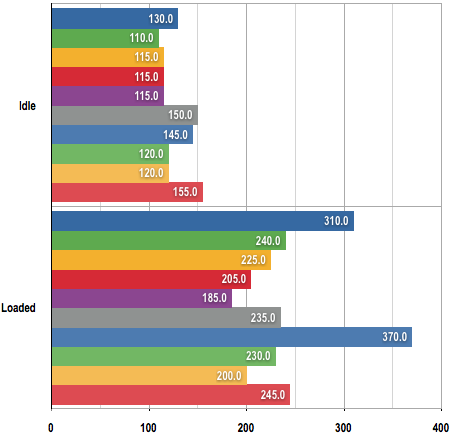 Power Draw in Watts (W)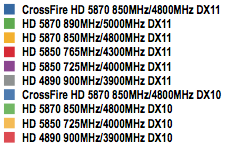 The graphs on the previous two pages tell the tale of the HD 5850 and 5870 very clearly indeed. If you replace your HD 4890 - already a fine graphics card - with an HD 5850, you'll save 35-50W of power draw and will gain 25 per cent gaming performance. Opt for HD 5870 and the increase in performance is a staggering 50 per cent and you still get the benefit of the reduced power draw.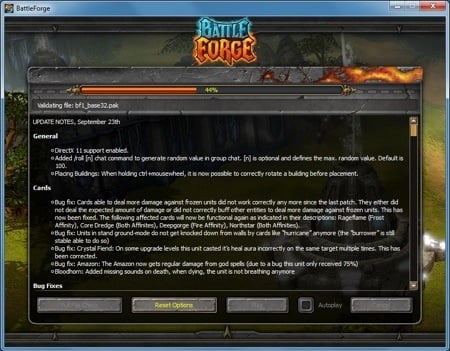 DirectX 11 patches are already beginning to appear
If you fancy a couple of extra frames per second you can overclock the card using the Overdrive section of the Catalyst drivers. We found the HD 5850 would go from 725MHz/4000MHz to 765MHz/4300MHz, while the HD 5870 rises from 850MHz/4800MHz to 890MHz/5000MHz. On the downside, the extra clock speed increased the loaded power draw by 20W.
Noise levels are far lower than any other high-performance AMD graphics card and they are directly comparable with Nvidia's GTX 285.
The introduction of HD 5000 has led to a reduction in HD 4000 prices and there are bargains to be had. The HD 4890 now sells for £140, the HD 4850 has fallen from £110 to £80, and the HD 4830 has vanished from the shelves altogether.
That makes the £299 HD 5870 look rather expensive but, at £199, the HD 5850 is a snip.
Verdict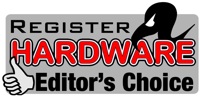 The new HD 5000 chips deliver stacks of DirectX 11 performance yet they are both cool and quiet, and the price isn't too painful. Bring on Windows 7 and DirectX 11 games – we're ready! ®
More Graphics Card Reviews...

Sapphire HD 4890
Vapor-X 1GB

AMD Radeon
HD 4770

Zotac GeForce
GTX 275
AMP!

AMD Radeon
HD 4890