Original URL: https://www.theregister.co.uk/2009/10/12/review_desktop_pc_msi_wind_top_ae1900/
MSI Wind Top AE1900
Touchscreen all-in-one PC
Posted in Personal Tech, 12th October 2009 08:02 GMT
Review All-in-one PCs have been around for ages and it's not hard to understand their appeal. They feature the wire-free tidiness of a laptop, combined with the big screen of a desktop PC. The concept sustains many admirers, with Apple's iMac range doing very well indeed with just such a form factor.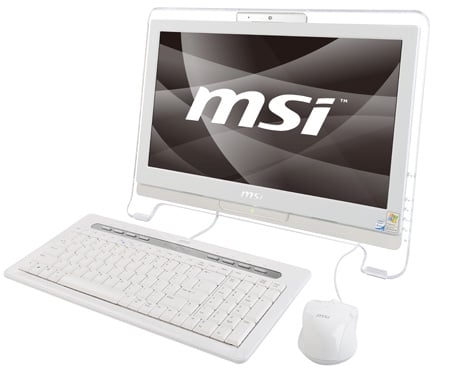 MSI's Wind Top AE1900: touchscreen computing on Windows XP
Getting in on the act is MSI's Wind Top AE1900. Appearing as a rather stylish widescreen monitor, the whole unit is set into a clear plastic surround, which forms a pair of feet at the front and at the top is a small silver 1.3Mp webcam.
A standard set of monitor control buttons fall easily beneath the fingers of your right hand, and it's not until you look at the left hand side or rear of the unit that it gives away its true computer credentials at all. Tucked away to the left is a pair of USB ports, a card reader and a vertically mounted DVD Super Multi format drive.
The back panel houses another pair of USB ports, analogue audio I/O jacks and a socket for the external power supply unit. In the middle is a single clear, plastic stand finished with attractive silver-coloured, although plastic, detail.
The AE1900 combines the low-cost, and rather low-spec, hardware of a netbook with an 18.5in 1366 x 768 pixel, 16:9 format touchscreen display. Inside, the system is powered by an Intel Atom 230, 1.6GHz processor with 512KB of L2 cache and a 533MHz frontside bus. This is the desktop version of the N270 commonly found in netboooks. It runs at the same clock speed and delivers approximately the same level of performance.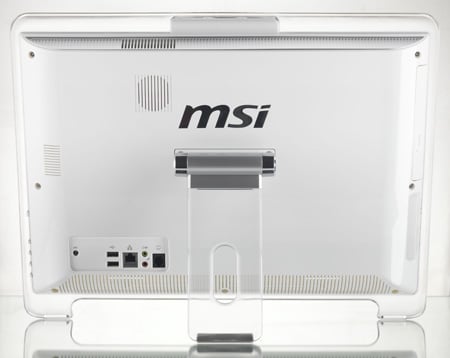 Casing design akin to Apple's old Cinema Display
The integrated Intel GMA950 GPU provides a less-than-speedy graphics subsystem, which is fine, as long as you're not hoping to play 3D games. Audio is provided by a pair of built-in stereo speakers that are entirely concealed from view. This unit features a modest 160GB hard drive, 1GB of DDR2 memory and rather more impressive Gigabit Ethernet and 802.11n Wi-Fi.
Being based on the Intel Atom, the AE1900 consumes very little power – only 45W in full operation, which is far less than a conventional PC/monitor combo. The system is also quiet, although certainly not silent. Switching it on causes you to be greeted with a rush of air as the cooling fan spins into action. Thankfully, it slows down after a few seconds to a far less intrusive noise level that MSI claims it should never exceed 26db.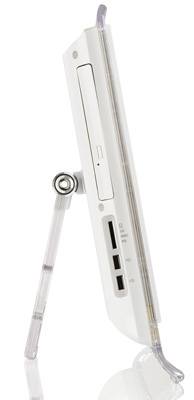 Additional USB ports and SD card slot on the left side
Like many netbooks, the AE1900 ships with and is designed to run Windows XP Home Edition. XP is designed to be pointed at with a mouse, not poked with a finger so MSI has cooked up a custom finger-friendly interface, 'MSI Wind Touch', which makes the whole system easier to operate with the touch interface.
It's essentially just a program launcher filled with extra-large icons grouped into four categories: Work, Fun, Tool and Web. You can choose which installed programs you want to appear in the interface by entering the configuration mode and simply activating them from check boxes.
Of course, you're not forced to use the touchscreen: A full-size low-profile keyboard and mouse are provided, both of which are, alas, of the wired USB variety. You'll probably find the screen is good enough for you not to need the mouse, but using MSI's on-screen keyboard software is nowhere near as easy to type on as the physical version. If it had just been a little bit narrower it would have been small enough to tuck away under the monitor's feet to save space when not in use but, unfortunately, this is not the case.
The package comes with a get a decent bundle of applications, including Cyberlink multimedia software and some of MSI's own rather bizarre games designed to show off the webcam by letting you shoot down aliens or control animated characters by moving your head around.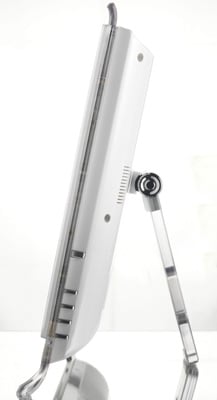 Various operational buttons on the right side
We found the touchscreen system pleasantly easy to use. If you sweep windows quickly around the screen, then you'll notice a tiny lag, but in general it's accurate, responsive and intuitive. Surfing Web pages is especially easy and fun using this method.
When it comes to performance, the AE1900 does, indeed, run rather like a netbook. Its PC Mark05 CPU score of 1454 points places it at the low end of what we'd expect from its 1.6GHz processor. Memory performance was also quite underwhelming at 2337 points, while the hard drive was really quite slow at 4464 points.
PCMark05 Results
CPU

Longer bars are better
Memory

Longer bars are better
HDD

Longer bars are better
The Intel GMA950 graphics chip really isn't going to get you very far playing 3D games, so as you might expect our 3DMark06 result is a stutteringly slow 79 points.
However, don't let these results put you off. When put to its intended use as a second PC for quick and easy Web surfing, emailing and basic office-type work; the Wind Top AE1900 performs perfectly well, looks great and is very enjoyable to use.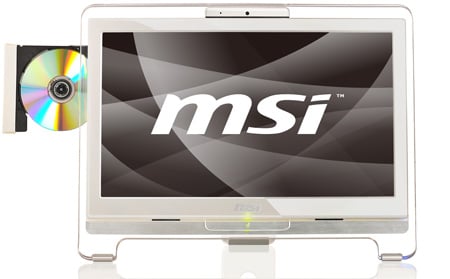 Even runs Windows 7, at a push
It's also fine for basic multimedia entertainment. Its DVD playback is great and those DVD menus work really well with the touchscreen – just don't push your luck with HD content. It would have been even better, though had it come with a TV tuner and a remote control.
There's no official support for Windows 7 but, un-deterred, we went ahead and loaded up a copy of Windows 7 Home Premium 64-bit Edition which ran just fine, although performance fell just slightly short of being able to deliver a smooth live TV experience in Media Center.
Verdict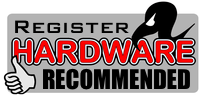 This AE1900 is an attractively designed touchscreen PC, which is easy to use and looks good to boot. However, it's not really powerful enough for heavy duty computing or gaming and the screen resolution is quite low. It's also running XP Home, which means no Media Center and no free upgrade to Windows 7. ®
More Nettop Reviews...

Acer Aspire
Revo R3600

Shuttle
X 5000TA

Linutop 2

Asus Eee Box
B206