Original URL: https://www.theregister.co.uk/2009/10/09/review_camcorder_sony_hdr_tg7ve/
Sony HDR-TG7VE
Full HD point and shoot perfection?
Posted in Personal Tech, 9th October 2009 08:02 GMT
Review The HDR-TG7VE could be seen as Sony's answer to cheap and cheerful camcorders like the Flip Mino HD. However, whereas the latter could be viewed as a bit of a toy, the TG7 is more of a proper camcorder - both when it comes to features and price.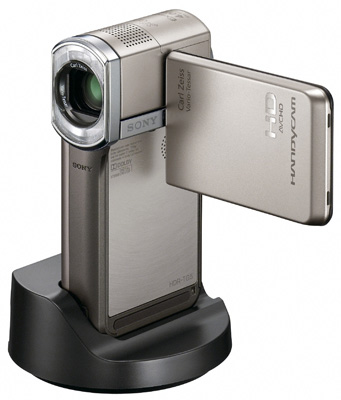 Swift shooter: Sony's HDR-TG7VE
The TG7 is the successor to the TG3, which received an overall rating of 85 per cent when we looked at it last year. It keeps many of the features, such as the pistol grip design and 1080i HD resolution, but adds in some extras too, such as 16GB of internal memory and built in GPS. It also utilises a 1/5in Exmor CMOS sensor.
Sony has kept the titanium casing of the TG3, so it's very hard wearing, and slimmed it down by a millimetre or two in each dimension so it now measures 30 x 62 x 117mm and weighs in at 280g including battery.
The controls have also been simplified, so you'll only find two physical buttons on the TG7 - a large one up the top to start or stop recording and a smaller one to the left over the screen hinge to take photos. The only other control you'll find is a jog dial ring around the record button for zooming.
There isn't even a power switch - just flip up the LCD screen to switch it on and fold it away again when you've finished filming to shut it down. It's pretty quick to power up - you can start recording within four to five seconds of flipping out the screen.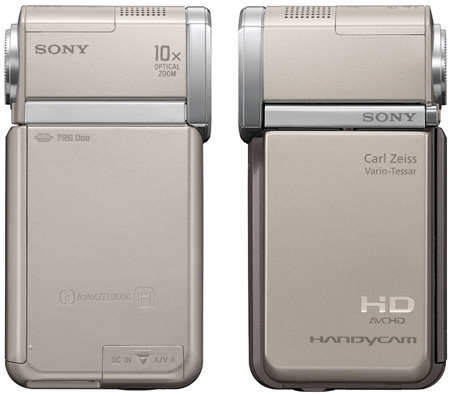 Minimal controls simplify operation and styling
All other controls and operations are conducted via the 2.7in touchscreen display. Given the small size of the screen, there's not much room for onscreen buttons, but the interface largely compensates for this, so making selections isn't overly difficult.
HD Footage is captured in AVCHD format at 1080i. At the highest HD FH setting it records at a full HD resolution of 1920 x 1080 pixels while at lower quality settings it only captures at 1440 x 1080 pixels. Standard definition footage is stored as MPEG-2 at a resolution of 720 x 576 pixels.

Equipped with a Zeiss 3.2mm to 32mm, 10x zoom lens
When recording to the internal 16GB memory, at HD FH (16Mbps) quality the camera reports 109 minutes available, at HD HQ (9Mbps) 219 minutes, at HD SP (7Mbps) 276 minutes and at HD LP (5Mbps) 373 minutes. Switching down to standard def you can expect at SD HQ (9Mbps) 226 minutes, at SD SP (6Mbps) 325 minutes and at SD LP (3Mbps) 680 minutes.
When comparing HD HQ footage with HD FH, it's very hard to see the difference. Given that FH footage takes up around twice as much space as HQ, you're probably better sticking to HQ unless you need the absolutely highest quality. LP mode is best avoided and SP mode is adequate, but unless you can't afford additional storage HQ gives better results.
From a full charge you're looking at around an hour and a half's usage before the battery gives up. You can easily change batteries, so you could carry a spare if you need longer between power boosts.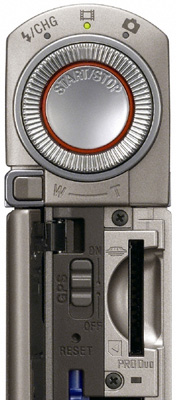 16GB on-board storage is expandable using the Memory Stick Duo slot that also takes Pro cards
In addition to the internal storage, there's also a Memory Stick Duo slot, so you can easily add extra capacity - useful if you're away on holiday and don't have access to a computer to download your footage. With a 16GB card available for around £40-£50 if you shop around online, it's an affordable way to access additional storage.
Sample Shots
Built into the top of the unit is a GPS receiver, which will record your location whenever it's got a clear line of site to the sky. Location data will then be embedded in any video or photos you record, so you can then view your captures on a map, either on the camera or with the bundled Picture Motion Browser (PMB) PC software.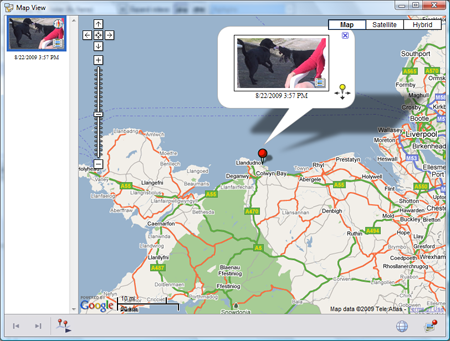 The Picture Motion Browser application reveals the GPS tagged locations
Click for a full-resolution screen grab
The PMB application allows you to easily copy your footage to your PC or archive it to DVD or Blu-ray. When you import footage it will also scan it for faces and smiling people, so you can quickly find shots with people in them where they appear to be having fun. In practice, it can be a little hit and miss, but it's a nice extra.
You can review your footage in PMB and create basic edits, such as trimming shots to remove excess material. Once you've finished cutting your shots down, you can then upload them to video sharing sites, such as YouTube or Dailymotion with just a couple of clicks.
PMB is Windows-only, although you can import footage from the TG7 into iMovie on the Mac. However, this is a lengthy process and you'll end up with QuickTime files that take up around ten times as much space as the original AVCHD files.
The TG7 features on board smile detection, in the form of Sony's own Smile Shutter feature. With this enabled, it will automatically capture a high res photo of anyone it detects smiling in footage you're shooting - at the same time as you're filming. You can vary the sensitivity and tweak whether it should be looking for adults or children smiling.
On-camera connections are limited to a power socket for charging, a custom AV connector for Composite or Component Video out, and a docking station connector. Under the flap on the front you'll find the Memory Stick Duo slot, battery compartment and a switch to disable GPS. The supplied dock provides the same custom AV connector, an HDMI port, power socket and mini USB port. There is also an adaptor in the box that converts the dock connector to mini USB, so you don't need to lug the dock with you everywhere you go.
In terms of operation, it couldn't be simpler - point it at something you want to capture and hit record. The 10x optical zoom can take a little getting used to - as it's a circle it can take some time to remember which way is zooms in and out, but with a little practice it's not too hard to master.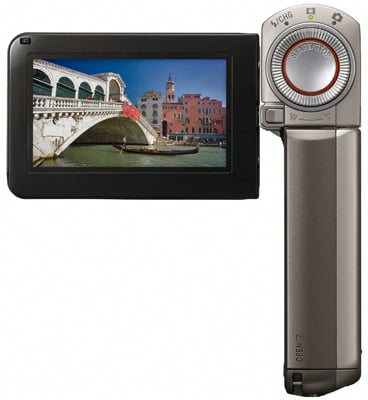 No power switch, just flip open the screen to turn it on
In bright surroundings the footage was excellent and even in low light conditions, you could still make out what you were shooting. The auto focus is fast and accurate in daylight, although if you're filming in near darkness it can take some time to get a lock occasionally.
Verdict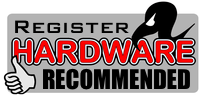 If you're shopping for a proper camcorder - and have got a budget to match - then the Sony HDR-TG7VE is an excellent choice. It's quick to fire up, ensuring you won't miss the shot, and incredibly easy to use. The extras such as GPS and Smile Shutter are nice inclusions and the footage it captures is decent, even if you're not in the brightest of surroundings. ®
More Camcorder Reviews...

Toshiba
Camileo P30

Sanyo Xacti
VPC-HD2000

Pure Flip
Mino HD

Ten of the Best...
Pocket Camcorders