Original URL: https://www.theregister.co.uk/2009/10/06/wm_update_out/
Windows Mobile 6.5 ships today
The OS' key new features
Posted in Personal Tech, 6th October 2009 07:02 GMT
Today's the day that Microsoft finally unveils the latest incarnation of its mobile phone OS - Windows Mobile 6.5. So what should you expect? Here's Register Hardware's quick guide to the latest version's key features.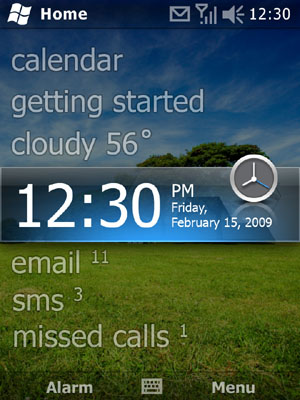 Smartphones running Windows Mobile 6.5 are called, simply, Windows Mobiles
While previous versions of the OS made you access programs and miniscule icons using a stylus, version 6.5 is designed to be more finger friendly.
WM 6.5 has two main menus: a quick access list (above) and another (below) to reach to all of your phone's programs, applications and settings.
The quick access menu helps you to locate your most frequently used phone features, such as voicemail and texts, using a list-style menu. The implementation is a little odd - the menu options look like information text rather than things you select - but easy enough to get used to.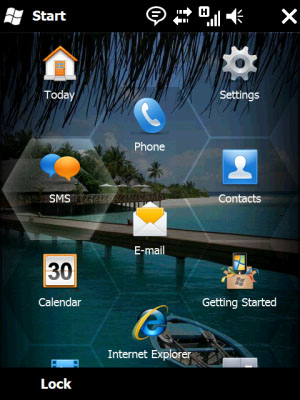 Move apps as you please on the main menu
For example, access voice messages by scrolling up to "Voicemail". Or read your latest SMSes by scrolling down to "Texts". Then swipe across the screen to see all the options associated with each menu option.
Click on the Start menu and you're taken to honeycomb-like array of moveable hexagons, each containing an application's icon.
Speaking of applications, Microsoft has now launched Marketplace, an Apple App Store-esque virtual store from where you can download WM programs directly to your phone. Some of the apps currently available include Facebook and Street Fighter II.
In an attempt to challenge Apple's MobileMe service, Windows has also added its own cloud-based data backup service to WM 6.5.
The service, called My Phone, offers wireless synchronisation of SMS messages, contacts, photos and emails.
All WM 6.5 users get 200MB of My Phone storage space, but you can buy more capacity as and when you require it.
WM 6.5 uses Internet Explorer Mobile for browsing the web. The app is based on version six of desktop IE and, according to Microsoft, allows the display to appear in full-screen format or a single-column view to limit side-to-side scrolling.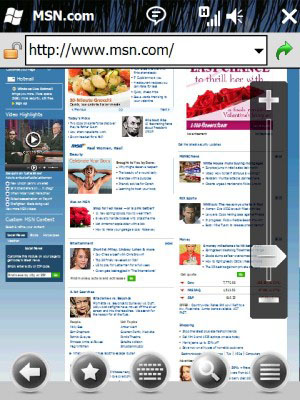 WM 6.5's browser is based on IE 6 tech
There isn't really much more to WM 6.5. It's really just the same old Windows Mobile with a smoother interface, touch-based navigation and some updated programs. Perhaps that's why Steve Ballmer recently referred to the OS as a "stop-gap".
Nonetheless, numerous WM 6.5-capable smartphones are already winging their way into stores.
Acer has crafted three 3G-capable smartphones based on the new OS, while Toshiba has promised existing TG01 owners a free upgrade to WM 6.5.
Other vendors may announce similar updates for their WM 6 handsets today, but only handsets with WM 6.1 are expected to be able to be upgraded. If you have a WM 5 or WM 6.0 phone, you'll need new hardware to use 6.5.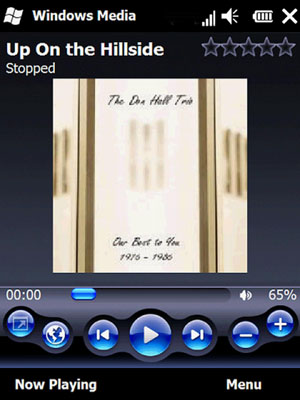 Windows Media Player: slight UI tweak
LG has also designed several WM 6.5 smartphones, including the GM750. Sony Ericsson's sexy Xperia 2 – aka the X2 – slider is another handset to consider if you're thinking of moving to WM 6.5.
One of the best-known names in Windows Mobile smartphones, HTC, will have the Touch 2 to try, and the Touch HD 2.
More information about Windows Mobile 6.5 is available online now. ®