Original URL: http://www.theregister.co.uk/2009/10/06/review_netbook_fujitsu_m2010/
Fujitsu M2010 netbook
Shiny and solid, but still needs polish
Posted in Personal Tech, 6th October 2009 08:02 GMT
Review Earlier this year, Fujitsu launched a somewhat unsuccessful assault on the netbook market with its Amilo Mini UI 3250. Suffering from a slow hard drive, fiddly keyboard and ever-so-slightly-ugly chassis, it didn't fare too well in our review.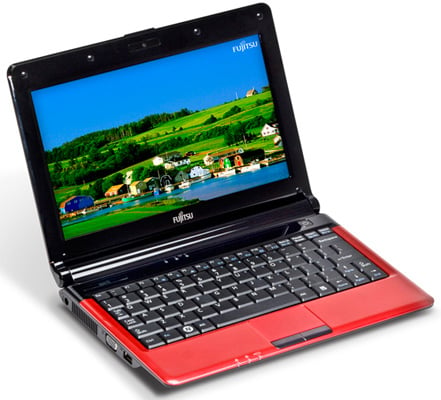 Fujitsu's M2010: still room for improvement
Now, just a few months later, Fujitsu is back on the netbook warpath with the M2010. Featuring a 10.1in screen, it's available in three colours – pearl white, metallic red and sparkling black – all of which come with the same glossy chassis complete with a large Fujitsu 'infinity' symbol on the lid.
At 258mm, the M2010 is roughly the same width as rival 10in netbooks, however, the six-cell battery juts out at the back and pushes the depth to 205mm. The battery also adds to the thickness, measuring 43mm at the rear and 32mm at the front, while pushing the total weight to 1.33kg.
Fujitsu has gone for Intel's Atom N280 processor, which runs at 1.66GHz off a 667MHz FSB. Graphics are handled by Intel's GMA 950 chip, while 1GB of DDR2 memory is also installed – this can be upgraded to 2GB, but there's only one slot available so you'll need to ditch the preinstalled module to achieve this. Other specs include a 160GB hard drive, 802.11b/g Wi-Fi and Bluetooth. Needless to say, XP Home comes preinstalled.
The 10.1in LED-backlit screen has a 16:10 aspect ratio and native resolution of 1,024 x 600. Unlike the Amilo UI 3250, the screen has a glossy coating, which means it's a magnet for reflections. Vertical viewing angles are a little disappointing and careful positioning is required to see it at its best. Still, it's bright enough to be viewed outdoors, even on a sunny day, while the glossy coating makes it look particularly vibrant indoors.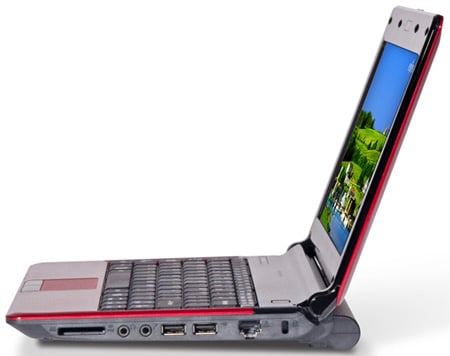 Standard netbook ports and sockets
Usability is, of course, of paramount importance on a netbook, and it's therefore something of a shame that the M2010's keyboard feels very cramped. When attempting to touch type at speed, we suffered frequent slips onto neighbouring keys and ended up adopting a rather spider-like typing style.
Given the 2cm of glossy black nothingness above the keyboard and 1cm edging either side, Fujitsu could have made better use of the available space. With bit of careful design there's no reason why a 10.1in netbook's keyboard has to be fiddly – the recently-reviewed Samsung N110 is testament to this, with its keyboard stretching right to the very edges of the chassis.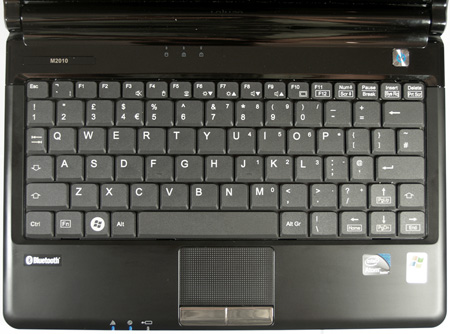 Given all that plastic surround, the keyboard really should have been taller and wider
A few oddities have also crept in on the keyboard, most notably the right Shift key being squashed and placed just above the right arrow key. The F12 key is another victim and has to make do with sharing its spot on the keyboard with the F11 key, while the '1' key's placement at the very edge of the top row also caused problems – we frequently hit the '2' key by accident. There is also noticeable flexing on the right side of the keyboard.
It's not all bad news, though. The Ctrl and Fn keys are the right way round and the arrow keys haven't been slimmed down, while all keys feature a decent amount of travel and spring back into position nicely.
The trackpad measures 54mm by 33mm and responds well, but we're certainly not fans of the two buttons below it. Emitting a loud clacking noise each time you depress one, it's something that could drive fellow commuters, family members or anyone else in the near vicinity to tear it from your hands and hurl it out of the window.
A quick journey around the M2010 unearths the usual selection of netbook ports. VGA-out and a single USB port are located on the left side, while over on the right audio in/out and a memory card reader are joined by a further two USB ports and a 10/100Mbps Lan port.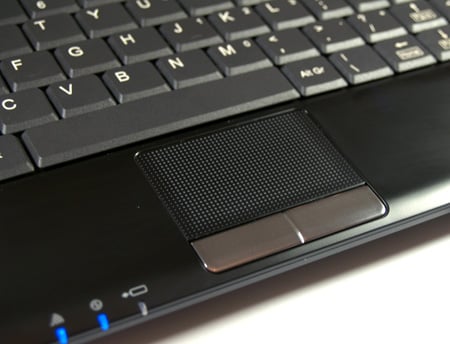 Percussion pads? A loud 'clack' greets each trackpad button press
The fan, which belches hot air out of the left side of the chassis, regularly fired up during testing. Only when it ramped up to full speed did it become annoying but, thankfully, this only occurred a few times when we were being particularly harsh on the M2010.
PCMark05 Results
CPU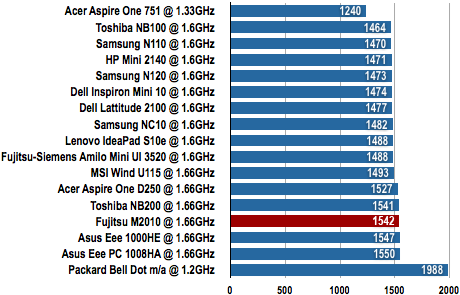 Longer bars are better
Memory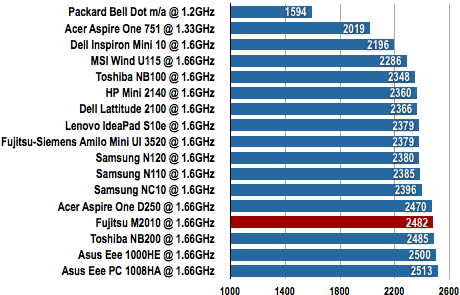 Longer bars are better
HDD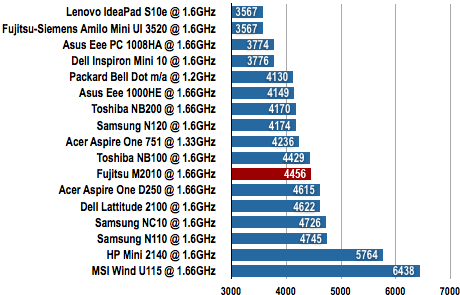 Longer bars are better
Video Playback Battery Life Results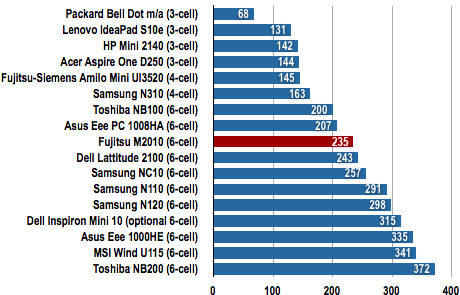 Battery Life in Minutes
Longer bars are better
Our review sample came with a 4800mAh, six-cell battery – a 2400mAh, three-cell version is apparently also obtainable, but we couldn't find one available to buy in the UK. Not only does the six cell battery stick out at the back, it also isn't a particularly snug fit and wobbles a little too much for our liking – not enough to cause any real problems, but Fujitsu could have done a better job with it.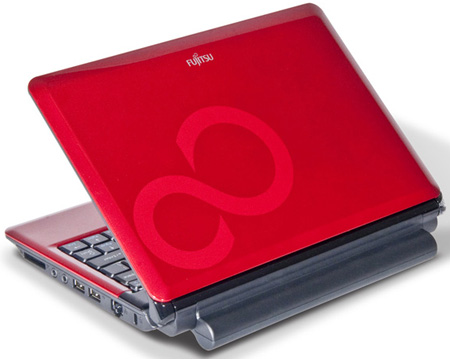 That six-cell battery is a far from perfect fit
Running our full-screen video test with Wi-Fi switched on and brightness set to full, it managed three hours 55 minutes before the lights went out. Not bad, but when compared to other six-cell netbooks, but it's not that great either. The similarly-spec'd Toshiba NB200, for example, powered on for over six hours in the same test, while both the MSI Wind U115 and Asus Eee 1000HE both managed well over five hours.
Given its standard netbook spec, it came as no surprise that the M2010 returned some familiar scores in PCMark05. As with all Atom N280-based netbooks we've tested, the CPU score passed the 1500 mark, while the Memory score is in line with the competition. With its Toshiba MK1655GSX hard drive spinning at 5,400rpm, the M2010 posted a HDD score of 4456, which is a little above the average. It also performed well in the GIMP Gaussian Blur test, with a time of 4.7 seconds.
Verdict
As netbooks go, the M2010 isn't a bad effort from Fujitsu and, had it arrived on our doorstep at the start of the year, it would have scored much higher. However, with so many models offering an almost identical core spec, manufacturers need to work hard to gain market share and Fujitsu has done little to make the M2010 stand out from the crowd. For just a little extra wonga, you can pick up a Toshiba's excellent NB200, which features a far better keyboard and longer battery life. Ultimately, the M2010 brings nothing new to the table and it looks very much like Fujitsu is playing catch-up when it comes to netbooks. ®
More Netbook Reviews...

Packard Bell
dot m/a

Dell
Latitude 2100

Samsung
N110

Toshiba
NB200