Original URL: http://www.theregister.co.uk/2009/10/06/review_hd_philips_bdp3000_blu_ray_player/
Philips BDP3000 Blu-ray disc player
1080p viewing for the masses, apparently
Posted in Personal Tech, 6th October 2009 12:12 GMT
Review Many people enjoying Blu-ray movies do so using a Sony PlayStation 3, while the rest of us will opt for a dedicated Blu-ray player. For the latter, Philips is touting its BDP3000 as a budget player and, while certainly not the cheapest, it does offer 1080p playback, the optimal Blu-ray format.

Philips' BDP3000: the shiny black fascia affords the minimum of buttons and distracting lights.
Presented in a 6cm-high box with a tastefully unfussy, shiny black fascia, the Philips BDP3000 is a straight replacement for a DVD player. That is, it plays all your DVD Region 2 discs as well as high definition Blu-ray Region B titles, along with DivX movies saved to CD and DVD media, including home-recorded discs.
Additionally, the device has been designed to play media on CD Audio discs, MP3 and WMA CDs, and just about any disc that contains JPG images. Apart from a simple status window, the front of the unit is as featureless as you can get, providing just four buttons: Power, Eject, Play and Pause. It uses a tray-loading mechanism that is quiet and feels strong enough to resist clumsy treatment.
The case is about a foot deep and a 435mm wide. We think that is quite big – the width is only 6.5cm short of half a metre – but the size and sturdy metal casing should make it well-suited to stacking with other devices under your TV.
A useful choice of ports are provided around the back. The most universal of these is an HDMI output socket to allow anyone to plug the player into their HD-Ready TV. Home cinema buffs with legacy equipment can also make use of a composite video port along with stereo audio RCA ports. A digital coaxial socket is included with support for Dolby 7.1 surround, and a set of component-out ports are provided for those with high-definition displays that support them.

The USB port allows storage of BD-Live content to a flash drive but not other media file playback
Some Blu-ray titles include a BD-Live feature that allows you to access and download online content while the disc is inserted. To this end, Philips has included an Ethernet port to allow you to connect the BDP3000 to your home broadband router. Philips does not give any technical information about its Ethernet connectivity but it appears to be a 10/100BaseTx port.
Most BD-Live content needs to be downloaded, but the BDP3000 does not contain any storage media. What you do get is a USB socket at the rear that allows you to plug in an external USB storage device such as a hard disk.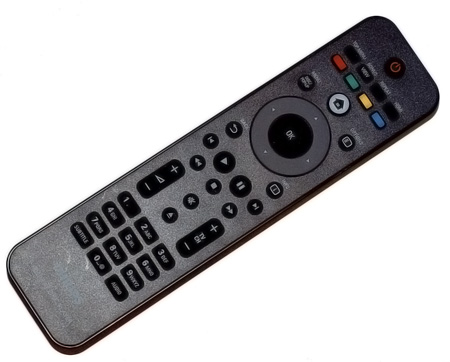 Simple to use remote and is compatible with any other Philips 'Easylink' devices
Be warned, however, that you can only use this USB connection for saving your downloads or for loading firmware updates. You cannot play back your own audio, picture or video files from the drive through this USB port. No doubt, this explains why the port is located at the rear, ensuring there is no misunderstanding about its purpose.
In use, the BDP3000 reveals some nice touches. As well as being a 1080p player for high definition titles, it handles automatic video upscaling in order to smooth out the jaggies when playing older DVDs and home movies at full screen. When running a slideshow of JPG images from a CD, the picture quality is surprisingly good too. If there are MP3 files on the same disc, you can set them to play in the background while you browse the images.
The BDP3000 offers five picture settings (Standard, Vivid, Cool, Action and Animation) although we preferred to stick with the customisable picture settings on our TV. Philips has included a Night Mode for the audio output, which subdues sudden noisy bits in action films, and there is even a 'screensaver' to customise if you have too much time on your hands. It even comes with parental controls that allow you to restrict access to age-rated discs.
For us, the main attraction was the simple usability of the product compared with modern consumer leisure hardware, which tends to be top-heavy on the tech. With the BDP3000, you just insert a disc and play it: no need to navigate umpteen levels of multidirectional menus.
We also liked the speed at which Blu-ray and DVD discs load up. If you are used to players that blip the screen several times and churn away for a quarter of a minute before anything happens, then the BDP3000 will come as a pleasant surprise. It only takes a couple of seconds before the disc's home screen appears.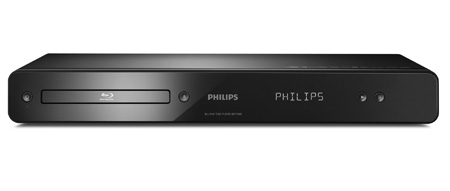 Described as 'super slim' it is actually quite a substantial piece of kit
The remote control handset is pretty good too, thanks to very simple navigation buttons, Philips having resisted the temptation to overburden it with obscure disc functions. Best of all, there is a big, friendly Home button to get you back where you started quickly.
There were no playback problems on any type of disc and the display was consistently solid and crisp for Blu-ray. The unit responded immediately to pause and restart commands, and we were unable to crash it by pressing random buttons in rapid succession (despite our very best efforts in this regard).
The only usability feature that the BDP3000 seems to have got wrong is the absence of an Eject button on the handset. This means you have to eject the disc by pressing the button on the player itself, but locating a black button on a black box in a darkened room is every bit as difficult as you might imagine. We suggest keeping a small torch handy next to the TV.
Verdict
The BDP3000 is a solidly built Blu-ray, DVD and CD media player that performs extremely well. It also provides a decent range of video-out and audio-out ports, plus an Ethernet connection. It is not an all-round media player, though: there is no wireless network support and the only way to get any media into the player is to burn it onto CD first. All this makes it seem expensive, although it is comparable in price to many other Blu-ray players. ®
More Blu-ray Gear Reviews...

Panasonic DMR-BS850
Freesat Blu-ray recorder

Pioneer BDP-51FD
Blu-ray player

LG BE06-LU10
Blu-ray recorder

Group test:
Blu-ray players