Original URL: https://www.theregister.co.uk/2009/10/01/ubuntu_karmic_koala_beta/
Ubuntu's Karmic Koala opens its eyes
Let me be the One
Posted in The Channel, 1st October 2009 17:02 GMT
Review Nothing quite says Autumn like the arrival of a fresh crop of Linux distros. Well, for Linux fans anyway. As usual, both Fedora and Ubuntu are gearing up for new releases, with the Ubuntu crew already pushing out the first betas of Ubuntu 9.10, dubbed Karmic Koala.
Although Ubuntu 9.10 is only a beta release and still needs a bit of polish, there's plenty to love even in the testing release.
Oddly though, the most notable thing in the latest release of Ubuntu 9.10 isn't actually in Ubuntu 9.10. Yes, we're talking about the Ubuntu One cloud storage tools.
The Ubuntu One client software you'll find in the new beta is designed to give you a simple way to backup, sync, and share files over the web. Ubuntu One offers 2GB of storage for free, with a 50GB option available for $10/month. Ubuntu One also offers public shared folders which other Ubuntu users can access from their PC (anyone not using Ubuntu can still access the files through their browser).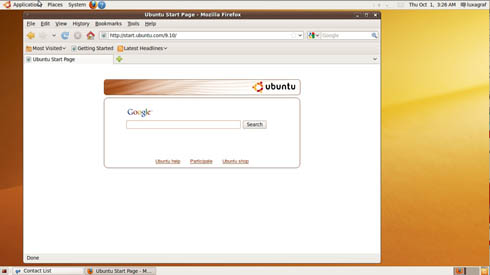 Look familiar? The big changes are cloudy
Similar in both price and usage to other cloud backup and sync solutions (like Dropbox), Ubuntu One lets you designate which files and folders you'd like to backup or sync between Ubuntu installs. Previously, using Ubuntu One required enabling the universal repositories and installing the client software.
The other noticeable thing in Karmic Koala is the performance boost, particularly when it comes to booting up your PC.
Earlier this year, Canonical announced plans to optimize boot performance, the goal being to get the system up and running much faster. You won't find it in Karmic Koala, but the eventual goal is to deliver 10-second startups by the time Ubuntu 10.04 is released in 2010.
Once I got the 9.10 beta installed on my trusty Toshiba, I grabbed a stopwatch (okay, an iPhone stopwatch) and hit the power button. After restarting about a dozen times I found that the average startup time was 26 seconds, with the Xorg starting around the 15 second mark. That's only one second off Ubuntu's goal for Karmic Koala and a significant improvement over previous releases.
Still, it's a little disappointing given that the eventual goal is ten seconds. But keep in mind that the Toshiba test laptop is five years old and sports a mere 512MB of RAM. Newer hardware should see much better performance.
If you want to really see Karmic Koala fly, try installing it on a solid state drive. Although I haven't tested it, there are plenty of reports around the web showing Ubuntu booting on an SSD in less than 10 seconds.
But who needs to boot?
Of course it's worth asking how often the average user actually boots up Ubuntu. Given its stability, most Linux users tend to just leave the system running indefinitely, making the faster boot time of dubious benefit. However, with SSDs dropping in price and boot times falling as well, perhaps eventually we'll all just turn our PCs off rather than putting them to sleep. Think of it as stepping stone to a greener, less power-hungry Linux.
Still, if faster booting isn't in your list of reasons to upgrade, don't worry, startup time isn't the only improvement in Karmic Koala.
The current beta of Ubuntu 9.10 is also the first to use the Ext4 filesystem, one of the many under-the-hood improvements in Karmic Koala. Savvy users might already have made the leap to ext4 with 9.04, which included support for ext4, though stopped short of making it the default option.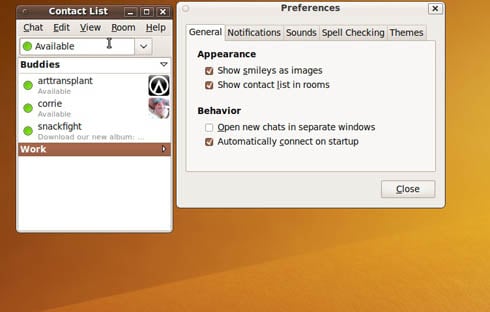 Goodbye Pigdin, hello Empathy
Karmic Koala sees ext4 making its prime-time debut and it brings some speed improvements along with it, especially in areas that involve a lot of disk-writing like moving and copying large files.
There is one downside though: You can't always mount an ext4 file system using ext3, so if you frequently access your Ubuntu system by mounting it in ext3 environments you may experience some problems.
On the application front, not a lot has changed in Ubuntu 9.10. The Pidgin messaging client has finally been replaced with Empathy, something other GNOME distros have also done. But empathy isn't just a new Instant Messaging client, though. It brings with it a whole new, much-improved framework known as Telepathy. More than just a Pidgin replacement, Telepathy offers baked in video-chat and VOIP support, two things that aren't even on the Pidgin roadmap.
However, Pidgin has legions of loyal users who may be less than thrilled about Empathy. While the two look similar, Pidgin has quite a few more bells and whistles. Fortunately for those that want no part of Empathy, a quick trip to the Package Manager is all it takes to get Pidgin back on your desktop.
Ubuntu 9.10 beta 1 isn't recommend for everyday use, but if you'd like to take it for spin or help out by filing bug reports, the release is due to appear here sometime today. ®