Original URL: https://www.theregister.co.uk/2009/09/30/wfa_updates_logos/
Wi-Fi body to highlight 802.11n aerial counts
'Draft' no more
Posted in Networks, 30th September 2009 13:02 GMT
The Wi-Fi Alliance (WFA) has celebrated the recent ratification - at long, long last - of the 802.11n standard by updating its logo for certified wireless networking kit.
But it's not simply removing the 'Draft' text from its existing logo - it is to add an indication of the number of spatial streams a given product can handle.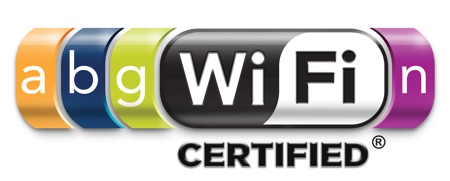 802.11n: no longer a 'draft' spec
802.11n's multi-antenna MIMO (multiple input, multiple output) design allows it to maintain a number of links. A comparison of the signals allows networked devices to get a better picture of the local wireless conditions and adapt accordingly the better to boost throughput.
Wi-Fi mandates a two-stream minimum - two transmit-receive pairs - but devices can use three, four or more antenna in a bid to increased the available bandwidth at any given time.
How to tell which is which without poring over sheets of mind-boggling tech specs? The WFA will now stamp 'Dual-Stream n' or 'Multi-Stream n' logos on certified 802.11n devices that use, respectively, two or more spatial streams.
There's no sign of a 'Single-Stream n' logo, suggesting the WFA is accepting the view that single-antenna devices are not true 802.11n gadgets since the standard mandates at least two aerials.

Make sure you buy the right one
The WFA certification process now includes mandated support for packet aggregation during transmission to make data tranfers more efficient and for Space-Time Block Coding (STBC) which, apparently, improves link reliability when you have more than one pair of antennae.
The organisation also said it will impose "channel coexistence measures" to ensurer certified kit doesn't hinder other WLANs when it's operating at 40MHz in the 2.4GHz band. ®