Original URL: http://www.theregister.co.uk/2009/09/29/review_pc_tune_up_sofware/
PC tune-up software: does it really work?
Part One: Windows XP
Posted in Software, 29th September 2009 12:56 GMT
Round-up We love hardware, and if you ask us how to make an old computer go faster, we'll recommend a hardware upgrade. But 34 million people opt for a software tune-up in the US alone, estimates Iolo, a company that makes tune-up software.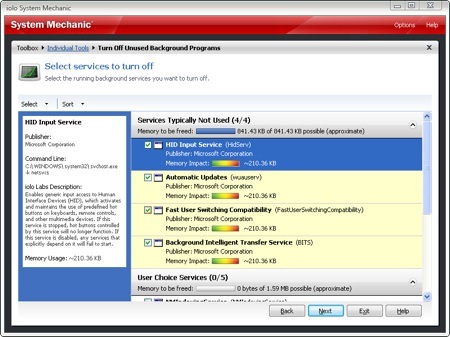 Iolo's System Mechanic 9 does a good job of finding services you don't use
Click for full-size screen grab
Can such a large number of people be wrong? We thought we'd take a look at some popular tune-up apps that explicitly claim they will speed up your computer or, when more carefully worded, are "designed" to speed up your computer.
We didn't set out to see if these applications really could fix registry problems and related crashes because it's difficult to objectively measure such abilities, especially as every program claimed to be able to fix more than 1000 registry problems, most of which were simply dead links and things like having Windows updates disabled. Handy, perhaps, but not as interesting to us as the performance promises.
The five packages on test cost up to £40 and we've also tested a small Ram upgrade, which cost us £27, for comparison's sake. Upgrading memory won't appeal to everyone, since finding the right Ram for an older PC may not be simple, novices may find opening a laptop or PC daunting, and there may be Bios Ram limits to deal with too.
The test system was a five-year-old Sony laptop running Windows XP Pro 32-bit. It packs a 2.2GHz Pentium 4 CPU, 512MB DDR PC2100 - the upgrade was 1GB DDR PC2700 - and a 60GB 7200rpm hard drive. It last had XP reinstalled two years ago and has been used on a weekly basis since. When first installed, XP booted up in 35 seconds but it now takes over two minutes with all the junk it's had on it over the last two years.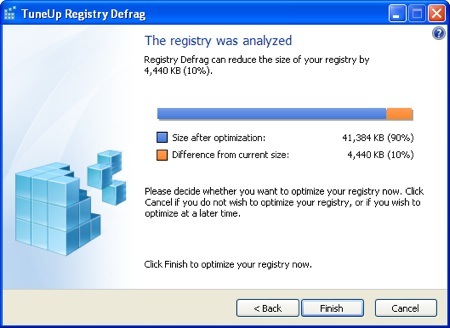 TuneUp's claim of reducing the size of the registry is questionable
We re-imaged the hard drive before each application was installed. We also re-imaged the hard drive for both 512MB and 1GB Ram tests. Each test was repeated a minimum of three times, with a reboot between each test, to get a good average for comparison. Anti-virus monitoring and Windows updates were disabled, and our internet connection was unplugged.
All the 'one-click' performance optimisations, registry fixers and registry defraggers were enabled followed by two restarts before testing began.
Operating system start-up time is undoubtedly the most important aspect of computer speed for many users. We didn't expect the Ram upgrade to have an impact here, since the hard drive is what is doing most of the work but, surprise surprise, it shaved 23 seconds off the start-up time.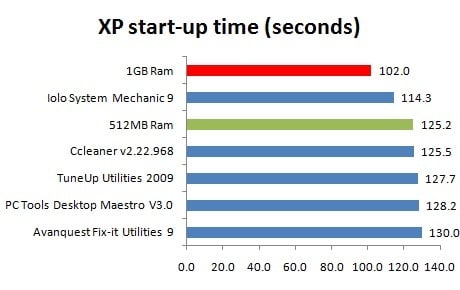 The Ram upgrade and Iolo System Mechanic lead the way
Shorter bars are better
As we'll explain later, Iolo System Mechanic 9 originally booted up a lot faster but we had to re-enable some of the services it had disabled to ensure a fairer test. Nevertheless, it still improved boot-up time by 11 seconds.
PC Tools Desktop Maestro and Avanquest Fix-it Utilities both load up their applications during startup, which is potentially why they're a bit slower than a stock system. We found start-up time could be improved by around 18 seconds when using the tune-up applications' start-up managers. This meant we could disable 12 different applications we weren't using, including a couple of old wireless utilities, a toolbar, a faxing application and Java updater.
We decided to side-step traditional synthetic benchmarks like PCMark in order to get as close to real PC use as possible. The DMS Clarity Studio puts Microsoft Office through its paces by timing how long it takes to perform a series of tasks in Word, Excel and PowerPoint. Print jobs are processed, text is formatted, and pages are scrolled up and down in this formidable test.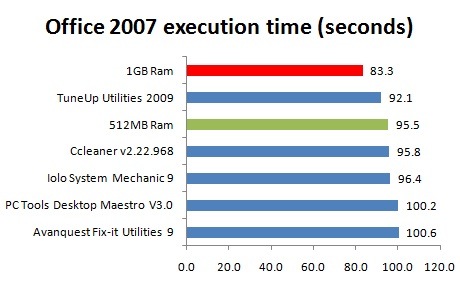 The Ram upgrade did the business here, although TuneUp Utilities did a good job too
Shorter bars are better
The Ram upgrade won again, while TuneUp Utilities 2009 also managed to speed up Office response time. PC Tools Desktop Maestro and Avanquest Fix-it Utilities both managed to reduce Office performance by a small margin.
To test Photoshop performance, we used the DriverHeaven's Photoshop Benchmark V3, which is a simple script that times a series of transformations on a high quality image. We recorded the first four parts of this benchmark and added them together for this result. Apart from the 1GB Ram laptop, the difference in results is insignificant, with the software doing nothing to accelerate performance.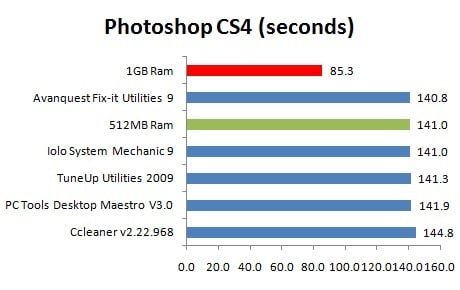 No surprises here. The Ram upgrade thrashes the rest in Photoshop
Shorter bars are better
When it first launched, the Half Life 2 engine was known for long load times, so we decided to record the time it took to load the HL2-based Counter-Strike:Source video stress test and then note the frame rate of the stress test. While there was quite a high margin of error in the CS:S start-up test - although there is a trend for the tune-up applications to slow down the load time - we recorded some easily reproduced numbers.
The big casualty here was Fix-it Utilities 9, which consistently dropped 2.2f/s compared with the standard laptop.
Once the Office, Counter-Strike:Source and Photoshop benchmarks had run we took note of how much free physical memory was left available before restarting the laptop and repeating the benchmarks. All the tune-up applications made more memory available than the standard system so, although our benchmarks don't always show improvements with the tune-up apps, the extra Ram shows a genuine underlying advantage - if only in theory - of having these applications on board.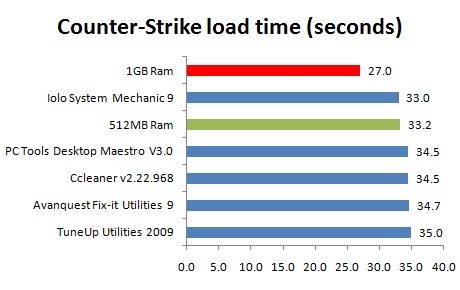 Half Life 2 took a while to load on machines of its launch year
Shorter bars are better
Many of the tune-up applications said they were compacting the registry by ten per cent or more when we used them, but this must have been an exercise in defragmentation because the registries stayed a very similar size overall. We recorded these sizes with Microsoft's free Dureg application.
So, where do all these results leave us? The biggest game-changer in system performance was how many services and applications were enabled at start-up.
Iolo's System Mechanic 9, which costs $49 (£29), caused us some real headaches in this respect, because its one-click solution disabled MSN and Snagit, which we re-enabled for a fair test. Another option in System Mechanic 9 is its EnergyBooster option. With this enabled, boot-up times were cut by a further seven seconds compared with the result in the graph. It achieved this by pointing out services we didn't use, including Fast User Switching. So, while you may use Fast User Switching, it may find something else you don't use and offer to turn that off instead.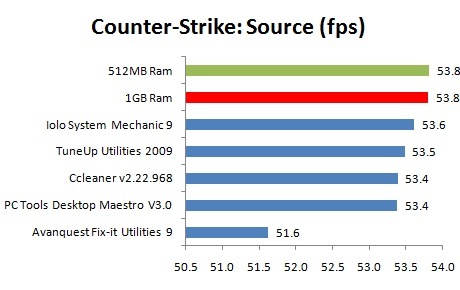 Disaster strikes for Fix-it Utilities, with a significant hit on performance
Longer bars are better
The most effective way of increasing performance with these software packages is disabling unused start-up applications, which gave us an 18-second improvement compared to the results we've presented in the graphs. You can remove many of these services manually, but these applications make it much easier, and Iolo's service-remove tool was the best of the bunch in this respect.
Avanquest's Fix-it Utilities 9, which costs £29.35, was the only application that changed the page file from Windows default of 764MB to 1024MB and it freed up an extra 17MB of memory. Both its start-up time and Office 2007 performances were bottom of the field and it really affected Counter-Strike: Source's frame rate badly.
Fix-it Utilities 9 offers different profiles for you to chose – Office, Gamer or Security (who wants to choose between security and anything else, eh?) – but there was no noticeable performance difference between them. When we went one step further and enabled the Menu Display Optimizer and Icon Cache Size Increase options, performance in Office 2007 and start-up times sank a further eight and 11 seconds, respectively, compared with the one-click optimisation results presented in the graphs.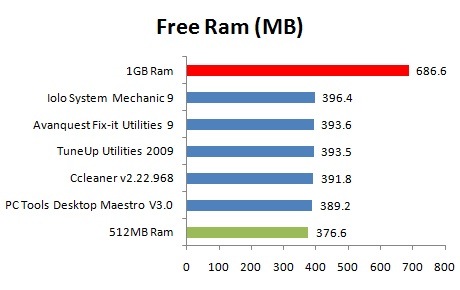 It would appear the applications do some good after all, at least in freeing up Ram
Fix-it Utilities 9 does have a very good start-up editor plus Virus and Spyware protection, a permanent file shredder and a very slick interface but, all in all, it appeared to slow down our laptop, not speed it up.
Ccleaner, which is a free download, didn't make our laptop any faster, but then it didn't really slow it down either. It's far less comprehensive than the other tools, with no registry and hard drive defragmenter and a very basic start-up tool, where it's easy to disable something important because there are no descriptions.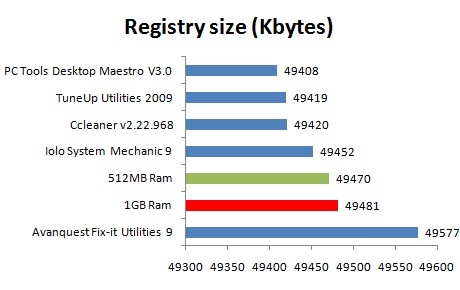 Promises, promises: the Registry size post upgrade
Ccleaner also doesn't give you the option to disable Windows services you may not be using, unlike the other utilities on test. But since the biggest improvement in start up times and Ram availability comes from disabling start-up items – and because it's free - then Ccleaner remains a great option for enthusiasts.
PC Tools' Desktop Maestro 3.0 costs £39.95 and didn't live up to its promises. The graphs show the results when we used Desktop Maestro's Recommended Services Optimizations setting, because when we used the Minimal Services setting - which we were asked to use by PC Tools for best performance - the boot-up time was consistently increased by over a minute. Using the Minimal Services option didn't make for a fair test either, because it changed the Windows display scheme to mimic a butt-ugly Windows 95 layout.
Desktop Maestro also loads an application that says it is automatically scanning the registry for changes. That increased the process count and, potentially - it's very difficult to measure - CPU usage. Finally, unlike the other commercial packages, Desktop Maestro doesn't have its own hard drive defragger - it links to the Windows one. Not that it matters, since we couldn't measure any improvement offered by third-party defraggers compared with the native Windows one.
TuneUp Utilities 2009, which costs £29.99, was the only application that improved our Office 2007 performance, albeit by a small amount. Its registry compacting tool claimed it would reduce the size of our registry to 41MB, although we have no evidence that it did so.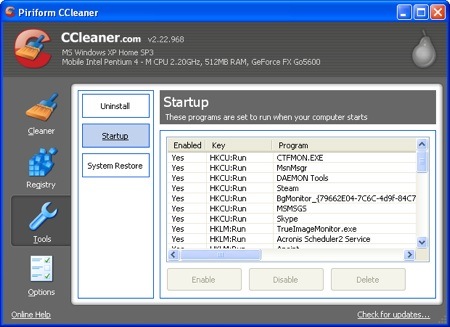 Ccleaner doesn't have many tools, but it is great for those wanting to tinker with start up services on the cheap
Its start-up manager is top class, with programs divided into unnecessary, no recommendation and necessary categories, so even novices can make some sense of what to switch off and what to leave on. Its Quick Optimization tool is polished with clear descriptions of what's happening, so we're happy to give TuneUp Utilities 2009 a tentative thumbs-up.
Conclusion
The short answer for which option is best, tune-up software or a Ram upgrade, is: the Ram. But that's an over-simplification because other computers will behave differently. If you've already upgraded, that conclusion won't help you. But many XP PCs and laptops were sold with 512MB or even 256MB of memory, so these really can benefit from a Ram upgrade. We weren't expecting the Ram upgrade to improve Windows start-up times, but it did.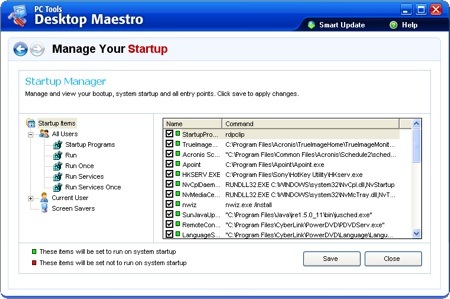 Desktop Maestro 3.0's overall package feels dated, but a new version is due in October
Click for full-size screenshot
Our testing produced very little evidence that registry fixers and third-party defragmenters do any good at all, although other users with serious computer problems may experience otherwise. There is definitely the risk of choosing the wrong option - which was our experience with Fix-it Utilities 9 and Desktop Maestro 3.0 - and then getting significantly worse performance.
All the utilities were, however, able to shave a few seconds off our start-times, but not by using their one-click tools. Instead, you have to explicitly disable services and applications to get the increase in performance. It's worth remembering that you can also run msconfig, from XP's Run box, to disable start up programs, although you get a barebones interface with no guidance.
If we had to pick a winner from the list of apps, we'd go for Iolo's System Mechanic 9. It produced the best results - where the apps actually made a difference - and has a decent UI. It also has a good range of features.
CCleaner deserves a special mention becuase, though it doesn't offer as many features and has its flaws, it is free, so it's the obvious one to try first.
We've also tested these software packages on a higher spec Vista PC, where we got some quite different results, but we'll tell you about in an upcoming article... ®
Verdict: Windows XP Apps

Iolo System Mechanic 9
Rating 70%
Price £30
More Info Iolo

CCleaner
Rating 65%
Price Free
More Info CCleaner

Tune-up Utilities 2009
Rating 60%
Price £30
More Info Tune-up

PC Tools Desktop Maestro 3
Rating 50%
Price £40
More Info PC Tools

Avanquest Fix-it Utilities 9
Rating 45%
Price £30
More Info Avanquest