Original URL: http://www.theregister.co.uk/2009/09/28/review_laptop_samsung_r720/
Samsung R720 17.3in notebook
Keenly priced Pentium powered desktop replacement, anyone?
Posted in Personal Tech, 28th September 2009 12:32 GMT
Review If you caught our review of the Samsung R522, the R720 will look more than a little similar. As the name implies, though, it has a larger 17.3in display, with a glossy coating and native resolution of 1600 x 900. Naturally, this makes the chassis a fair bit bigger at 441mm wide, 273mm deep and, at its thickest point, 40mm tall. Nevertheless, it's one of the lighter 17in laptops on the market, weighing in at 2.9kg.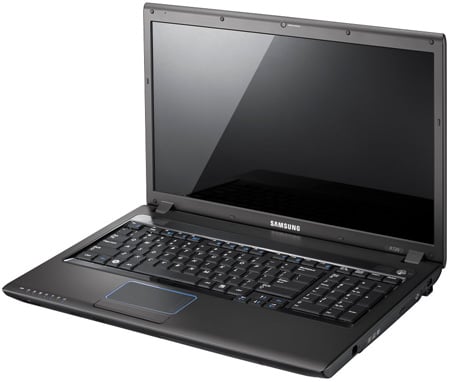 Samsung R720: the R522's bigger brother
The keyboard houses exactly the same style of keys as the R522 but, thanks to the larger chassis, Samsung has also found room for a numeric keypad. The trackpad, with its fancy blue-lit rim, has also been stretched to match the widescreen display. Unlike on the R522, though, Samsung has shrunk the arrow keys to half-height, which makes them a little fiddly.
One area of concern is the keys. When we first received our review sample they all had a very slight, but noticeable texture. However, it didn't take long for the more frequently used keys (such as E, S and A) to lose their texture and develop shiny spots. This isn't exactly uncommon when it comes to laptop keyboards, but the rate at which certain keys started showing bald patches was worrying. We're also left wondering what state they would be in after a year, or even just a few months of heavy typing.
An upside of a larger chassis is more room for the components to breathe. We noted that the R522 got a fairly warm during use, but thankfully the R720 suffers no such problem and only very rarely required the fan to ramp up to an audible level.
As far as ports go, everything is laid out exactly as on the R522. Gigabit Lan, two USB, eSATA, audio, ExpressCard and both HDMI- and VGA-out on the left, while the DVD writer and a further two USB ports sit on the right.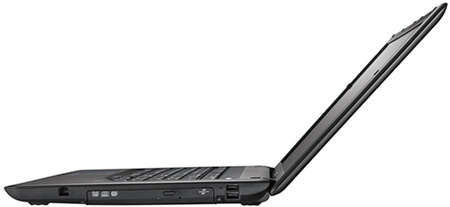 No change from the R522 in terms of ports
Things have changed on the inside, though. It still has 4GB of DDR2 memory, but whereas the R522 was powered by an Intel Core 2 Duo T6400, this R720 has to make do with a Pentium Dual Core T4300. Considered a budget CPU, the T4300 runs at 2.1GHz and features just 1MB of L2 cache – Core 2 Duos have at least 2MB, while higher-end versions get 6MB of L2 cache to call on. We'll show you what impact this Pentium Dual Core has on performance in a moment.
Samsung is still churning out the old Atheros AR5007EG wireless card. Released way back in 2006, this offers 802.11b/g connectivity, but not 802.11n. Some may not see this as an issue but, with 802.11n routers now the norm, we think it's a very odd decision by Samsung.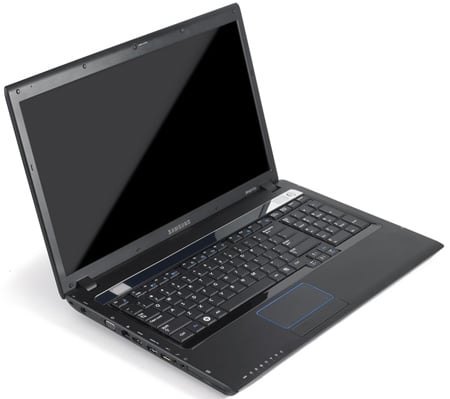 Responsive keyboard complete with numeric keypad
Other specs include a 320GB hard drive that ticks along at 5,400rpm, built-in Bluetooth and a 1.3-megapixel webcam, while everything runs off the 32-bit edition of Vista Home Premium. As for as audio is concerned, the R720 isn't exceptional. The pair of 2W speakers, just above the keyboard, is joined by a subwoofer located on the underside of the chassis, which adds a bit of extra bass to proceedings.
So, back to that Pentium Dual Core processor. In PCmark05, this budget CPU with its smaller L2 cache certainly didn't appear to hold things back. Indeed, with a score of 5165 in the CPU section, it's on a par with the Core 2 Duo T6400 processor in the R522. The overall PCmark05 score of 4905 is much better than the R522's thanks to the choice of graphics card.
Although the ATI Radeon HD 4330 is no speed demon, it's certainly a step up from the integrated graphics of the R522 and, at its native 1600 x 900 resolution, it managed to pick up 2602 points in 3Dmark06. Dropping the resolution to 1280 x 768 and then 1024 x 768 saw this score increase to 3088 and 3345 respectively. With a laptop running off integrated graphics, you can expect a score of around 700 at 1280 x 768, so the performance boost afforded by this discrete graphics chip is clear.
To further test out the Radeon HD 4330 we fired up a copy of Far Cry 2. At its native 1600 x 900 resolution, the R720 managed an impressive 29.56fps, although to achieve this we had to reduce all settings to low and turn anti-aliasing off.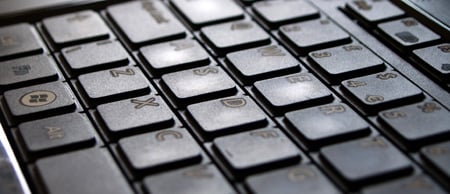 The shining: some keys soon lost their texture, developing bald spots
Switching all settings to medium while also activating 4x anti-aliasing proved more of a struggle – at 1024x768 it could only manage 16.26fps. Still, for a supposedly budget graphics card, these results aren't at all bad.
PCMark05 Results
Overall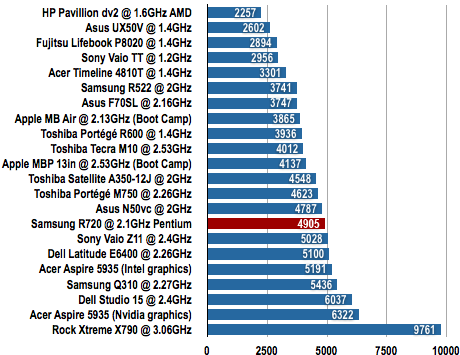 Longer bars are better
CPU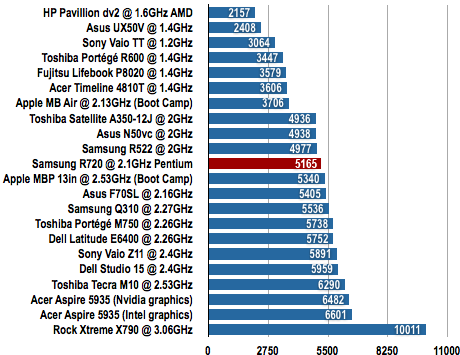 Longer bars are better
Memory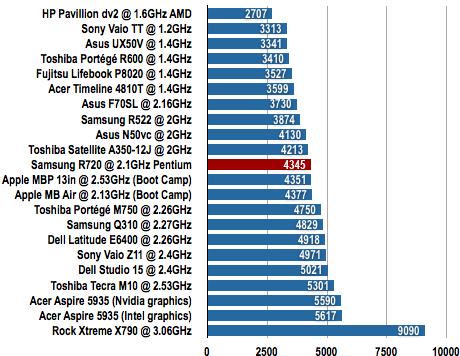 Longer bars are better
Graphics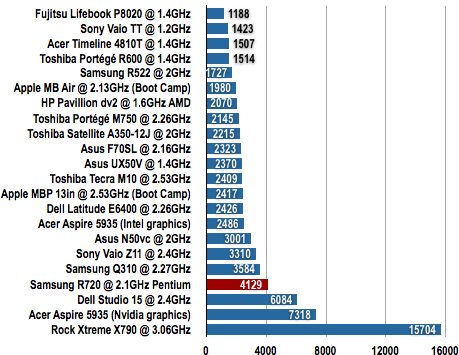 Longer bars are better
HDD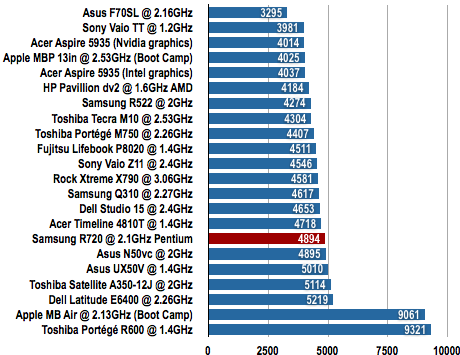 Longer bars are better
3DMark06 Results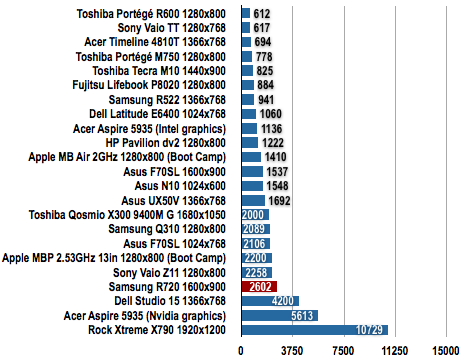 Longer bars are better
Battery Life Results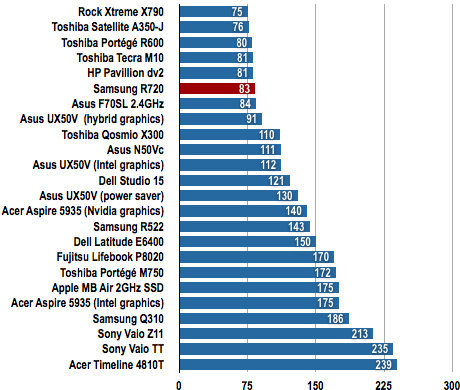 Battery life in minutes
Longer bars are better
While bigger screens always look more impressive, they also demand far more from the battery. Although the R720's 17.3in display is LED backlit, it certainly took its toll. Powered by a 4000mAh battery, we recorded just 1hr 23mins – exactly one hour less than the 15.6in R522 was capable of. This figure was obtained with the R720 under strain, though, and in a slightly less punishing test we managed four minutes shy of two hours. Turn down the brightness, avoid processor-intensive applications, and you'll get closer to three hours usage.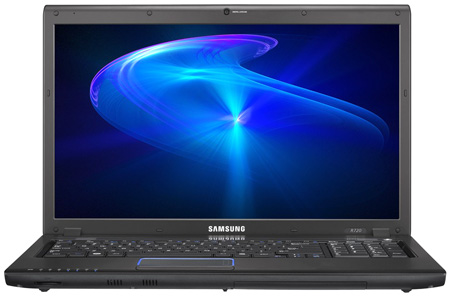 Good value compared to the competition
So how does the R720 compare to other big-screen laptops we've looked at? Toshiba's A350-12J Toshiba's A350-12J is similarly priced, though it has a slightly smaller 16in display and more restrictive native resolution of 1366 x 768. It also relies on integrated graphics and therefore doesn't offer the gaming opportunities of the R720.
The Asus F70SL is more comparable in terms of the display (17.3in, 1600 x 900) and its Nvidia GeForce 9300M GS is capable of a modicum of gaming, but it has a slower processor and is also a fair bit more expensive at £779. All of which makes the R720 look rather good value at just £599.
It's also worth mentioning that Dell has a Studio 17 laptop available for £579, but its resolution of 1366 x 768 and slightly slower Radeon HD 3650 graphics card give the Samsung's R720 the edge.
Verdict
The 17.3in screen looks good and, despite Samsung's decision to go with a Pentium Dual Core processor, the R720 returned some decent benchmark scores. Perhaps most surprising was the 3D performance afforded by the Radeon HD 4330 graphics card. Yet again, though, we're dismayed at Samsung's decision to leave out 802.11n wireless, while some of the keys losing their texture so quickly was also a concern. However, at £599 it's very reasonably priced for a 17in laptop. If you can forgive its minor flaws, the Samsung R720 is a decent, albeit relatively low-powered, desktop replacement. ®
More Notebook Reviews...

Acer
Aspire 5935

Toshiba
Satellite A350-12J

Dell
Studio 15

Acer
Timeline 4810T