Original URL: https://www.theregister.co.uk/2009/09/25/vertu_ayxta/
Vertu presents €5K flip phone
For 'discerning global citizens' only
Posted in Personal Tech, 25th September 2009 14:20 GMT
Ultra-expensive mobile phone manufacturer Vertu is back with its latest credit crunch-defying handset - Ayxta.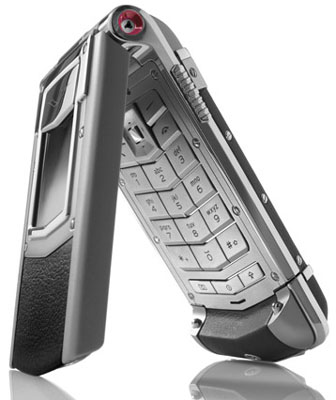 Vertu's Ayxta - it's not a Nokia 7510, honest
The phone forms part of Vertu's existing Constellation collection and is apparently the first of the firm's phones to feature a flip design.
Designed to attract "discerning global citizens…searching for a high quality product to assist in maintaining their standard of living wherever they may be throughout the world", Ayxta offers one-button access to a Vertu butler-esque telephone service through which the owner's every whim will be catered for – day or night.
Sadly though, Vertu has once more resisted technological advancement by only equipping Ayxta with basic phone features.
For example, the handset has a Micro SD memory card slot for cards of up to 8GB, internal storage for up to 2000 contacts and, oh, a USB port.
The phone's two saving graces are its 3G support and 3Mp camera, the latter of which features a "twin" LED flash.
Vertu phones are all about the styling, though, so Ayxta has a stainless steel body, aluminium and leather detailing, and a sapphire crystal screen.
Vertu hasn't announced a release date for the Ayxta yet, but prices will start at €4900 (£4491/$7190). ®