Original URL: https://www.theregister.co.uk/2009/09/25/idf_westmere_performance/
Intel: 'Westmere' works wonders
Punts performance data for desktop, notebook 32nm CPUs
Posted in Personal Tech, 25th September 2009 01:02 GMT
IDF Intel reckons its upcoming 'Clarkdale' desktop 32nm - kind of - processor will run rather faster than equivalently priced chippery you can have today - and that includes quad cores.
Clarkdale is a dual-core part, though it has HyperThreading on board so it appears as a four-core processor to the operating system.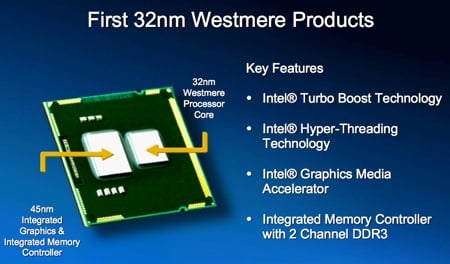 In PCMark Vantage, a Core 2 Quad Q9400 yielded an overall score of 1.08 relative to a Core 2 Duo E8500's score, Intel said. A 3.33GHz Clarkdale scored 1.43. That's 43 per cent higher than the Q9400.
The Core 2 Quad only runs at 2.6GHz, which puts the Clarkdale ahead 25 per cent ahead on clock speed alone. Clarkdale's Turbo Boost technology ups the clock to 3.46GHz, Intel said, which is a 33 per cent gain. That leaves a further ten percentage points coming from the chip's architectural improvements, such as the integrated memory controller and bigger, better cache.
Looking at the SPEC floating point benchmark, again normalised to the E8500, the Q9400 scores 1.26, the Clarkdale 1.48, Intel claimed. That's just a 17 per cent advantage which could easily arise from the higher clock speed.
For integer tests, the Clarkdale performed less well, the chip giant admitted, scoring 1.36 to the Q9400's 1.39.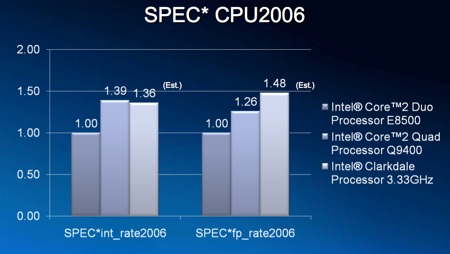 It's worth bearing in mind that the Q9400 is a true four-core part and HyperThreading's virtual cores never gives as good a performance as physical ones.
The benefits of the integrated memory controller are more tangible: SiSoft Sandra tests yielded a 70 per cent increase in memory bandwidth comparing Clarkdale to the Q9400, though the caveat is that the former was hooked up to 4GB of dual-channel 1333MHz DDR 3 while the Core 2 Quad had to make do with 4GB of dual-channel 800MHz DDR 2.
Intel's performance numbers for Clarkdale's on-board IGP put it well ahead of the G45 chipset IGP it's based upon: around 50 per cent in 3DMark Vantage tests. Intel isn't giving out speeds and feeds for the chip - which is fabbed at 45nm to the G45 IGP's 65nm - but officials did admit that the Clarkdale one has more shader units and is clocked higher.
However, it's done, it does mean mainstream Intel graphics performance will get better when Clarkdale debuts.
Real-world tests conducted on Clarkdale's mobile sibling, Arrandale, showed a significant speed lead over a comparably-priced Core 2 Duo system. Tests included importing photos and decompressing a 256-bit AES-encrypted file archive. Both 'dale chips provided extra instructions for processing AES algorithms, the basis for many data security products, including Microsoft's BitLocker.
Remember that these are Intel's numbers, not ours. We will be running our own benchmarks in due course. ®