Original URL: http://www.theregister.co.uk/2009/09/24/review_network_media_player_lacie_lacinema_black_max/
LaCie LaCinema Black MAX
Stylish media streamer and DVR combo
Posted in Personal Tech, 24th September 2009 12:02 GMT
Review LaCie was among the first hard disk manufacturers to produce high capacity, multimedia storage devices designed for media playback. These hard drives, equipped with A/V interfacing, enabled you to take your digital music and video files away from your computer and play them on a decent hi-fi and a full-size TV screen. With its new LaCinema Black range, LaCie has gone a step further and produced a full-scale set-top box.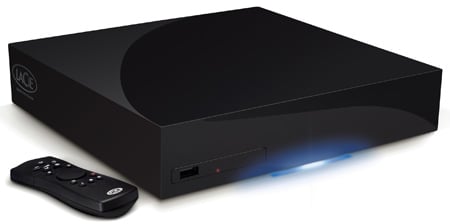 Screen idol? LaCie's LaCinema Black MAX
There are three models in the Black range, starting at around £280 for the Black PLAY, which is essentially a straightforward media server. However, we decided to test the top-of-the-range Black MAX, which costs a hefty £420 with 500GB hard disk or £505 with 1TB. That's expensive, but the Black MAX does make an ambitious attempt to combine a network media server and a set-top DVR in a single unit.
The glossy black box measures around 9in wide and deep and a little under 2in high. It's larger than an ordinary hard disk, but still only about half the size of our Sky+ box. A quick look around the back reveals a good selection of input and output options, including a digital TV tuner. However, at this price you might have expected two separate tuners, so that you could record one programme while watching another.
There's an HDMI interface plus composite and RGB video outputs for connecting to your TV, as well as composite, S-Video and audio inputs that can be used to record analogue video from external sources such as an old VCR.
Besides built-in 802.11n Wi-Fi, there's also a 10/100Mbps Ethernet interface for connecting the Black MAX to your home network. A USB port offers direct connection to a computer, with three additional USB ports reserved for external devices such as a memory stick, hard disk or digital camera.

No Scart, but adapters are supplied
Finally, there's an optical digital audio output for linking to an external audio system. There are no Scart connectors, but LaCie does include a couple of Scart adaptors in the box, along with HDMI and other A/V cables.
The device makes a good impression when you turn it on for the first time – it was able to quickly scan for TV channels and to automatically connect itself to our network without throwing any confusing network settings at us. The unit's internal fan makes more noise than our Sky+ box, but wasn't loud enough to become annoying or obtrusive.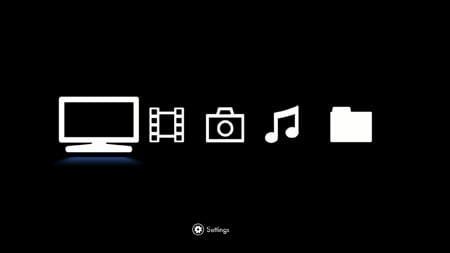 Basic icons identify the unit's key functions
The device's on-screen browser interface is also quite straightforward. It displays a set of large icons, which represent the TV tuner, music, photos and video files that you can play on your TV, and it's a simple matter to select the option you want by using the control pad on the small remote control.
When you select the TV icon, the Black MAX simply acts like a conventional Freeview recorder. Unfortunately, it's not a terribly sophisticated Freeview recorder. It includes basic features, such as an electronic programme guide (EPG), and the ability to pause live TV.
However, other features are crudely implemented. The remote control doesn't have a number pad, so you can't quickly punch in a channel number to select a specific channel. You either have to scroll through the full on-screen list of programmes or go through a rather long-winded process for creating your own list of favourite channels.
Most digital recorders also include some sort of 'series record' option within their EPG for automatically recording all the episodes of a particular show, but the Black MAX requires you to manually schedule recordings by specifying the date, time and duration of the programmes to be recorded.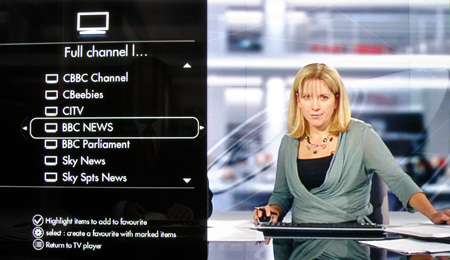 Screen idle: navigation latency is an unwelcome test of patience
The Black MAX's menu system is also rather sluggish – we'd often find ourselves thumping buttons impatiently while waiting for various menu choices to appear on screen, and the option to manually programme a recording takes a good ten seconds to appear.
Thankfully, the Black MAX works better as a media server. There are a number of options for playing your digital media files. You can connect a PC – but not a Mac – directly to the Black MAX with USB, and then use the 'Sharing' option in Windows Media Player to make your music, videos and photos available to the Black MAX.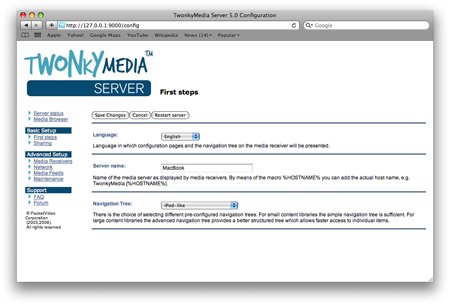 Twonky software is supplied for streaming media, but there's no Bit Torrent client
You can also plug in an external USB storage device, and Mac users can use Mac-formatted disks even though they can't connect an actual Mac using USB. Alternatively, you can stream media files from a networked computer using the bundled TwonkyMediaServer software. This software supports both the UPnP and DLNA networking standards, and there are versions provided for both Macs and PCs.
The good news is that the Black MAX coped well with the various photos, music and video files that we tested on it, including a selection of AAC and MP3 music files, WMV and MP4 videos, and even full HD (1080p) video in H.264 format.
Video quality was crisp and clear, and the Black MAX also makes a respectable stab at upscaling standard-definition video. It can't stream iTunes copy-protected video, but that's down to Apple rather than LaCie, and there's no Bit Torrent client, which will certainly disappoint some potential buyers.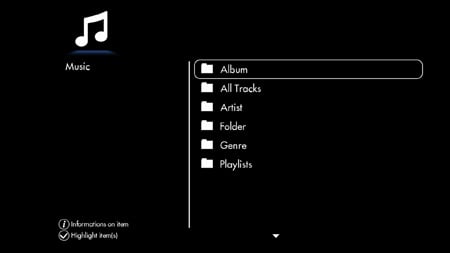 Be sure to organise folders first, for best results when browsing media
The browser interface could be a little more elegant – there's no option to view album artwork, for instance. Also, if you're copying a large music collection onto the hard disk you'll need to make sure that the songs are organised into artist and album folders first. If not, you'll just be presented with a long list of song titles that you have to scroll through in alphabetical order.
We also struggled a bit when trying to use the Twonky software to stream files to the Black MAX across our network. We've encountered Twonky and its cumbersome web-browser interface before, so we knew what to expect.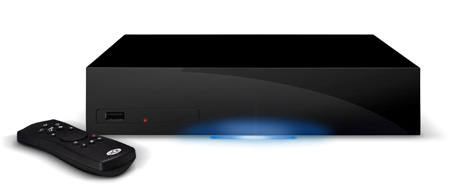 The remote control is rather too basic for the demands of most users
Still, this program really isn't suitable for non-technical users with no previous experience of configuring a media server. While there is a newer version called TwonkyMedia Manager, which has a more modern graphical interface, it isn't currently included with the Black MAX.
Verdict
LaCie does deserve credit for attempting to combine the features of a DVR and network media server into a single unit and, from a technical standpoint, the Black MAX is pretty successful. You can switch from streaming music or video across your network to pausing or recording live TV with the press of a button. Unfortunately, the Black MAX is let down by its ease of use, as its limited DVR features, sluggish menu system and the ungainly Twonky software mean that many simple tasks just take longer than they should. ®
More Network Media Player Reviews

Freecom
MediaPlayer II

Wyplay
Wyplayer

Netgear
EVA9150

Western Digital
WD TV