Original URL: http://www.theregister.co.uk/2009/09/23/review_printer_hp_30115d_mono_laser/
HP 3015d mono laser
Fast, reliable but expensive
Posted in Personal Tech, 23rd September 2009 12:02 GMT
Review In a printing market awash with colour products, here comes HP with an A4 black-and-white business laser. But far from seeming dull, the LaserJet P3015d serves to remind us of how good HP lasers are – and how much better they can be than much of the flashier competition.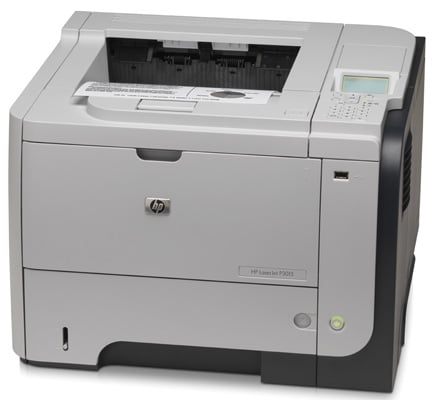 Quality performance: HP's 3015d mono laser printer
Compact in its plain casing, but not particularly small at 316x400x448mm, this 15.9kg printer is well-built and designed to withstand plenty of use. It might look boring but the absence of detail and irregular mouldings should make it easier to find a home for in a cramped office. Thankfully, HP also designed the case to incorporate a pair of cut-ins on either side of the base to make the printer safer to pick up and carry.
The 'd' in the product name indicates that this model supports automatic double-sided (duplex) printing. A 500-sheet paper cassette slots into the front of the unit at the base. The entire cassette fits flush with the main body of the printer: nothing sticks out the back. A paper level indicator at the front warns you when to add more stock.
The front of the case, above the paper cassette, folds down to form a multipurpose input tray with a capacity of 100 sheets. Inevitably, this tray needs to be extended with a combination of hinged and telescopic flaps, which are, altogether, more fragile than the rest of the machine.
We would advise users to fold these back up and close the tray when it is not being used, if only to prevent damage by co-workers breaking the flaps off if they carelessly brush against the unit when walking by. Unlikely though it sounds, we have seen and personally experienced this kind of moronic damage in offices many times.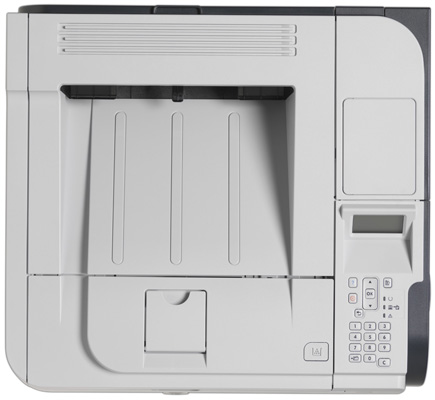 The numeric keypad adds options for navigating the brilliantly intuitive menus
The 500-sheet standard capacity of the main paper cassette caught our attention straight away, since the standard input capacity in most other printers usually starts at 250 sheets. That's fine for home use but runs out much too quickly at work. The P3015d therefore effectively doubles the input capacity of what the market considers the norm.
Up to two additional 500-sheet cassettes can be purchased to fit onto the base, at £95 each, making a maximum potential paper capacity of 1,600 sheets. The output tray, moulded into the top of the printer, can hold 250 sheets before needing to be emptied.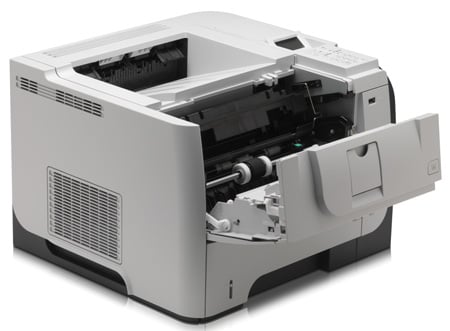 Replacing the combined toner cartridge and drum is done in seconds
A control pad of buttons and a four-line, backlit LCD status screen are located on the top surface of the unit, towards the front-right corner. Oh how we love HP printer menus. OK, that's probably a bit sad, but no other manufacturer makes on-printer controls so quick and easy and intuitive to use.
This is especially helpful since the P3015d is designed to allow stored jobs and proof-and-hold functions. In other words, you can send a print job and have the P3015d store it for reprinting directly from the unit at any future date, or have the printer wait until you get to the device before it outputs the job. These can be PIN-protected for security and multi-user personal use. So having an easy-to-use menu system for retrieving these stored and delayed print jobs really makes the feature usable in real-world office environments, rather than just clever.
HP has also stored a set of illustrated Help documents in the printer, so you can quickly print out step-by-step instructions on clearing paper jams, loading special paper stock and so on. Show some foresight print this out in advance and it could potentially reduce the number of unnecessary IT support call-outs for simple tasks, especially paper jams.
A USB port is provided at the front of the unit to let you print documents directly from USB storage devices. Unfortunately, it only lets you print PDF, PS (PostScript) and PCL formats. Support for a wider range of business formats would have been helpful. If not Microsoft Office, then at least open formats such as ODF. Image formats are not supported, either.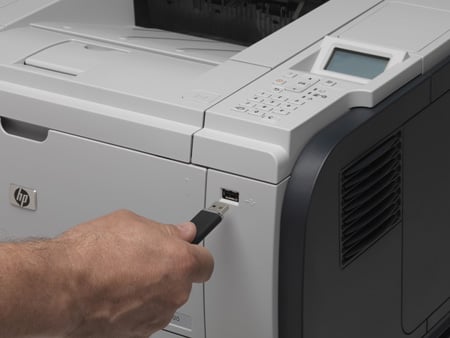 A USB port at the front enables printing of PDF files directly from USB storage devices
Talking of USB, the P3015d is provided with a USB connector at the rear, for hooking up to a host device, but no Ethernet port. While the USB option may still be suitable in a number of office setups, the lack of Ethernet feels wrong in a workgroup printer. Sure, there is an Ethernet option in the series, and there is a wireless upgrade option available too, but, in this day and age, every office printer ought to be networkable out of the box.
In use, the P3015d is fast and reliable, while the printer drivers are clear and easy to use. In our speed tests, a simple Microsoft Word document took just 7 seconds to output, while 10 copies took just 21 seconds. Double-sided printing is only marginally slower: the first sheet took 12 seconds, and 10 sheets took 34 seconds. HP's rating of 40ppm is more than justified: based on our results, in terms of raw engine speed, we reckon it could reach 42ppm.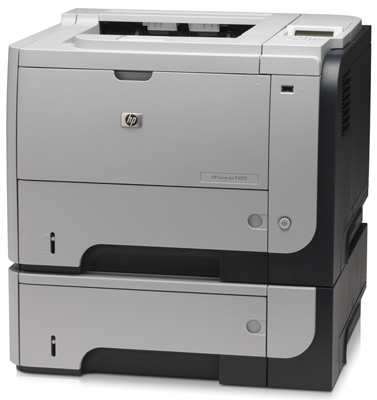 Another £95 buys you a lower paper cassette to boosts the printer's capacity by 500 sheets
Print quality is very good, if not quite first class. We achieved excellent results with text and line graphics, all reproduced cleanly with fine detail intact. Photo images were good but suffered from a little too much grain in gradients and continuous tones, to be considered excellent. However, this is not supposed to be a photo printer, but a general purpose one, and it excels at handling a wide variety of 'visually rich' documents such as PDFs, web pages and presentation slides.
Verdict
We get to see a lot of printers, but there is still a great deal about the HP LaserJet P3015d to make it stand out from the crowd. It is a solid performer, actually achieving the speed rating quoted by the manufacturer (astonishing, really) and offering a clutch of extra features that will go down well with workgroups, such as automatic duplex printing, PIN-protected stored print jobs, easy-to-use drivers and 'walk-up' USB printing of PDF documents.
However, two problems diminish the P3015d's 'wow' factor. First, the lack of an Ethernet port is inexplicable in what is so obviously not supposed to be a personal printer. Does HP seriously think we are likely to plug it into a USB port on a wireless router, then mess about setting up sharing rights? Second, a desktop A4 mono laser costing £450 is expensive, even with duplex and 40ppm output. It is a great printer but all that high quality is going to cost you. ®
More Mono Laser Printer Reviews...

Samsung
ML-1640

Lexmark
T650DN

Kyocera
Mita FS-2020D

Canon
i-Sensys LBP3100