Original URL: https://www.theregister.co.uk/2009/09/22/the_wand/
World's first button-less, gesture-based remote launched
Harry Potter haptics
Posted in Personal Tech, 22nd September 2009 13:14 GMT
Chuck out your clunky, button-clad remote control. Because the world's first button-less, gesture-based remote has arrived.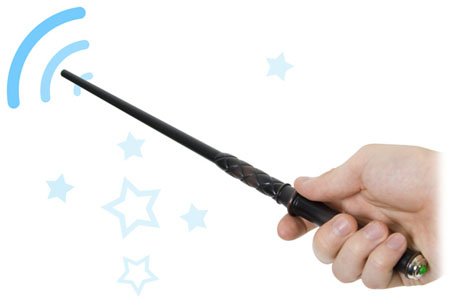 The Wand allows for gesture-based gadget control
Despite looking like something out of the Harry Potter films, The Wand apparently allows you to control a variety of gadgets using just swishing, whirling or flicking motions.
Supposedly able to work with any gadget normally controlled through an infrared signal, such as your TV, The Wand can be programmed to, say, change channels or adjust the volume.
Most of The Wand's 'magic' comes from the integrated processor and accelerometer, which retailer Firebox said enables the product to learn up to 13 infrared controls.
Once you decide that a flick controls your stereo's track list and that a swish increases your TV's volume, the only problem will be trying to remember all 13 moves.
The Wand's other features include haptic-based confirmation of each gesture, a low battery indicator and 60-second sleep mode.
Firebox currently has The Wand available for pre-order online, priced at £50 ($81/€55). ®