Original URL: https://www.theregister.co.uk/2009/09/22/review_phone_lg_gd910_watchphone/
LG GD910 Watch Phone
Worth the wrist?
Posted in Personal Tech, 22nd September 2009 12:02 GMT
Review Smartphones we are familiar with. Watches too. But combining the two is quite rare. Sure, there are sports watches that can collect information about training sessions and share it with a computer. Those with longer memories will recall things like Casio's data bank watches with their weeny keyboards, and there was the Palm OS watch from US timepiece specialist Fossil. Yet, LG's GD910 Watch Phone is certainly the most sophisticated offering we've seen in the wristwear department.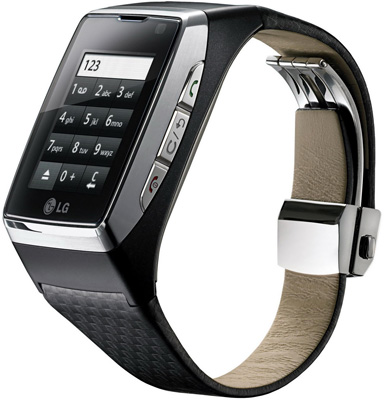 Off the cuff: LG's GD910 Watch Phone
Indeed, this is definitely more phone than watch. With its touchscreen, Bluetooth, HSDPA, 80MB of internal memory and a camera for two way video calls, it certainly gives a good initial impression. The real questions are: is it usable, and would anyone really want to spend £500 on one?
Before we get to the detail of features, it is worth taking a look at the design. First thing of note: this is one big watch with a 1.4in screen. There's a fair amount of unused space around its edges, so that the front fascia of the watch measures 39mm wide and 49mm tall. It's also 13.8mm thick – quite a chunk to have on a wrist. Moreover, our GD910 weighed in at 90g. If you are used to wearing something svelte, you're certainly going to notice it bulk and weight.
The general look is impressive. Build quality is good, the strap is robust faux leather with a sliding adjuster, so you can ensure a snug fit. The right, side-mounted Call, Back/Clear and End/main power buttons are well made and solid. Sure, you might scratch the screen, but in general the watch, er, phone, er, watch phone feels like it will take some knocks.
The Sim card fits into a slot under a cover on the back of the phone – just use a coin to twist the plate off. The battery is more internal, and is charged by putting the GD910 into a large side-hinged clamp that plugs into the mains. The charging mechanism is ungainly and bulky to carry about. Also, you get a Bluetooth headset and a splitter for the charger letting you charge both it and the GD910 at the same time. Alas, more cables to carry, more ungainly wires, but useful nonetheless.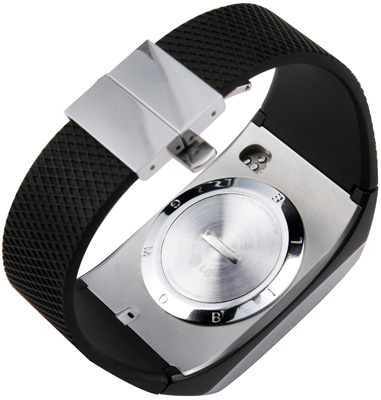 Back plate conceals Sim card slot
You connect the GD910 to a PC using a USB cable and, again, you need to bring that charging clamp into operation. There are no connectors on the GD910 itself, and the clamp provides a cabled link. LG's PC Suite software allows you to backup and restore the GD910, synchronise contacts, synchronise messages, and use USB mass storage mode to copy files across to the 80MB of memory.
The touchscreen display resolution is a mere 128x160 pixels. It is capacitive and very responsive to finger sweeping - left and right, up and down, flicks and taps. Vertical sweeps tend to take you to different viewing options such as the clock, or let you move through lists or menus.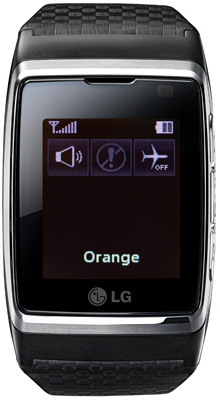 Small, but responsive touchscreen
Fortunately, animated arrows typically appear and flash to let you know which directional sweeps are available on any particular screen but, when they aren't present, it is pretty intuitive to know what to do next. Take a suck-it-and-see approach and you can use the middle-right side button's back feature to resolve erroneous selections.
When the screen powers down to standby mode it displays the time and date against a non-backlit background. Just press any right side button once to get the backlight going, thus activating the screen and revealing whatever it was displaying previously. In most lighting conditions, a simple glance to check the time, is quite difficult to view. Typically, you need to make that first button press to get the backlight going.
The GD910 offers both voice and video calls – the latter from its wee camera just above the screen. It's a real sci-fi moment, but it may well make you feel like a complete berk as you chat away to your watch. And, because calls are delivered through a microphone, both sides of a conversation can be heard. Fellow train travellers are going to love that. Better to use the Bluetooth headset and annoy them 50 per cent less.
Tapping out text messages with a finger on the handset-style keypad is a little awkward but there are multitouch or T9 options. The latter is quite well implemented, given the relatively small screen area that's available. You use a drop down menu to pick matches to the letters you've hit, or tap the word you want, if showing. It's never going to be as easy to use as a 3in-plus touchscreen, but it isn't bad.

Press any side button to arouse from standby mode
Voice command operation is accessed by pressing the centre button on the right side when viewing the clock. The choices include voice dial and getting an update on new messages and also, rather oddly, to be told the time. Why not just look at the clock?
Up to nine speed dial contacts are available with only the first six visible, as you have to scroll down with a finger to get to the final three. Alternatively, you can fingerscroll through your full contacts list. This works if you've got about 20 contacts, but for more than that it takes too long, and searching is the way to go.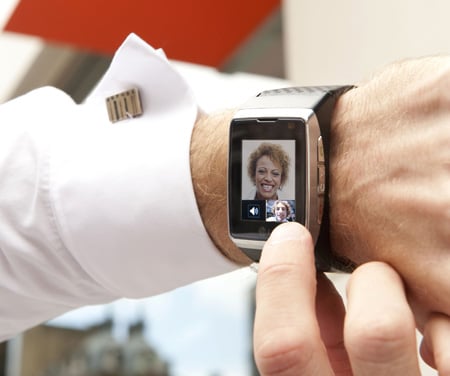 Oops! Wrong number
Other than the calling and messaging stuff, features are really very limited. With 7.2Mbps HSDPA some will be disappointed to find there's no Web browsing. However, HSDPA is used to facilitate video calls. And if you think about it, in such a small screen with no flicking into wide format, including Web browsing would be a mistake. Cool for five minutes, possibly, but thereafter, something of a horror.
Music playback through the internal speaker is pretty good by phone standards and loud enough to annoy the person sitting next to you on the bus or the poor sap half way down a train carriage. You can create playlists on the device too. A Bluetooth headset is necessary for private listening, as there is no headset interface on the GD910 itself.
The camera is only worth using for video calls. You can take photos, but we wouldn't recommend it. With images at 640x480 even the best camera isn't going to produce images good for much more than viewing on-screen. And this isn't the best camera by a very long shot.

Bluetooth headset supplied, as there's no physical audio interface
With the camera being front mounted and the screen used for framing shots, there is a lot of guesswork when you point the camera at any subject other than yourself. Many, many of our test shots had a bit of our head in one corner, or were poorly framed because we couldn't bend round to see what we were trying to photograph. Trial and error might be a good way to describe things.
See for yourself, the photo quality is pretty putrid. Outdoors and quite close in – if you can edge your head round to use the screen viewfinder – you can get some passable shots. The white flower is well reproduced for colour, though the resolution is an obvious let down.
Sample Shots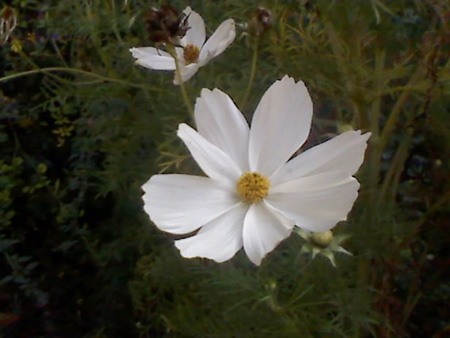 Click for a full-resolution image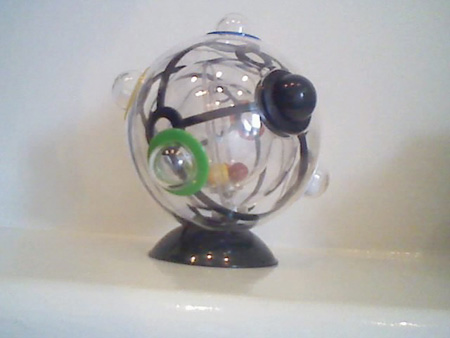 Click for a full-resolution image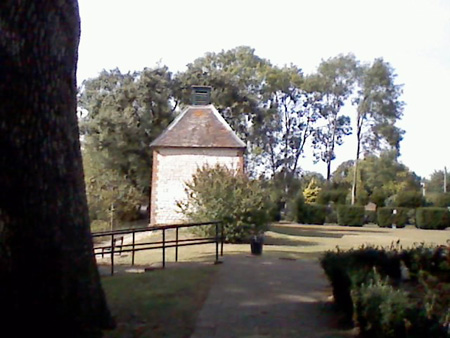 Click for a full-resolution image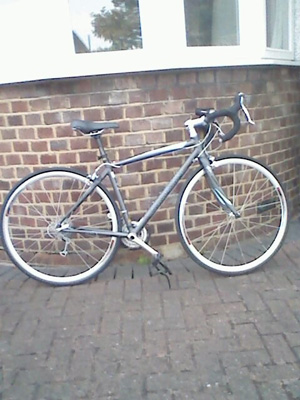 Click for a full-resolution image
Indoors with no flash, the camera is not good at letting light in and shots are fuzzy and lack colour definition. Shots taken from further away – such as the bike and the landscape shot – lack resolution, brightness control and sharpness. Enough said.
There is a calendar, which will sync with Outlook, and while it does make a fair stab at rendering information to the screen, if you are really into being organised, you'd be better off with a proper smartphone with a larger screen that is easier to view and use. Yes, you can add appointments and notes, but it is all a bit of a fiddle. Other features include a to-do list manager, memo function, multiple alarms, voice recorder, calculator, unit converter and stopwatch.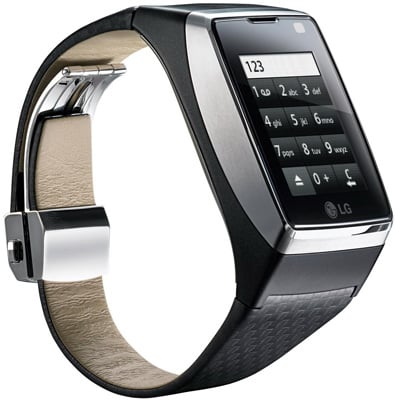 Arms race: first of its kind, but quite chunky for wristwear
Battery life proved to be surprisingly good. The GD910 made it through a weekend without needing a recharge. Still, if you do want to make a lot of use of the HSDPA and Bluetooth, which you will need to do if you want to make voice calls, video calls or listen to music in private, then daily charging is advisable.
Verdict
In the end we remain unconvinced by the LG GD910. Its fundamental purpose, making calls, is flawed. You can only make a private call with a Bluetooth headset, which means you either need to have that clamped to your ear the whole time or swiftly get it in place for incoming and outgoing calls. That adds a step to the simple task of getting in touch, and it sucks. Still, geeky types probably won't mind that and, on the plus side, the capacitive touchscreen is very responsive, the build is very good, and a mono Bluetooth headset is thrown in. Pity it wasn't stereo though. ®
More Phone Reviews...

Samsung
S8000 Jet

BlackBerry
Curve 8520

HTC
Hero

LG
GD900 Crystal